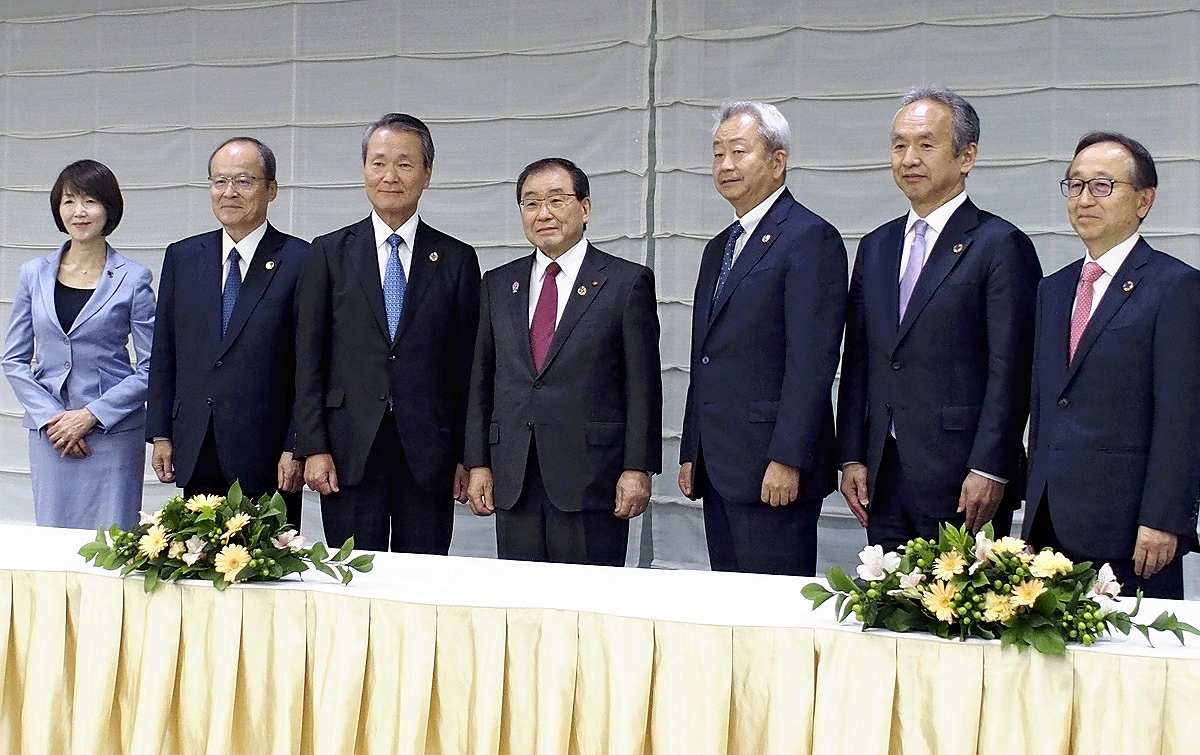 15:23 JST, June 18, 2023
Changes are afoot in the oft-criticized male-dominated Japanese business community as investors push for a hike in the number of female board members. In an age where companies are increasingly required to have diverse management teams, investors are turning their backs on firms that are slow to respond.
The trend for more top-level female representation is likely to accelerate in the future, with the government setting a target to increase the proportion of women executives at listed companies.
At Canon Inc.'s annual general shareholders' meeting in March, just 50.59% of attendees approved the directorial reappointment of Chairman and Chief Executive Officer Fujio Mitarai. The narrow margin of approval apparently was due to institutional investors opposing the reelection of Mitarai — who also served as chairman of the Japan Business Federation (Keidanren) — based on a lack of female directors at the company.
Toray Industries Inc., whose former chairman once helmed Keidanren, proposed that Yuko Harayama, a professor emeritus at Tohoku University, be appointed as an external director at the company's general meeting on June 27. If approved, Harayama would be the first women director to serve on the company's board. At last year's shareholders' meeting, only 60% of people favored the reappointment of President Akihiro Nikkaku as a director.
A number of firms have been striving to install female directors, including Workman Co., a clothing company that nominated a YouTube star as a candidate, and Shin-Etsu Chemical Co., which has proposed the installation of a former president of a national university.
"Women are important if the board of directors are to make management decisions from a diverse perspective," said Mitsubishi UFJ Trust and Banking Corp.'s Miki Akasaka. "If there are no women at board level, the approval rating for proposals to elect top management tends to drop [at general shareholders' meetings.]"
Lagging Europe, U.S.
Japanese companies' efforts to have women serve on boards lag Europe and the United States. According to the Cabinet Office, women accounted for only 11.4% of board directors among the about 1,800 companies listed on the Tokyo Stock Exchange's top-ranked Prime section in 2022. Meanwhile, the average percentage for the Group of Seven advanced nations — excluding Japan — stood at 38.8%.
Daiwa Asset Management Co., an institutional investment trust management company, recently stipulated that firms listed on the Tokyo Stock Exchange's Prime section need to include at least one women board member.
Daiwa's new criteria was added based on companies' drastically changing business environments, including the effects of digitization, and the need for managers with diverse experience.
The government set a target of increasing the ratio of female executives at Prime section-listed companies to 30% or more by 2030 in its draft of the women's version of its basic plan for gender equality presented at the June 5 meeting of the Council for Gender Equality.
"It's a challenging goal, but not impossible, as there are many outstanding female [candidates]," said Veolia Japan K.K. chairperson Yumiko Noda — the second woman to serve as Keidanren's vice chair.
Selection difficulties
Some companies have faced difficulties hiring women executives. In an annual meeting notice sent to shareholders, gaming giant Nexon Co. said it had "approached a talented foreign [female] executive, but she firmly declined."
Female lawyers, university professors and former bureaucrats are generally in high demand for executive roles, leading to tight competition for such talent. "Managers need to make efforts to search for potential female talent both inside and outside their company," said Takanori Aya of the Japan Research Institute.
In addition to the small number of women in executive roles, there is also a scarcity of women in managerial roles. Speaking at a June 5 press conference, Keidanren Chairman Masakazu Tokura opined that directors tended to comprise prominent intellectuals. "What we really need to do is to raise the [overall] level," he said.
Add TheJapanNews to your Google News feed.