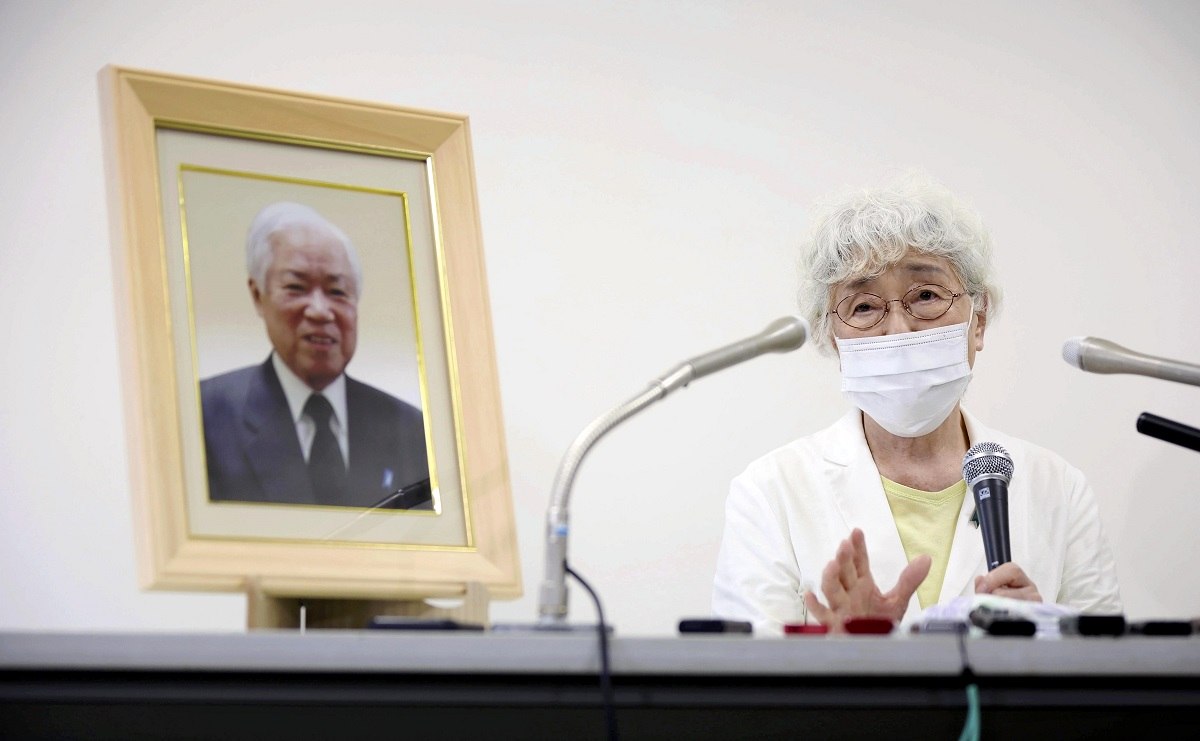 1:00 JST, June 7, 2023
It was three years ago on Monday that Shigeru Yokota died, never again having seen his daughter Megumi in the four decades after she had been abducted by North Korea. His wife and Megumi's mother Sakie is keeping up the vigilance, but knows that time is running out.
"How much longer will it be until the day comes that we can embrace each other?" laments the 87-year-old Sakie, who continues to press the government to take action with a sense of urgency that grows day by day.
Sakie currently lives alone in Kawasaki. Every morning, she places a cup of hot green tea in front of a photo of Shigeru, who died in June 2020 at age 87. She talks about their memories as he looks back with a warm smile.
"No matter how hard I try, I never get anywhere," she says. "My dear, what else can I do?"
Megumi was 13 and a first-year junior high school student in Niigata when, in November 1977, she went missing on her way home from school. It would not be until 20 years later in 1997 that, through the testimony of a former North Korean agent, it was revealed that Megumi had been abducted by North Korea.
Shigeru and Sakie traveled all over the country as a team to plead for a resolution to the abduction issue, speaking publicly on about 1,400 occasions. Shigeru also headed a group representing families of those abducted by Pyongyang for about 10 years from 1997. "He was always serious, and dedicated himself totally to the group," Sakie recalled.
In October 2002, five abductees were returned to Japan. However, no others have come back since then, and the families continue to age.
Following Shigeru's death in June 2020, Shigeo Iizuka died in December 2021 at age 83. He was the older brother of Yaeko Taguchi, who was abducted by North Korea when she was 22.
The group members used strong words at times in an attempt to spur politicians and bureaucrats. "For decades, we have been continually saying, 'Please hurry,'" one was quoted as saying. "The situation has become preposterous. Why doesn't the Japanese government take a firmer stance against North Korea?"
However, among the abductees' parents, the only ones still alive are Sakie and 94-year-old Akihiro Arimoto, the father of Keiko Arimoto, who was abducted at age 23.
Given the circumstances, the group announced in February that it would reverse policy and no longer oppose providing humanitarian aid for North Korea, under the condition that all abductees are returned home together while their parents' generation is still alive.
In March, Sakie fell ill from exhaustion and was temporarily hospitalized. She had been at home when she suddenly started experiencing a rapid heartbeat and felt light-headed. As she waited for the palpitations to subside, she prayed that she would "live a little longer" to save Megumi and for the "strength to carry on."
Soon after, there was a development indicating a slight change in the situation. At an abductees-related event on May 27 attended by Prime Minister Fumio Kishida, he expressed a desire for a Japan-North Korea summit. "It will be high-level talks under my direct control," he said. Two days later, North Korea responded that there was "no reason for the two countries not to meet."
In the past, North Korea sent remains that it claimed to be those of Megumi, but were found through analysis to belong to other people. And at the end of May, the country launched what it claimed was a "military spy satellite."
While understanding that North Korea can be difficult to deal with, Sakie expressed hope regarding its latest comment, saying, "It is speaking in a rare soft tone."
The time remaining is limited. Even so, Sakie continues to maintain faith. "I am definitely going to save Megumi. Father is watching us."
Add TheJapanNews to your Google News feed.