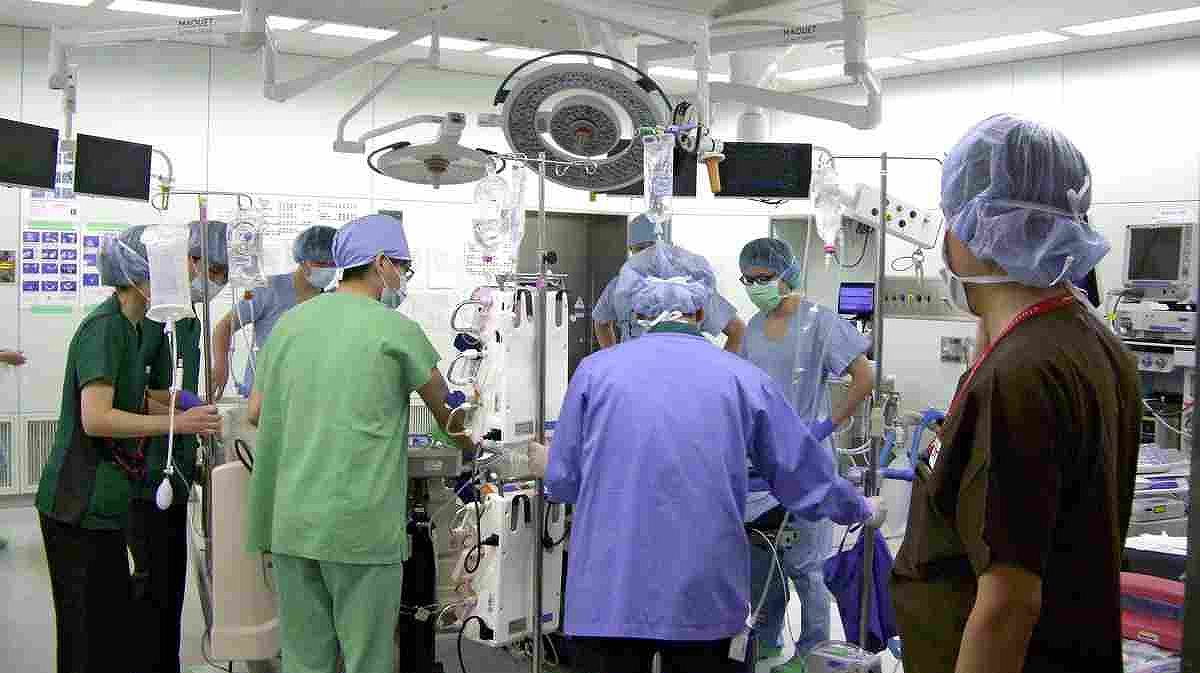 6:00 JST, June 3, 2023
The number of organ donors in Japan who are brain-dead or died from cardiac arrest has been increasing at a record pace this year, reaching 61 in the January-April period, already exceeding half of the 108 for all of last year. Cooperation among hospitals is said to be a factor, but the number is still smaller than in other countries.
Surprising surge
"He expressed his willingness to be an organ donor."
In April, a doctor at Kobe City Medical Center General Hospital told this to the family of a male patient in his 50s who had been declared brain-dead.
The patient had checked a box indicating his willingness to donate organs when filling out a medical questionnaire before his condition deteriorated. With the family's consent, the man's heart, lungs and liver were removed and transported to hospitals in various places, where they were transplanted to recipients who were waiting for the surgeries.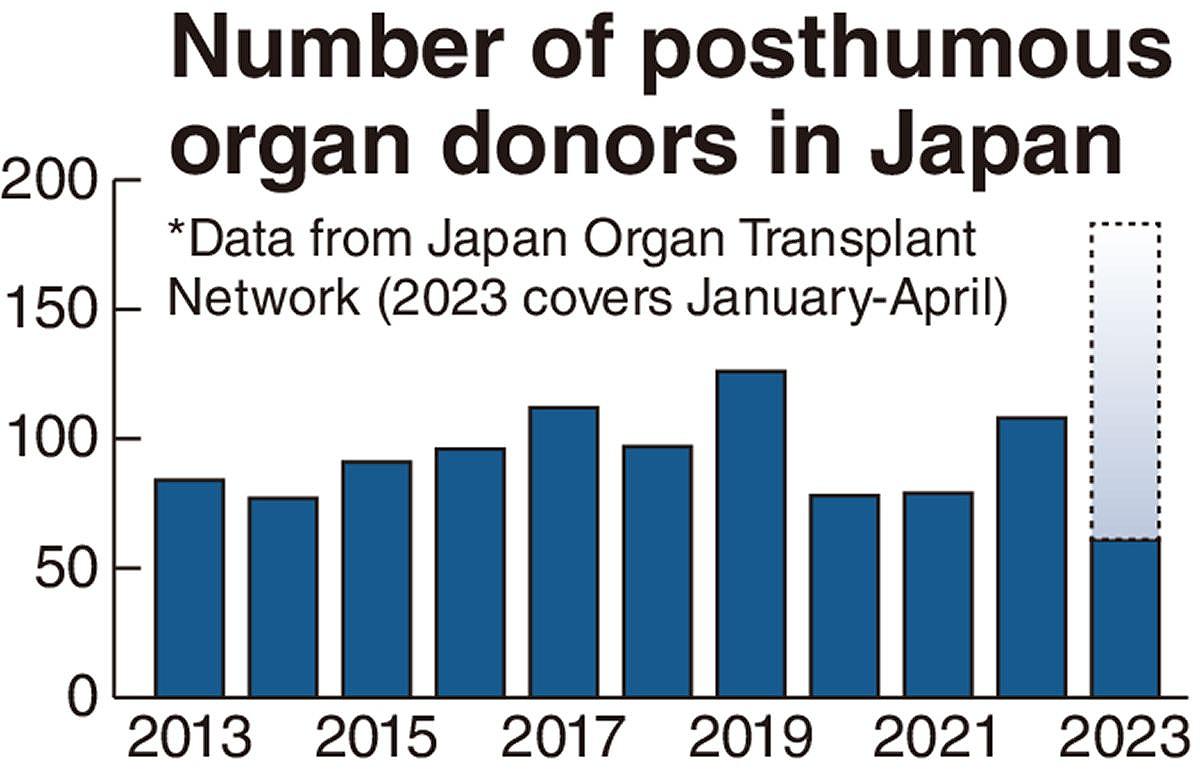 According to the Japan Organ Transplant Network (JOT), the number of donors in Japan has been on a gradual upward trend, though sometimes rising and sometimes falling, since the Organ Transplant Law came into effect in 1997 to make it possible to transplant organs from brain-dead donors. The figure reached a record high of 126 in 2019, dropped to 70-plus in 2020-21 due to the novel coronavirus pandemic, and rebounded to 108 last year.
This year, the number of donors exceeded that of the same month of last year each month from January to April, reaching a cumulative total of 61 at the end of April.
If the increase continues at this rate, the number may reach 180 or so by the end of this year.
"The number of donors has been hard to increase in the past, even though we made various efforts. This year's increase is remarkable and surprising," said a doctor involved in medical transplantation in Japan.
Improved awareness
Several medical professionals pointed to strengthened cooperation among hospitals as one factor in the increase.
In fiscal 2019, the Health, Labor and Welfare Ministry and the JOT launched a project to build a cooperative system in which base hospitals for medical transplantation offer support to other hospitals in their areas, such as by giving advice and dispatching doctors.
The number of base hospitals was initially eight and increased to 14 as of March. The number of medical institutions receiving support increased from 84 to 115.
Some hospitals are said to have removed organs for transplantation for the first time while participating in the project.
"The program has made it easier for hospitals to consult with each other about how to deal with individual patients, leading to an increase in the number of donations," the ministry's organ transplant office states.
It is believed that the increased number of donations is also due in part to front-line doctors' improved awareness of organ transplantation.
Takahiro Atsumi, 52, a JOT board member and doctor at Seirei Hamamatsu General Hospital in Shizuoka Prefecture, said: "In a national survey, the percentage of people willing to become organ donors has not changed very much. I feel medical professionals, rather than patients, have changed in that they have come to put more value on patients' willingness to donate their organs."
Media influence
A health ministry official referred to a large amount of media coverage of organ transplantation since last year, saying, "I feel it has had a significant impact."
The official said that public interest in organ donation may have increased due to intensive news reporting on the Intractable Disease Patient Support Association, a nonprofit organization investigated by the Metropolitan Police Department and indicted by the Tokyo District Public Prosecutors Office over alleged law violations related to overseas organ transplants, adding that cases of Japanese children going to the United States in the hope of receiving heart transplants were also widely reported.
"Due to the increased media coverage, patients and their families have become more aware of transplant medicine. It has made it easier for medical professionals to present the option of donating organs," said Hiromichi Narumiya, deputy director of the emergency medicine department of Japanese Red Cross Kyoto Daini Hospital, who has dealt with many patients and their families.
Committee calls for eliminating opaque transplants overseas
At a meeting of the health ministry's organ transplant committee on May 24, specialist members voiced their opinions and warnings regarding opaque transplants overseas, especially in developing countries.
The ministry reported on the day that it was conducting a survey of overseas transplants in response to the case of alleged violations of the Organ Transplant Law involving the Intractable Disease Patient Support Association.
One committee member said that transplants in developing countries are likely to involve organ trafficking and stressed the necessity of their eradication.
Another committee member asked the ministry to deal with the insufficient number of organ donors in Japan, saying that it "must inform the public in an easy-to-understand way that such cases can occur due to the shortage of donated organs."
Add TheJapanNews to your Google News feed.