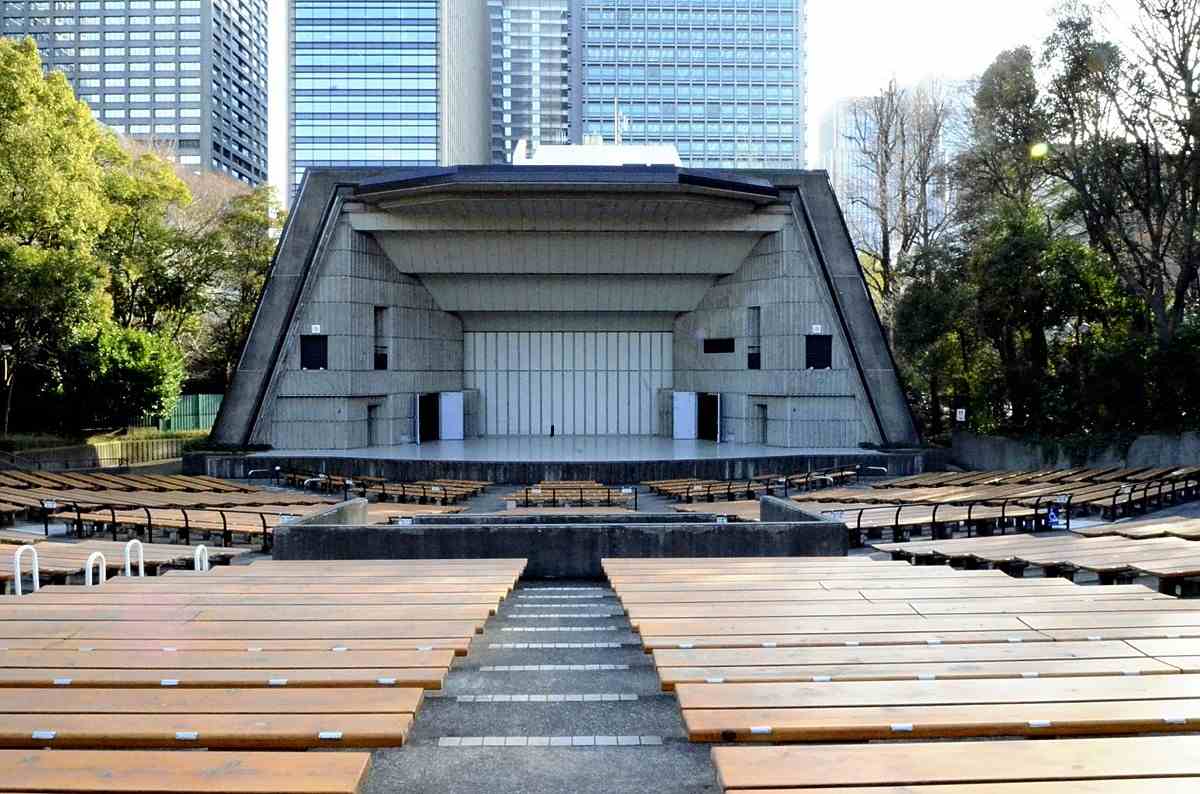 13:03 JST, May 13, 2023
Hibiya Open-Air Concert Hall, Japan's first large modern open-air theater, is set to close and be rebuilt due to the facility's aging. Nicknamed "Yaon," meaning "outdoor music," it has served as the venue for many legendary performances. The theater in Hibiya Park in Chiyoda Ward, Tokyo, marks its 100th anniversary this year.
Various commemorative events will be held at the open-air theater through November, ahead of demolition that could start as early as next April.
The theater is located in the southwestern part of the park. It covers an area of 5,700 square meters and has a capacity of about 3,000 people. Music events are only held on weekends and national holidays. The space has also been used for gatherings of civic groups and other purposes.
Run by the Tokyo metropolitan government, the facility was first opened in July 1923. It was spared from damage in the Great Kanto Earthquake in September of that year, and was used as a venue for balls and boxing contests.
After World War II, many famous artists performed on its stage. Frank Sinatra graced it for a 1962 charity concert during his first visit to Japan, and then rock band Carol, which included prominent musician Eikichi Yazawa, held its breakup concert at the venue in 1975. The idol trio Candies also announced their breakup on the stage in 1977.
Seiji Kikumoto, 62, who has been the theater's director since 2006, explains Yaon's appeal: "It has a unique structure that allows sound to travel far from the stage. Its location is convenient, close to areas with many government offices and business districts. It also has a distinctive history. These features make it one of a kind."
The theater was rebuilt twice after the end of the war, in 1954 and 1983. Its third and current structure was built 40 years ago and has significantly deteriorated.
In 2021, the Tokyo metropolitan government decided to entrust its rebuilding to the private sector and will publicly seek bids for the work around June.
The basic rebuilding policy drawn up by the metropolitan government in January stresses "preserving the good qualities" of the current structure and includes a section on "maintaining the unique, open feel of an open-air theater for music."
The policy also proposes improvements and new features, such as larger backstage rooms, as the current ones have been criticized by some people as being too small and difficult to use, and a roof extending from the stage toward the audience for noise reduction.
"We hope to attract more people to the facility by improving accessibility, such as eliminating obstacles in the seating and aisles, and installing eateries," said a Tokyo government official.
Events commemorating the theater's 100th anniversary are being planned by an executive committee that includes music producer Seiji Kameda and music critic Reiko Yukawa.
In April, an opening ceremony was held that featured the Tokyo Metropolitan Police Department Band. Several concerts and other events are scheduled through November.
"Yaon is a sacred place for music, one steeped in legend. We want to make an impressive festival that ties together the past 100 years and the next 100 years," said Kameda, who serves as the executive committee chairman.
Add TheJapanNews to your Google News feed.