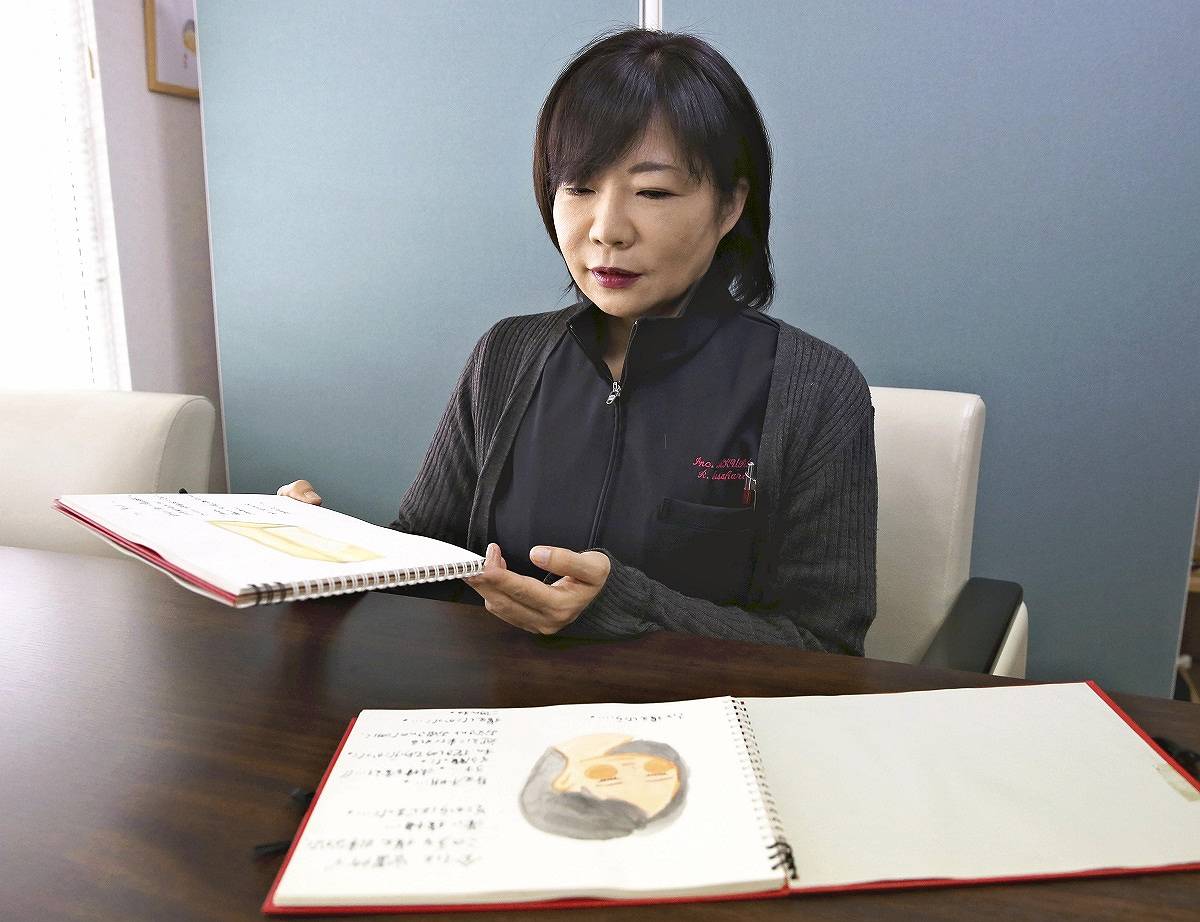 15:49 JST, May 4, 2023
Mortician Ruiko Sasahara has used her skills to help the bereaved families of Ground Self-Defense Force members killed in a recent helicopter crash, restoring the damaged bodies as closely as she can to their original condition.
Ten GSDF personnel were aboard the helicopter lost near Miyako Island in Okinawa Prefecture on April 6. Six bodies have been recovered so far.
Sasahara established a company in Kitakami, Iwate Prefecture, in 2007 to prepare bodies for funerals. She works as a mortician, or "fukugen nokanshi" in Japanese. After the Great East Japan Earthquake in 2011, she prepared many victims of the disaster at morgues and other locations along the coast of Iwate Prefecture, while also working to help bereaved families with their grief.
In late April, Sasahara was asked through a mortician she had trained to prepare the bodies of the GSDF members in Kumamoto Prefecture, the location of the GSDF's Sub Camp Takayubaru, to which the crashed helicopter belonged.
The location is far from her home, but she accepted the request. "The members might include people who worked for relief efforts after the earthquake. I wanted to repay them by restoring the bodies to their original state and returning them to their families," Sasahara said.
When the coffins of the GSDF members arrived, Sasahara said to them, "Welcome back." She only had about 1½ hours after the arrival of the bodies until their families would see them.
Sasahara oversaw the work. She urged her fellow morticians to "think first about what you can do to enable their families to hold the hands of their loved ones and touch their cheeks."
She and the morticians put the deceased GSDF members in clean uniforms, hats and white gloves. Despite their utmost efforts, they could not completely restore the bodies to their original appearance, which Sasahara regretted.
Many of the bereaved relatives fell to their knees and wept as they held the hands of the deceased, she said. Some put the GSDF members' hands to their own foreheads and cheeks and cried.
A woman who lost her husband said she still couldn't face the reality of the accident. A parent lamented, "How could this kind of accident have happened?"
Sasahara said: "The families saw their loved ones for the first time in several weeks. I'm sure they spent a lot of anxious time and couldn't sleep." She told the bereaved families: "You're not alone. Make sure you ask other people for help."
Having experienced the 2011 disaster firsthand, Sasahara believes telling people there are others around them who are there for them will help them with their grief.
"I want people to watch over them quietly, and be there when they need them," she said.
It has been nearly one month since the accident on April 6. Sasahara hopes that the rest of the missing GSDF members will be found as soon as possible.
Add TheJapanNews to your Google News feed.