Octogenarian Starts 1,000-kilometer Trek to Support Cancer Patients, 2011 Disaster Victims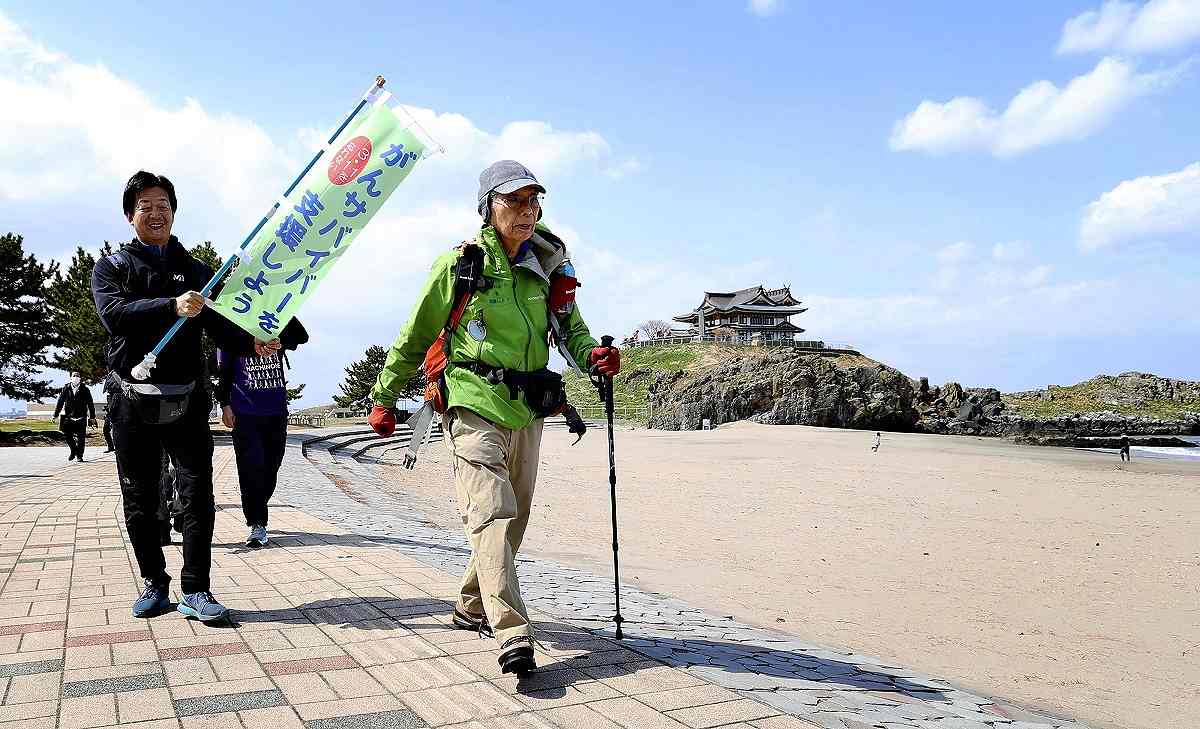 13:24 JST, March 28, 2023
HACHINOHE, Aomori — The 81-year-old head of the Japan Cancer Society set off on a 1,000-kilometer trek from Hachinohe, Aomori Prefecture, on Monday to support cancer patients and people affected by the 2011 Great East Japan Earthquake.
Tadao Kakizoe, a cancer survivor, plans to complete the journey to Minami-Soma, Fukushima Prefecture, in four stages. He is scheduled to end the trek on June 23, on the Michinoku Coastal Trail, a scenic path along the Pacific coast in the Tohoku region that was developed as part of the area's reconstruction from the quake and tsunami that struck on March 11, 2011.
On Monday, Kakizoe set off from Same Station in Hachinohe with a banner inscribed with the words, "Support cancer survivors" and "We won't forget 3.11." He walked for about 8 kilometers via Kabushima, the starting point of the Michinoku Coastal Trail, to Tanesashi Coast, which is carpeted by natural grass.
The walk will take Kakizoe through the town of Otsuchi in Iwate Prefecture, where he will meet the head priest of Kichijoji temple, which hosted evacuees following the Tohoku earthquake.
He also plans to meet cancer patients who experienced the disaster at Miyagi Cancer Center in Natori, Miyagi Prefecture.
A film about the indefatigable octogenarian, with the working title "Dr. Kakizoe Aruku Shohosen" (Dr. Kakizoe's walking prescription), is scheduled to be released in May 2024.
"Both cancer patients and victims of disasters are suddenly thrown into unexpected sadness and pain. Yet they share one thing in common. Many of them bounce back from the initial shock," said Kakizoe, who lost his wife to cancer.
"I'd like to give them encouragement and, at the same time, I'd like to learn how people can recover from traumatic experiences."
Add TheJapanNews to your Google News feed.