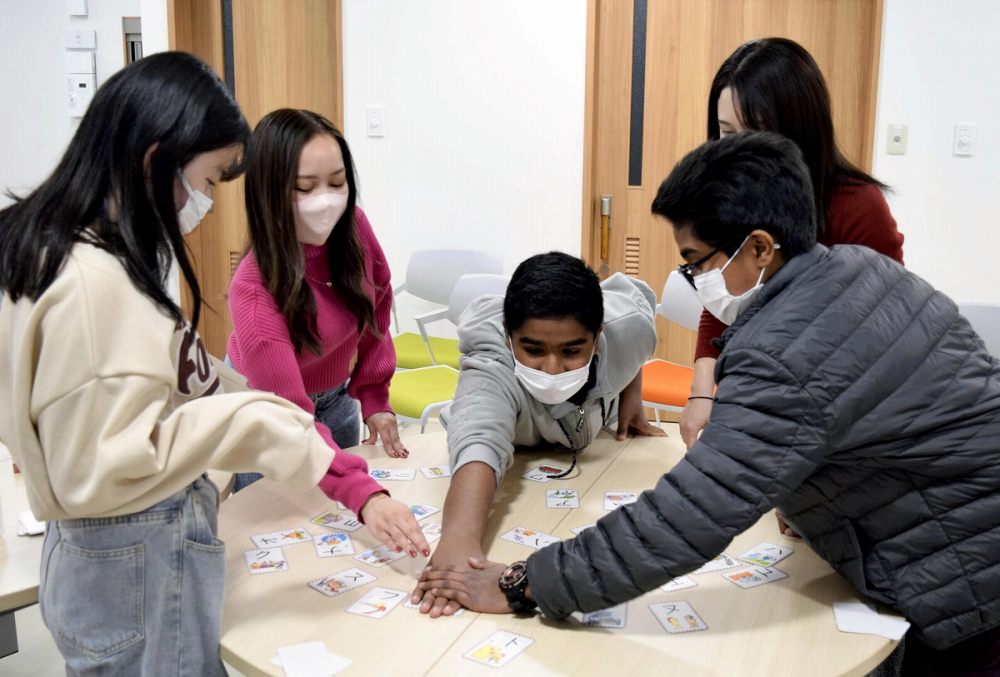 7:00 JST, March 26, 2023
SAMMU, Chiba — With an economic crisis in Sri Lanka driving an influx of immigrants to Sammu, Chiba Prefecture, educating children unable to speak Japanese has become an issue at local elementary and junior high schools.
The municipal government has offered Japanese language classes for such children at some schools, but many of the new arrivals have difficulty fully understanding the lessons. This has led to students from Josai International University in nearby Togane joining in the initiative.
On the evening of Feb. 22, a student from the university said, "I swim," and "I rode it," while holding up illustrations of a swimmer and a unicycle at an educational facility in Sammu. Participating Sri Lankan children then repeated the phrases.
Eighteen juniors studying how to teach Japanese under Prof. Chiga Hayashi, of the university's Faculty of International Humanities, help the children learn the language on a volunteer basis by holding a social event once a month.
The number of Sri Lankan residents registered in the city had risen from 57 in April 2013 to 750 as of the end of February this year. Many of these individuals have come to Japan under the residence status "engineer/specialist in humanities/international services" or as a dependent of a person staying in Japan on a working visa. The city has long been home to many Sri Lankan nationals working at junkyards for used cars and other items, but recently a growing number of such workers who first came to Japan alone have brought their family members from Sri Lanka, where the political situation has become unstable due to the economic crisis.
As a result, the number of Sri Lankan children attending elementary and junior high schools in the city had risen from 20 in March 2021 to 71 as of late February this year. At one school, Sri Lankan children account for more than 10% of all students.
The situation prompted the municipal government to begin offering Japanese language classes at three schools in April last year with assistance from Sri Lankan residents who have lived in Japan for some time. The city sought out Hayashi for advice in launching the initiative, eventually leading to her students teaching Japanese to the children from last summer.
At the social event on Feb. 22, participants played bingo using kanji characters such as those for "dog," "pig" and "face." They also played a Japanese card game called karuta to help learn the katakana characters. When one of the university students said "ta" for "taberu," meaning "to eat," the children scrambled to find and smack a picture card with "ta" written in katakana on it.
"We focus on having the children learn Japanese without making them feel like they are learning it," one university student said.
Time passed quickly as laughter and cheers filled the 90-minute social event.
The children have shown improvement in their Japanese language skills. Last summer, one of the children would greet others in English, saying "Hello," but now asks in Japanese, "When is the next event?" These days, the children's mothers, who were also unable to speak Japanese, express their gratitude in their adopted language, saying "Arigato" to the university students when picking up their children.
"I now feel that we can break down the language barrier," said Yuki Nakata, 21, who moderated the event.
Yuka Ito, also 21, who hopes to become a Japanese language teacher, said, "It is rewarding to see the children gradually becoming able to speak Japanese."
Add TheJapanNews to your Google News feed.