Japan Post Successfully Tests Nation's 1st BVLOS Drone Delivery in Inhabited Area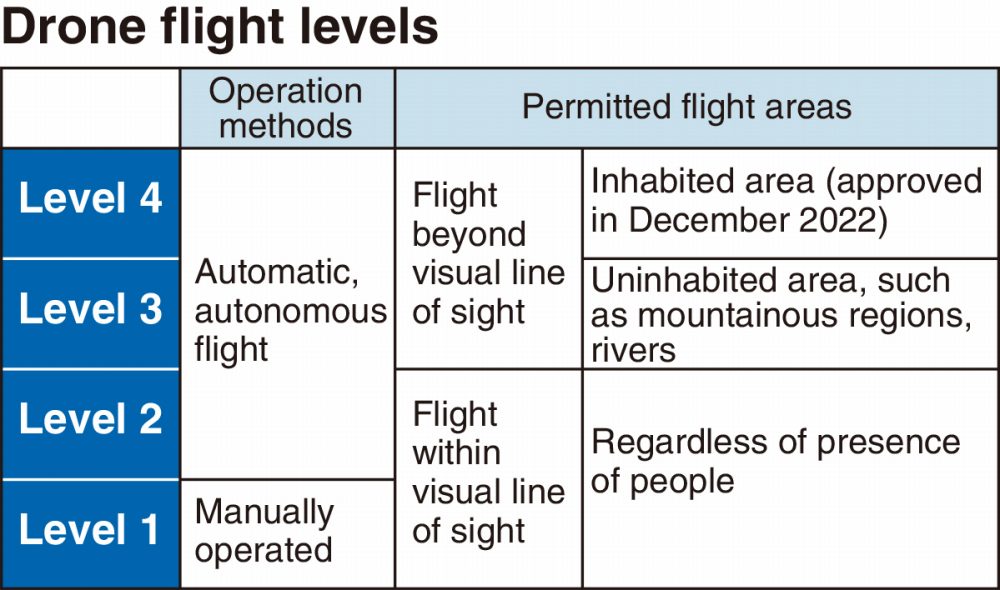 15:08 JST, March 25, 2023
Japan Post Co. has successfully tested a drone delivery falling under a Level 4 flight, beyond visual line of sight operation in an inhabited area, in Okutama, Tokyo, marking a first for the nation.
The operation is also expected to be used in urban areas, and ensuring safety will be key to its widespread use.
On Friday, a Japan Post drone took off from the rooftop of the Okutama post office in the town and delivered a parcel containing daily necessities to a residence about 2.3 kilometers away. After landing in the garden of the house, the drone automatically unloaded the package and flew back to the post office.
It normally takes about 20 minutes one way by road from the post office to the mountain district due to steep slopes and narrow roads, but it takes only about five minutes using a drone.
"It will be convenient if packages can be delivered by drone," said the 64-year-old resident who received the package.
Japan Post has conducted a series of drone flights in the past over rivers and mountainous regions in unpopulated areas. This time, it was able to fly a drone via the shortest route over a residential area after it obtained approval for the Level 4 flight from the Land, Infrastructure, Transport and Tourism Ministry on March 17.
"We are now one step closer to the practical application of drone delivery. We want to look into also adopting it for transportation between post offices, particularly for logistics," Shinya Koike, a Japan Post senior executive officer, said, expressing the company's ambition to put it to practical use as early as fiscal 2023.
Japan Post's drones can carry packages weighing up to 1 kilogram. If the aircraft tilts excessively, a parachute automatically releases to prevent a crash.
Add TheJapanNews to your Google News feed.