Positive Response to Japan-South Korea Summit but Kishida's Approval Rating Unchanged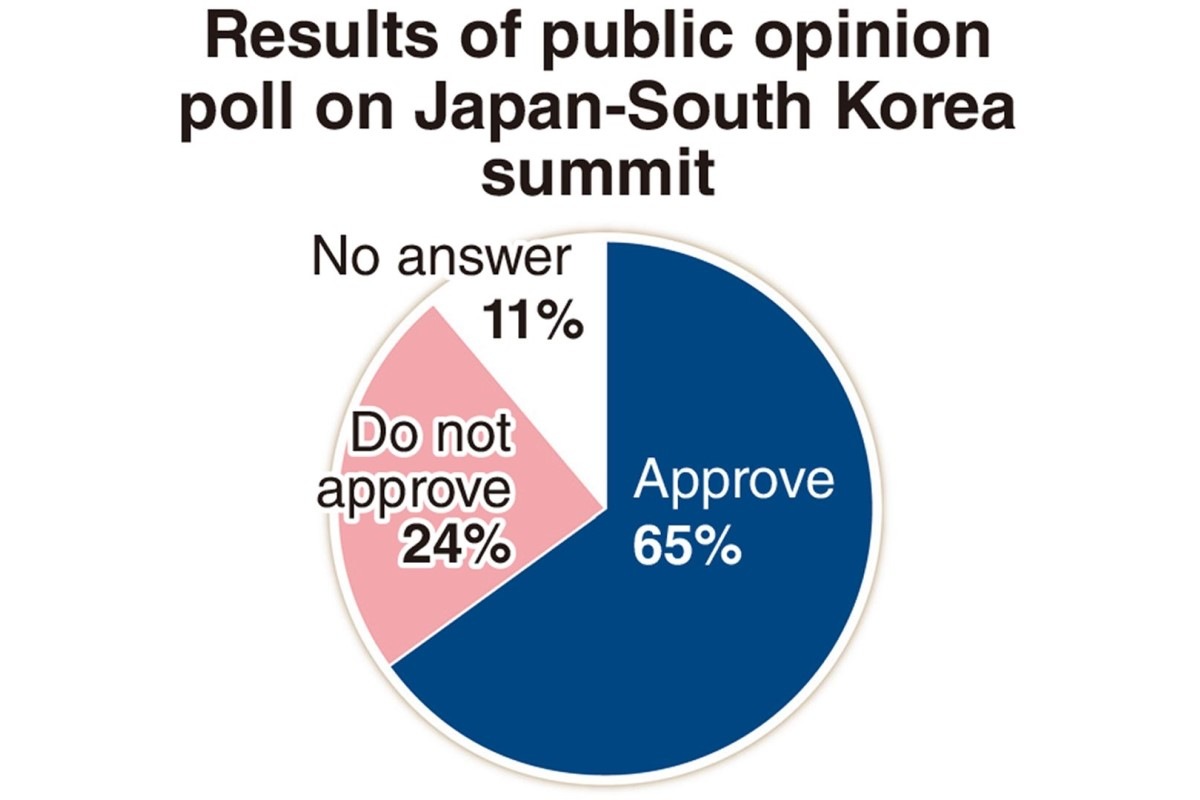 7:00 JST, March 21, 2023
The summit meeting between Prime Minister Fumio Kishida and South Korean President Yoon Suk Yeol was highly rated by 65% of respondents in a nationwide public opinion poll conducted by The Yomiuri Shimbun from March 17-19, although 24% did not rate it highly.
Despite this, the approval rating for Kishida's cabinet was 42%, almost unchanged from 41% in the previous poll conducted February 17-19. The disapproval rate was 43% (down from 47% in the previous poll).
As for the South Korean government's solution to the legal issue of former wartime requisitioned workers from the Korean Peninsula, 58% rated it positively, which was higher than the 31% who said they did not. The South Korean government announced a solution on March 6, in which a South Korean foundation will pay an amount equivalent to the compensation that the two defendant Japanese firms were ordered to pay.
Regarding future relations between the two countries, 32% expected them to improve, 4% said they will worsen and 61% expected them to remain unchanged.
As for the issues respondents want the Kishida administration to prioritize (with multiple answers allowed), 90% cited "economy and employment," "high prices" were cited by 85%, "pensions and other social security" by 78% and "falling birth rate" by 74%. Regarding the House of Councillors' decision to expel GaaSyy, real name Yoshikazu Higashitani, 91% of respondents said it was appropriate.
The poll showed that 74% positively rated the government's decision to leave it up to individuals whether they wear a mask to protect against the coronavirus from mid-March, far more than the 24% who were not positive.
Ninety-two percent said they felt the burden of high prices on household finances, and 55% of those said they felt it "a lot." The fact that the Bank of Japan's incoming governor, Kazuo Ueda, has indicated his intention to continue the large-scale monetary easing was appreciated by 57%, while 23% were negative toward it.
When asked which party respondents supported, 35% chose the Liberal Democratic Party, unchanged from February, and 5% chose the Constitutional Democratic Party of Japan and other parties, down 1 point from the previous poll. Those who supported no particular party accounted for 42%, up from 39%.
High expectations by older generations
Middle-aged people and older generations, who have traditionally held harsher views on South Korea, tended to approve recent moves to improve relations between Japan and South Korea.
Regarding Thursday's summit meeting between Japan and South Korea, 69% of those aged 60 and over and 66% of those aged 40-59 rated it positively, which is approximately 10 percentage points higher than the 56% of those aged 18-39. As for future relations between Japan and South Korea, 37% of those aged 60 and over, and 32% of 40-59 expected them to improve, compared with 25% of the 18-39 age group.
A series of Korean responses, such as Yoon's solution to the problem of lawsuits by former wartime requisitioned workers, appear to have come as a surprise to the middle-aged and older generations.
In a joint survey conducted by The Yomiuri Shimbun and a South Korean newspaper in May last year, 70% of those aged 60 and over and 71% of those aged 40-59 said they did not trust South Kore1a "much" or "at all." On the other hand, only 59% of those aged 18-39 said the same, and the younger generation were not as harsh in their views of South Korea, being more exposed to Korean trends and music.
Add TheJapanNews to your Google News feed.