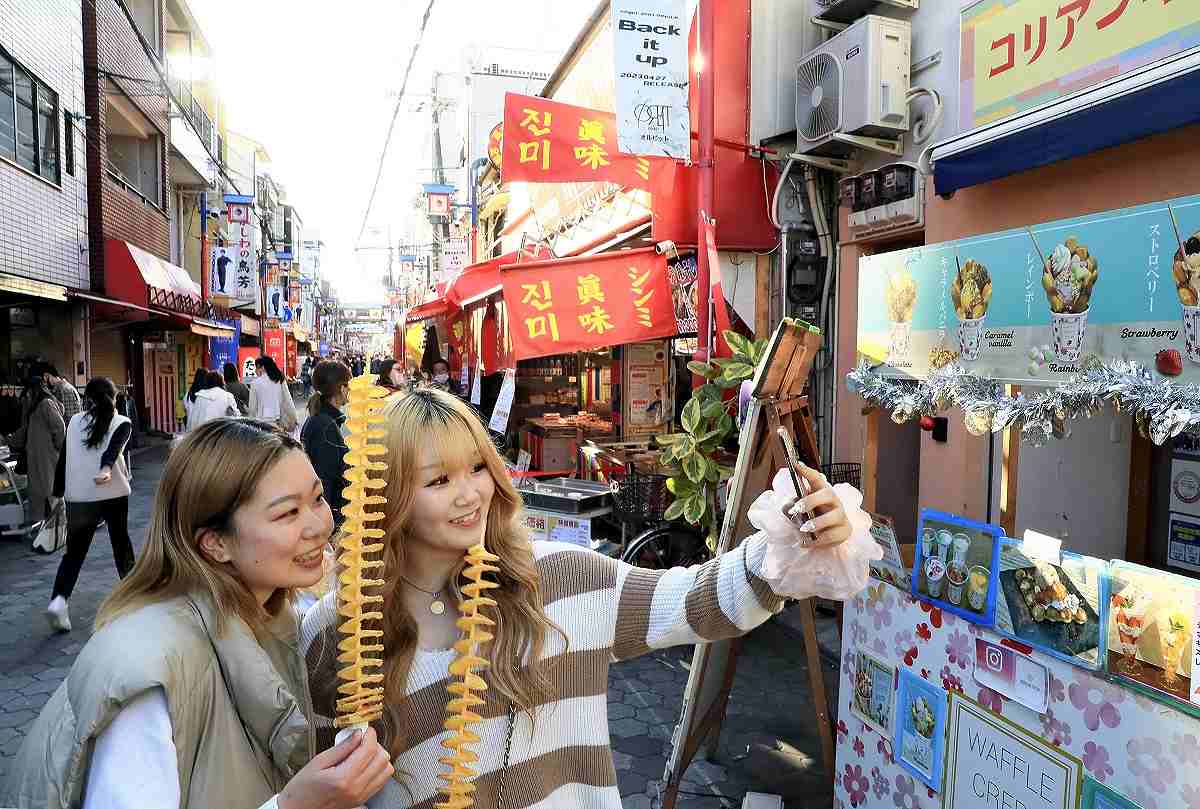 18:00 JST, March 16, 2023
OSAKA — In Osaka, home to a large population of Korean residents of Japan, hopes are high that South Korean President Yoon Suk Yeol's visit to Japan, the first such trip by a South Korean leader in 12 years, will be a significant step toward improving relations between the two countries.
Although the bilateral relationship had recently been considered at its worst since the end of World War II, expectations for boosting economic and cultural exchanges are growing in Osaka.
Korean tourist numbers rise
The Minami district, part of Osaka's downtown, now attracts many Korean tourists. They are often seen taking selfies in front of the iconic Glico sign and lining up at food stalls selling takoyaki octopus dumplings.
"I am glad to come to Japan after a long time. I am looking forward to eating ramen and kushikatsu," a smiling 37-year-old female tourist from Jeju Island in South Korea said, referring to noodles and deep-fried pork skewers.
The Osaka Convention and Tourism Bureau explains the growing number of Korean tourists by noting that "Osaka is very popular in South Korea, and many people who had refrained from traveling during the COVID pandemic have started to visit."
Tsuruha Drug Ebisubashi store, a drugstore in Osaka, has increased the amount of in-store signage written in Korean. "Sales have been steadily increasing since the easing of border control measures. We anticipate that improved relations will bring even more Korean tourists," the store manager said.
Stronger cultural ties
Although relations between the two countries have deteriorated politically in recent years, cultural ties are growing stronger.
In the Osaka Korea Town area of Ikuno Ward, a row of stores selling Korean gourmet foods, cosmetics and various items featuring popular Korean actors and singers are filled with young Japanese women.
A 23-year-old female office worker visiting Korea Town said: "I love Korean culture. So, I used to feel bad that relations between the two countries were so tense politically. I hope the president's visit to Japan will help improve them."
Complex sentiments
Still, many South Koreans have mixed feelings.
A Korean student, 34, who is studying at the graduate school of Kyoto University said she hopes that "both leaders send a strong message toward the people of the other country that improving relations between Japan and South Korea will have benefits for both countries."
Add TheJapanNews to your Google News feed.