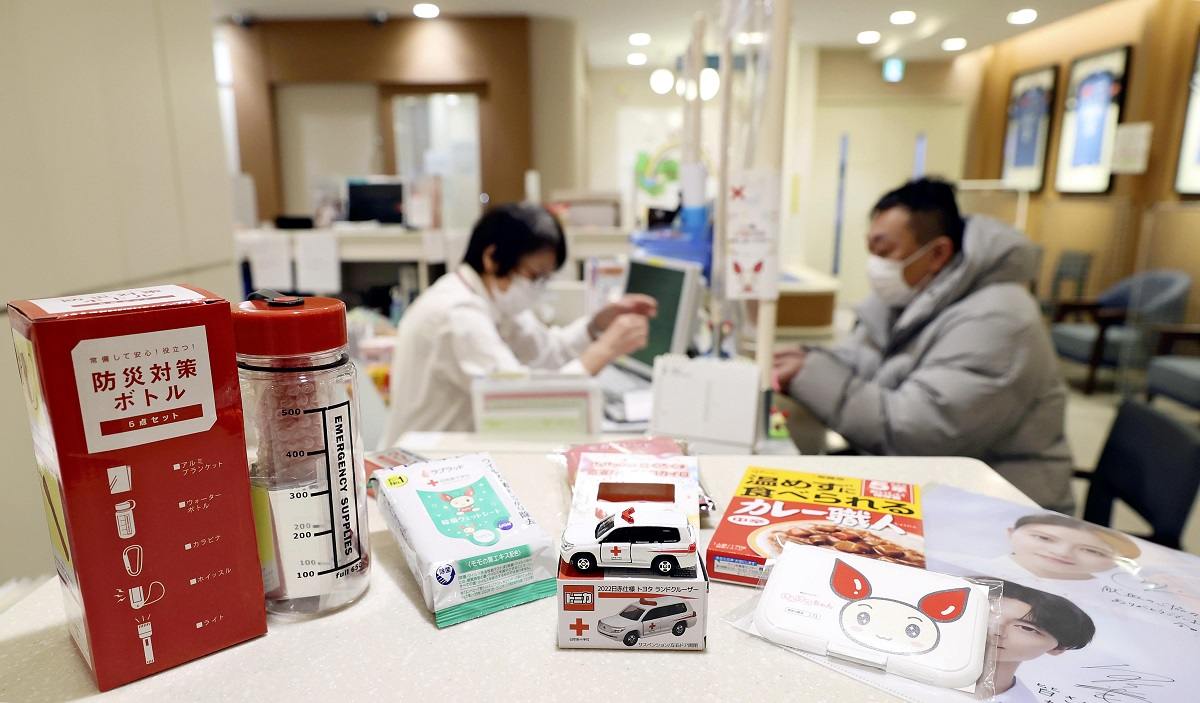 13:00 JST, February 18, 2023
Many thank-you gifts that were given to blood donors are being sold through online flea markets, a situation that concerns the Health, Labor and Welfare Ministry, as blood donations are not supposed to involve remuneration.
A search for "blood donation, souvenir" will bring up more than 500 items on a major Japanese flea market site that hosts transactions between individuals. Among the items are posters and clear files depicting characters from "Kimetsu no Yaiba" (Demon Slayer) and "SPY x FAMILY," manga series popular among young people. There are even drinking glasses given to people who have repeatedly donated blood.
Messages like "I got this when I gave blood. I have some leftover, so I'm putting them up for sale" and
"It's new and unopened" are attached to the items, most of which are sold for between several hundred yen and ¥1,000. In one case, however, ¥10,000 was paid for a limited-edition miniature car bearing the Japanese Red Cross Society (JRCS) logo. The car was jointly produced by the JRCS and major toy manufacturer Tomy Co.
All these items were given to people who donated blood. They were made by the JRCS in cooperation with various companies, with the production costs borne by the JRCS.
Down 50% from FY2005
The JRCS distributed these goods in an attempt to counter the drop in blood donations among young people.
About 5 million people have given blood annually since fiscal 2005. However, blood donors under 30 have declined markedly, falling nearly 50% from 1.73 million in fiscal 2005 to 910,000 in fiscal 2009.
Many give such reasons as being too busy due to work or household chores. Another factor is the recent cancellation of blood donations at schools amid the COVID-19 pandemic.
People between 16 and 69 are eligible to donate blood. Japanese society is graying with its declining birthrate, and if the number of people in need of blood transfusions increases while the number of blood donors decreases, there will not be enough blood products.
According to JRCS estimates, blood donations could fall short by 460,000 people in fiscal 2035.
Feeling a growing sense of crisis, the JRCS began distributing items related to anime popular among young people as thank-you gifts for donating blood from around 2014.
"This will help get people who are not familiar with blood donation to participate," the JRCS said.
The gifts are marked as "not for resale" on the website where they are listed, but the health ministry has confirmed that they started being put on flea markets and auction sites a few years ago.
Ministry may seek ban
The Law on Securing a Stable Supply of Safe Blood Products prohibits paying to collect blood. Donations are supposed to be made on a volunteer basis.
"Selling these goods runs counter to the public interest," said Kensaku Fukui, 57, a lawyer knowledgeable about resale issues. "If they're sold at a high price, it might lead to essentially 'selling blood,' so relevant measures should be strengthened."
There is no wording on the goods themselves that says they cannot be resold, and the JRCS does not say so when handing them out. Fukui said online flea market operators must take such steps as reminding users that selling these goods is prohibited.
The ministry's blood control section said they plan to discuss ways to deal with the problem with flea market operators, and are considering asking them to take such measures as prohibiting such gifts from being sold through the markets.
Add TheJapanNews to your Google News feed.