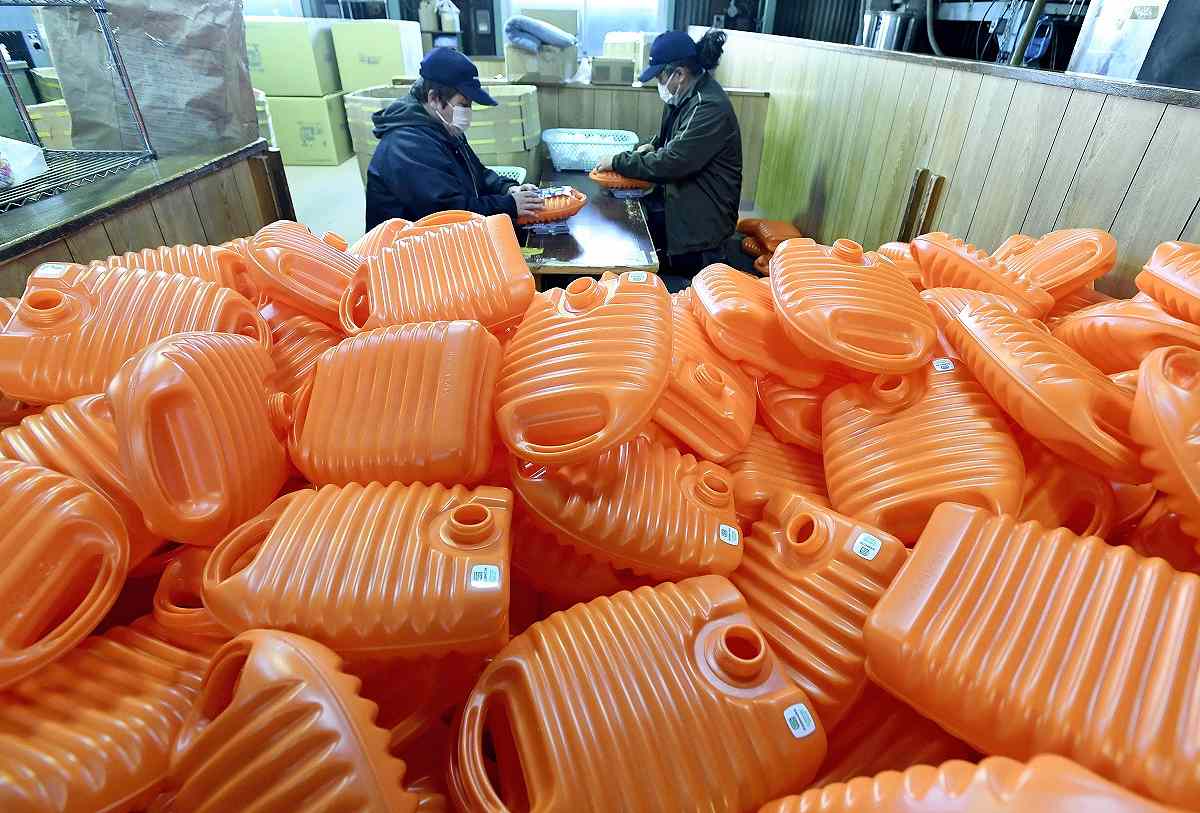 11:25 JST, February 15, 2023
A kind of traditional, eco-friendly heater is in demand as fuel prices soar and inflate household utility bills. Hot-water bottles, or yutampo in Japanese, have been sold out at some retailers, forcing factories to keep running despite production for the winter is usually finishing by this time of year.
The government has asked households and businesses to conserve electricity during the winter for the first time in seven years. The rise in electricity and gas bills driven by Russia's invasion of Ukraine, along with a severe cold snap in late January, has sent consumers scrambling for hot-water bottles of their own.
"My electricity bill was almost 50% higher than last winter," said a man looking for a hot-water bottle at a Tokyo store. "I'll avoid using the heating as much as possible."
Chiba-based Aeon Retail Co., which operates supermarkets nationwide, prepared 50% more yutampo than last year, but sold out in January, earlier than usual.
Tokyo-based home improvement retailer DCM Co. said its hot-water bottle sales since November have doubled over the previous year. On e-commerce site Rakuten Ichiba, sales in January were up 60% over the same month last year. The best-selling products are those priced between ¥1,000 and ¥3,000.
"They are selling especially well among families where the parents are in their 30s or 40s," a Rakuten spokesperson said.
Maruka Corp., a long-established manufacturer of metal hot-water bottles in Hyogo Prefecture, usually finishes production in December. But orders have piled up this winter, and the company is still making them this month.
Tange Chemical Industry, a leading producer of plastic yutampo in Nagoya, has shipped about 50% more product than usual, forcing its factory in Ama, Aichi Prefecture, to run every day. The company sometimes receives calls from first-time users asking how to use a yutampo.
"We want people to experience the gentle warmth of this old-fashioned heater," said company President Akinori Tange.
Add TheJapanNews to your Google News feed.