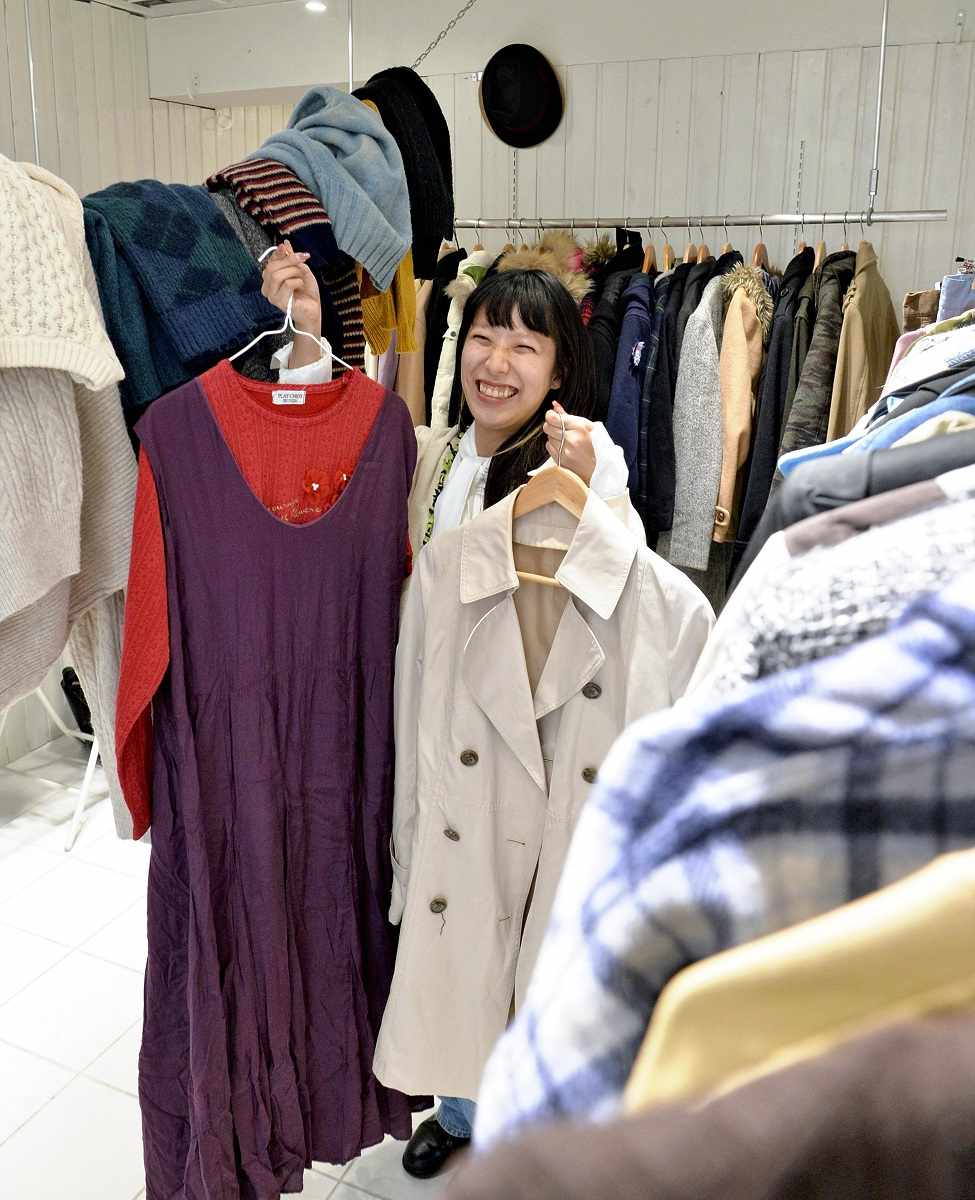 7:00 JST, February 4, 2023
Stores and online platforms that facilitate clothing swaps are becoming increasingly popular. In recent years, consumers' behavior and mindsets have been changing, and more and more people are adopting eco-friendly lifestyles. Now, young people in particular appear to see clothes swapping as a convenient way to get their hands on desired items while recycling their unwanted apparel.
¥3,000 entrance fee
One Sunday in early January, a pop-up clothing store, Closet to Closet, opened its doors in Shibuya Ward, Tokyo. Each "shopper" payed a ¥3000 entrance to enter the store, then placed three pieces of unwanted clothing in a collection box at the store entrance. They could then choose up to three "new" articles from among the more than 300 items on display, including coats and sweaters, but excluding underwear, shoes and children's clothing.
The operator — Tokyo-based Energy Closet — describes itself as "an apparel brand that doesn't sell clothing."
A woman in her 30s living in Tokyo took along items including a blouse and a knitted item and left with such pieces as a cardigan and a hoodie. "I wouldn't get much for my unwanted clothes if I took them to a secondhand store," she said. "Here, however, I can pick up various styles each time I come along and my unwanted clothes can prove useful to someone else."
Store representative Sayuri Miwa has been a fan of secondhand clothing since her student days and launched the business in 2019, after learning about the mass disposal of clothing. "I thought it would help reduce clothing waste if people could buy clothes while passing on their unwanted articles at the same time," she explained.
Miwa has set up temporary Closet to Closet stores on more than 40 occasions nationwide, facilitating the swap of around 10,000 items of clothing.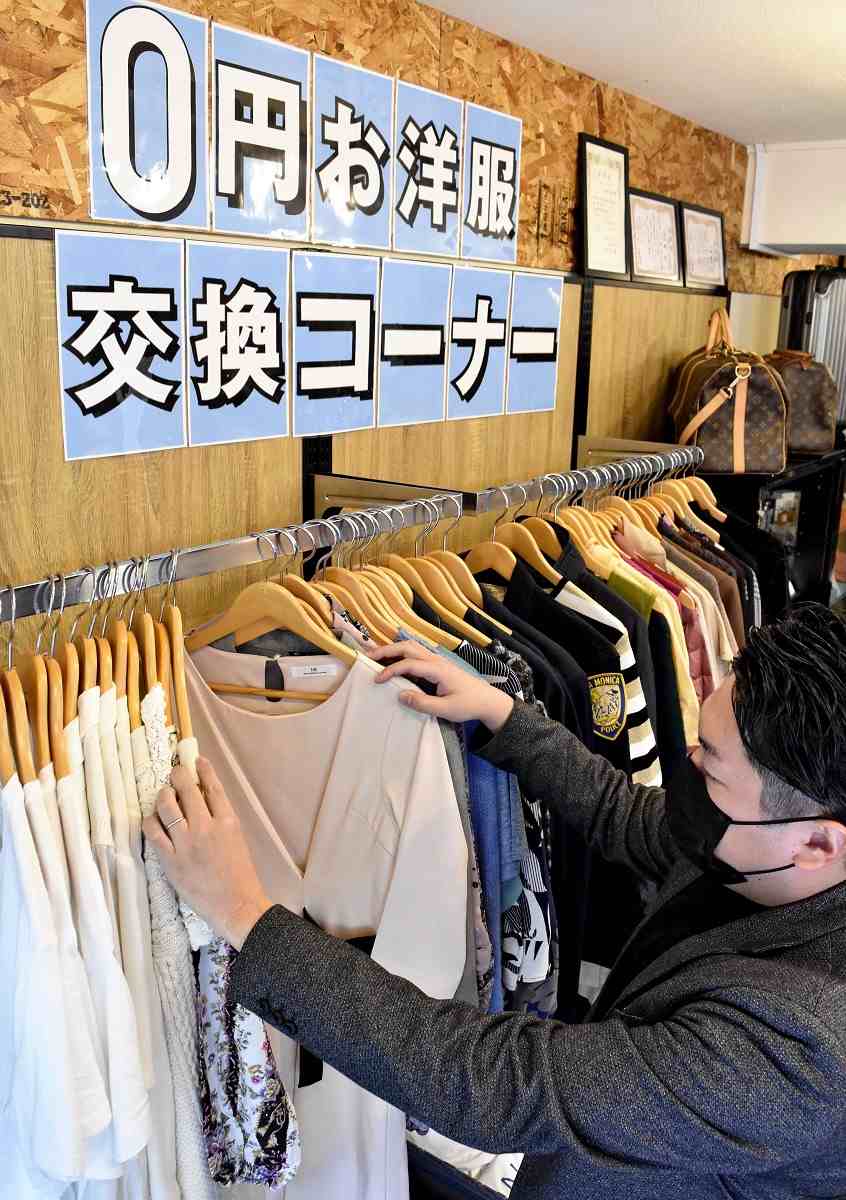 Reducing waste
A survey conducted last February by Geo Holdings Corp. — a Nagoya-based operator of secondhand stores — revealed that 81% of the about 1,600 respondents who had decluttered their homes said they had got rid of clothing. Of them, 63% said they had sold their clothes at secondhand stores, the most popular means of clearing, followed by 60% of respondents who threw their items away.
According to an Environment Ministry estimate, about 510,000 tons of the about 820,000 tons of clothes supplied to Japanese consumers in 2020 will eventually be junked. Reducing clothing waste is thus an urgent issue for the nation to address.
Last year, Okayama-based recycling store operator Vector Co. launched a service at one of its Tokyo stores in which customers take along clothing and other items for assessment. They can then choose other items that correlate to the price of the items they brought to the store. At the operator's Kaminoge branch, customers can "trade" up to five articles of clothing in the store's clothes-swapping department. The operator said people sometimes bring along brand-new unwanted items to swap.
"We hope customers will enjoy [these clothes-related services] as they would a treasure hunt, and that it will help to reduce clothing waste, even if only a little," Vector Co. President Tomohiro Murakawa said.
Online swaps
Chain is an online platform where users can trade the things they have for things they want. The system can even involve more than two people. Users list their unwanted items on the website and click "want" on other people's items; when there is a match, the users can trade their goods. Items including drip coffee sachets, a business card case, and business-related books have already been traded on the website.
"I want to make this a major platform where people can get what they want without being restricted by money," said Yojiro Toya, one of the site's operators.
Keiko Koda, director of the Sharing Economy Association in Tokyo, opined: "Bartering gives people a sense of fulfillment because they can turn something they no longer need into something other people desire. Swapping things also gives people hope that they might be able to get something they want. What's more, it's a great yet casual way to contribute to sustainability. As such, the practice is likely to continue expanding in the future."
Add TheJapanNews to your Google News feed.