Ukrainian Officials Observe Landmine Removal Equipment in Yamanashi Pref.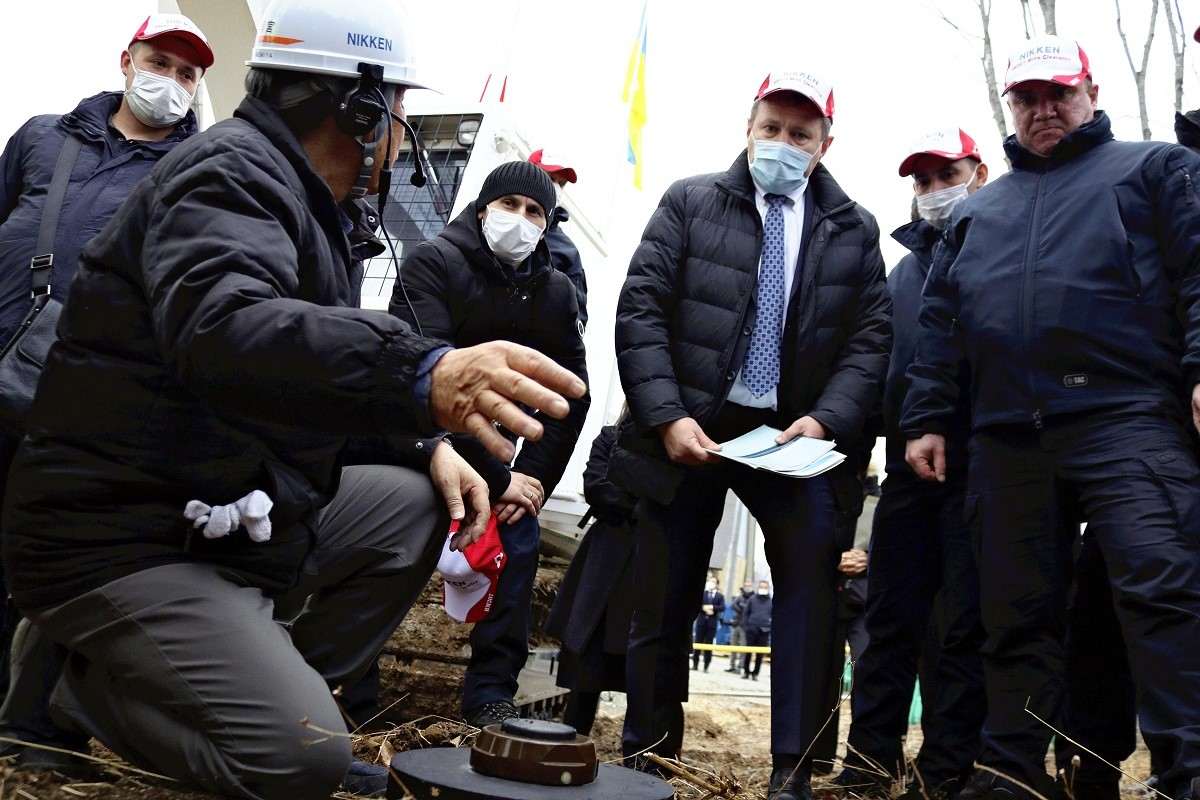 10:41 JST, February 2, 2023
YAMANASHI — Officials from the Ukrainian state emergency service visited Yamanashi Prefecture to watch a demonstration of equipment for clearing landmines manufactured by Nikken Corp.
Many landmines have been laid in Ukraine during the Russian invasion, even in farmland and residential areas, and people have been killed in demining operations. To prevent such tragedies, Ukrainians have high expectations for the technology, which has been developed by the construction equipment manufacturer based in Minami-Alps, Yamanashi Prefecture.
According to the Ukrainian agency, about 30% of the country, or 174,000 square kilometers, is likely to have been contaminated with landmines and unexploded bombs. However, the nation lacks enough mine removal equipment.
At least 64 people have been injured and 13 people have been killed during removals so far.
"We're risking our lives to clear land mines," an official of the agency said.
The company's demining equipment uses a roller-type cutter attached to the end of a heavy machinery arm that rotates at high speed to dig about 30 centimeters below the ground and detonate the mines. With the capability to demine 400 to 800 square meters per hour, the equipment allows mines to be cleared 20 to 100 times more efficiently than manually doing so.
Supported by the Japan International Cooperation Agency (JICA) and other organizations, nine Ukrainian officials learned about the demining equipment and operated it themselves at a Nikken Corp. facility in Hokuto in the prefecture on Jan. 24.
A Ukrainian official who is deputy director of explosive ordnance control said that although training is necessary to be able to operate the demining equipment, it will be very useful and ensures the safety of their personnel.
It has already been decided to provide Ukraine with four of the ALIS landmine detectors developed in Japan. However, the provision of demining equipment has yet to be decided.
The Ukrainian government will consider requesting Japan's assistance with the equipment based on the result of the officials' trip.
138 units to 11 countries
Nikken Chair Kiyoshi Amemiya, 75, saw people suffering as a result of landmines when he visited Cambodia after the civil war, and it was the impetus for him to start developing landmine removal equipment. Since delivering the first unit to the country in 2000, the company has exported a total of 138 units to 11 countries.
The company is also focusing on environmental remediation after mine clearance. In Cambodia, the company cleared overgrown trees in tropical rainforest areas and used heavy machinery to cultivate the soil and make farmland.
Add TheJapanNews to your Google News feed.