As Backcountry Skiing Grows More Popular, Accidents Grow More Common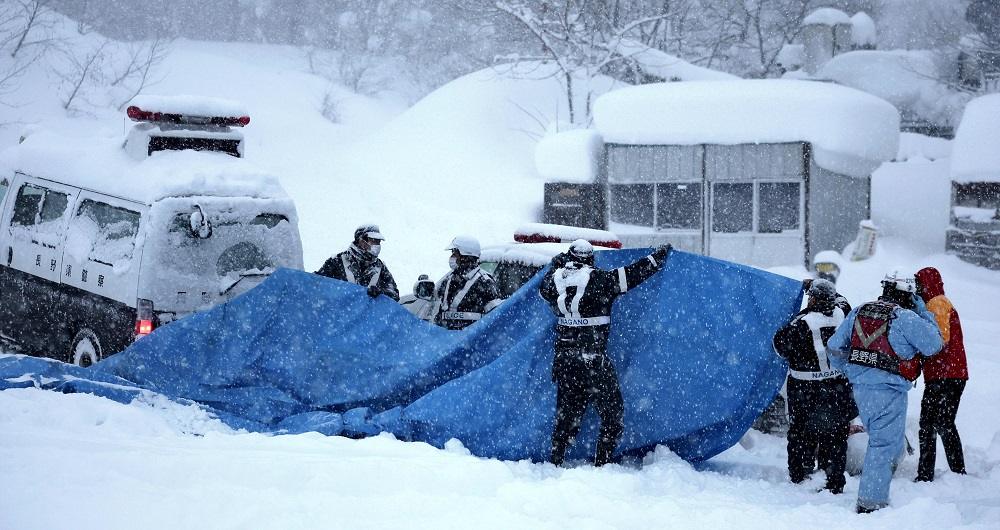 21:07 JST, January 31, 2023
NAGANO — Backcountry skiing, descending snowy slopes not developed for skiing or snowboarding, has become increasingly popular in recent years because skiers can enjoy being surrounded by wilderness. But unlike skiing on managed and maintained trails, it is fraught with danger, and there is no standard system for search and rescue.
Backcountry skiers are at risk from "surface avalanches," in which melted snow hardens and new snow that accumulates on top of it slides down. Skiers face various other dangers, such as falling from dangerous heights and crashing into trees.
On Monday, the bodies of two men, at least one of them an American, were found on a slope of the eastern Tengu Plateau on the eastern side of Mt. Hakuba Norikura, in Otari, Nagano Prefecture, about 2,100 meters above sea level. They are thought to have been caught in an avalanche while backcountry skiing on Sunday.
Thirteen foreigners in three groups, including Canadians, were believed to have been skiing off-piste at the time of the avalanche.
In the Hakuba area, where the accident occurred, the number of backcountry skiers visiting from abroad in search of good powder snow has been increasing, which in turn has led to an increase in accidents.
Accidents have also been on the rise in Hokkaido, home to ski resorts such as Niseko. According to the Hokkaido prefectural police, 251 people were reported missing while backcountry skiing in the five years through last season. This season, 35 people, including 13 foreigners, had been reported missing as of Sunday, already surpassing the total of 27 for all of last season.
There is concern that the increase will continue amid conditions such as restrictions on entry to Japan being eased and domestic travel picking up.
Skiers take to the backcountry at their own risk.
Police and other experts stress the importance of preparations such as carrying food, extra warm clothing and a small transmitter to help rescuers find a skier's location in case of an avalanche. They also urge skiers to check weather forecasts and ski routes carefully before entering a mountain area, and to use guides who are familiar with the area.
On Monday evening in Myoko, Niigata Prefecture, police were notified by a ski resort that four Finnish men had gone missing while backcountry skiing on 1,932-meter Mt. Mae at around 5:40 p.m. All four men descended the mountain on their own before dawn on Tuesday, the police said. They were not injured.
Add TheJapanNews to your Google News feed.