Onshore Wind Power Projects Face Local Opposition in Northeast Japan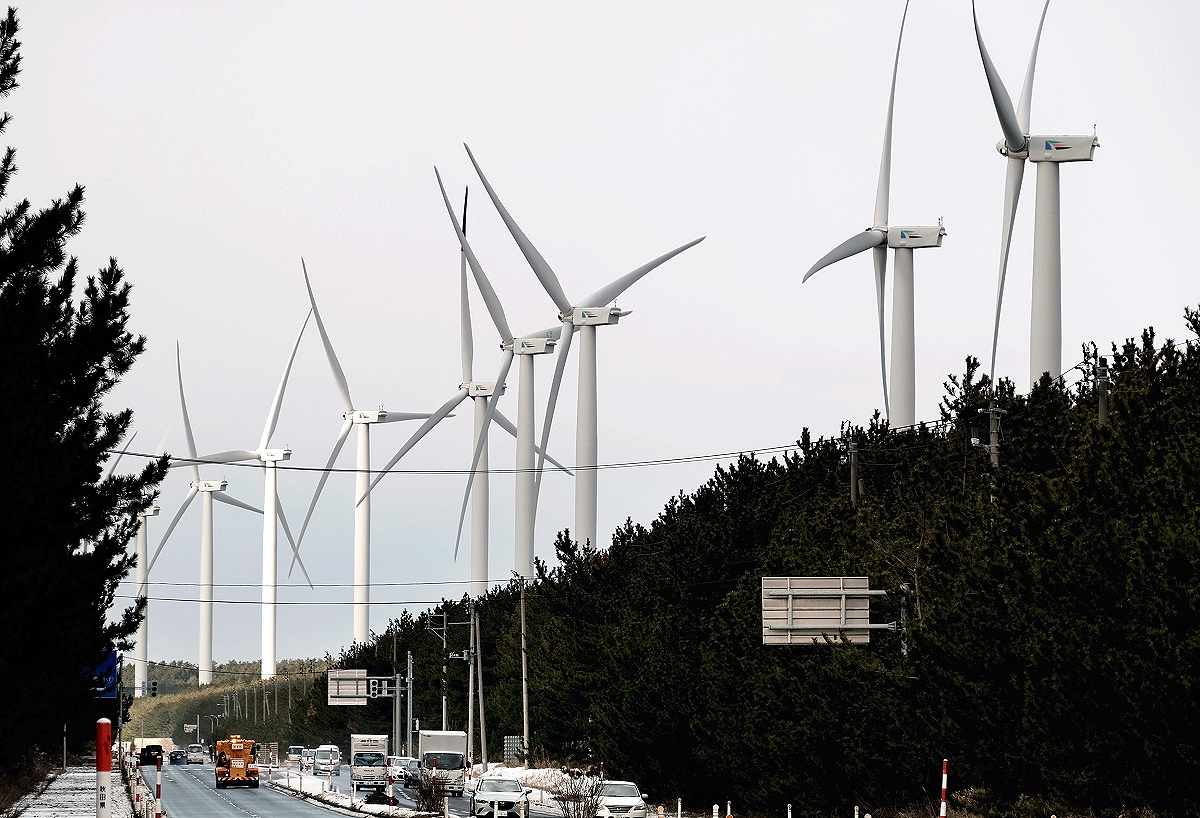 12:05 JST, January 23, 2023
Several wind power plant construction projects in the Tohoku region are facing opposition from local mayors and residents concerned over potential damage to the environment.
In the last several months alone, a number of projects have been scrapped in the face of strong opposition, though one particular project is moving ahead after the operator coordinated closely with locals.
According to one expert, projects that are green-lighted have a common theme: Companies deal sincerely with the concerned local communities.
On Dec. 2 last year, Tsutomu Komata, the mayor of Shichinohe Town in Aomori Prefecture, voiced disquiet over an ongoing onshore wind power farm project in the Hakkoda Mountains in the prefecture.
"The town is clearly opposed to the project," Komata said of the Michinoku Furyoku Hatsuden Jigyo project. The mayor's worries stemmed from the possible impact of deforestation on water sources, among other factors.
The construction of up to 150 wind turbines with a combined generation capacity of 0.6 million kilowatts had been planned over about 17,300 hectares spanning six municipalities in the prefecture — including Shichinohe. The project was led by Tokyo-based Eurus Energy Holdings Corp. invested by Toyota Tsusho Corp. and other companies. Operations were slated to start in April 2030. However, in the face of local opposition, the company announced it would scale back what was to be one of the nation's largest planned wind power projects by reducing wind turbines numbers to around 100.
Other projects, meanwhile, have been canceled. In July last year, Osaka-based Kansai Electric Power Co. was planning to build up to 23 windmills that would have generated 96,600 kilowatts of electricity in the Zao Mountains in the town of Kawasaki in Miyagi Prefecture. However, the plan was scrubbed after running into criticism from Miyagi Gov. Yoshihiro Murai, among others, over claims that the construction of a cluster of wind turbines around the Okama crater lake "would destroy a precious landscape" that was popular with tourists.
Similarly, a project planned by Osaka-based Hitachi Zosen Corp. on the borders of four municipalities in Fukushima Prefecture, including the village of Showa, was nixed in August last year because of opposition from locals.
Strong winds blow steadily along Tohoku region coastal areas, making it a preferred location for wind power generation. Aomori Prefecture was Japan's largest producer of wind power in fiscal 2021, registering some 1,255.15 million kilowatt-hours, according to a Natural Resources and Energy Agency survey. Three other Tohoku region prefectures were among the nation's top 10 wind power producers in that fiscal year: Akita (930.46 million kilowatt-hours) was third, Iwate (396.76 million kilowatt-hours) fifth and Fukushima (313.17 million kilowatt-hours) eighth.
But some Tohoku region mayors are growing distrustful of project developers, claiming they do not coordinate closely enough with local communities.
For example, Aomori Gov. Shingo Mimura criticized the Michinoku Furyoku Hatsuden Jigyo project last November, saying, "It's unacceptable that they do everything [based purely] on their own business plans."
In September last year, Miyagi Gov. Murai revealed a plan to create an ordinance for taxing businesses that build new renewable energy facilities in forested areas in the prefecture. Murai wants to slow projects that conflict with local communities, saying, "There's no means for local governments to stop such project plans."
However, some project operators reach out to and thoroughly engage with local communities. In April last year, Fukushima Reconstruction Wind Power GK — a Fukushima city-based joint venture created by nine companies, including Sumitomo Corp. — began constructing Abukuma Wind Power Plants in four municipalities, including the city of Tamura in Fukushima Prefecture. The plants will have a combined output capacity of 147,000 kilowatts.
The company has spent seven years coordinating with locals since the Fukushima prefectural government began environmental-impact assessments for the project in fiscal 2015. The firm plans to hire local engineers who will be responsible for maintaining and managing the projects. A total of 46 wind turbines will be constructed and operations are scheduled to begin in spring 2025.
Yoshiaki Shibata, an expert on renewable energy and a researcher at the Institute of Energy Economics, Japan, said, "It's important [for project operators] to establish a scheme to collaborate with local communities and have local residents participate in the project from the onset while informing them about specific benefits to their communities."
Add TheJapanNews to your Google News feed.