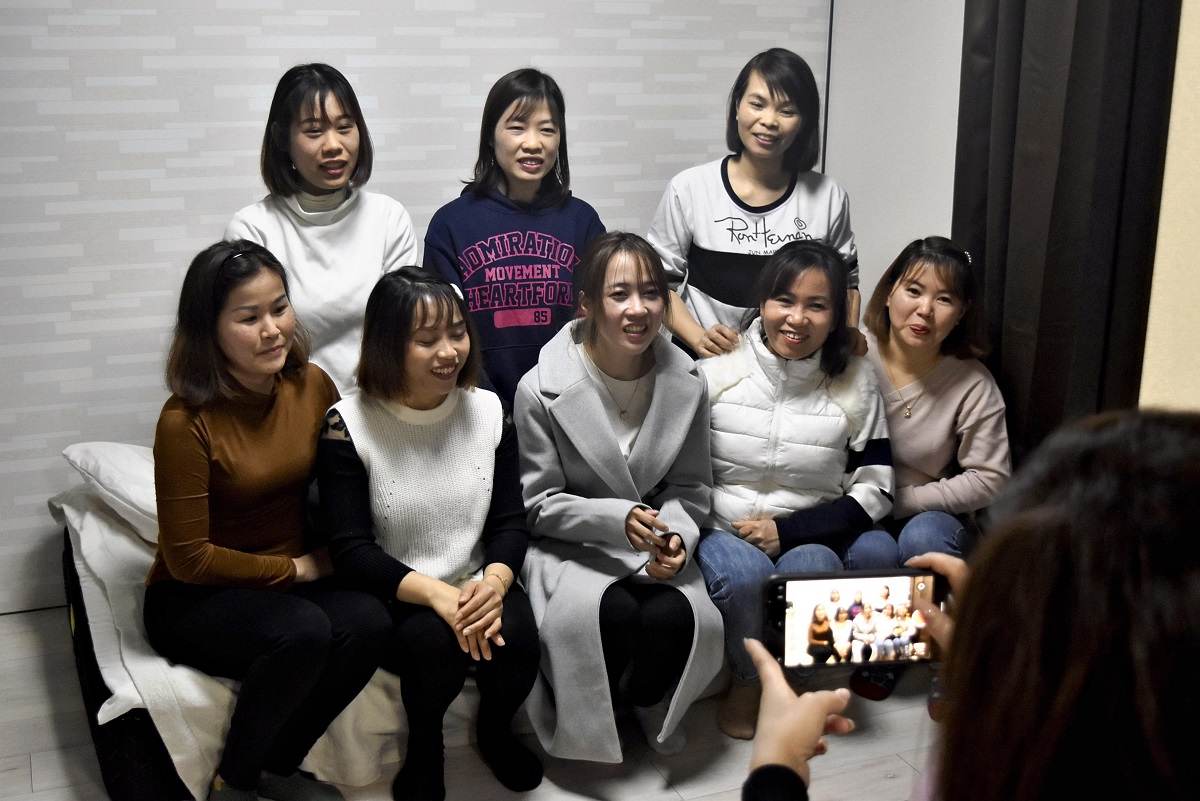 7:00 JST, January 19, 2023
Expert panel discussions have begun on the technical intern program for foreign nationals, as this project that was intended to contribute to the international community is instead being used to ease the labor shortage in Japan. Low wages and poor conditions have become a problem in some workplaces.
The governmental panel examining the matter is expected to compile an interim report this spring.
Unpaid wages
"We were able to celebrate a happy New Year. We're so grateful for all your help."
Eight Vietnamese technical interns, including 32-year-old Doan Thi Thu Nga, gathered at an apartment in Gifu on Dec. 24 to express their gratitude to supporters by recording a video and writing messages on a card.
Eleven Vietnamese women, including the eight, had been illegally forced to work for long hours at a sewing company in Ehime Prefecture since 2018. They labored from 6 a.m. to 7:30 p.m. with about two days off a month; their unpaid overtime totaled about ¥27 million.
The women ultimately sought relief from nonprofit organization Nichietsu Tomoiki Shienkai (Japan-Vietnam Tomoiki support group), headed by Jiho Yoshimizu, and were moved to sewing companies in Gifu Prefecture in November.
They later received part of the unpaid overtime, in the form of support money collected through crowdfunding. Nga gave supporters an envelope containing part of the money, along with the message card on Dec. 24.
"All of us pitched in. Please give this money to people who are more in need than us," she said.
Many trainees run away
The technical intern program began in 1993 with the aim of teaching skills to people from developing countries. Trainees can work for up to five years in 86 occupations, including construction and food manufacturing.
As of the end of June last year, about 320,000 such trainees were living in Japan.
However, problems such as non-payment of wages and violence at workplaces have continued. In principle, trainees are not allowed to move to other companies during the first three years. About 7,000 trainees ran away and went missing in 2021.
According to the Health, Labor, and Welfare Ministry, there were 6,556 violations of labor-related laws and regulations by training providers in 2021.
Violations of safety standards, such as inadequate safety measures, stood at 2,204, accounting for the largest portion of all the problems. There were 1,443 cases of unpaid overtime, and 1,345 cases of illegally long work hours.
The Organization for Technical Intern Training for foreign trainees, under the jurisdiction of the Justice Ministry and the Health, Labor, and Welfare Ministry, has set up a consultation office but the provision of effective support is actually left to the "supervisory organizations" that act as liaisons for accepting interns, as well as to private organizations.
Five of the 11 Vietnamese, including Nga, were eventually accepted by Approach, a sewing company in Gifu.
At the request of NPOs and other organizations, the company has hired in the past three months 10 trainees from all over Japan who were victims of unfair labor practices.
The company arranges housing and provides bicycles for transportation for trainees.
"Our company is helped by the trainees," said president Hiroki Inoue. "They start to smile again within a week or so after we take them in."
Yoshimizu, representative of the NPO Nichietsu Tomoiki Shienkai, said, "I hope the expert panel will listen to the voices of people on the front lines and reflect their comments in the new system."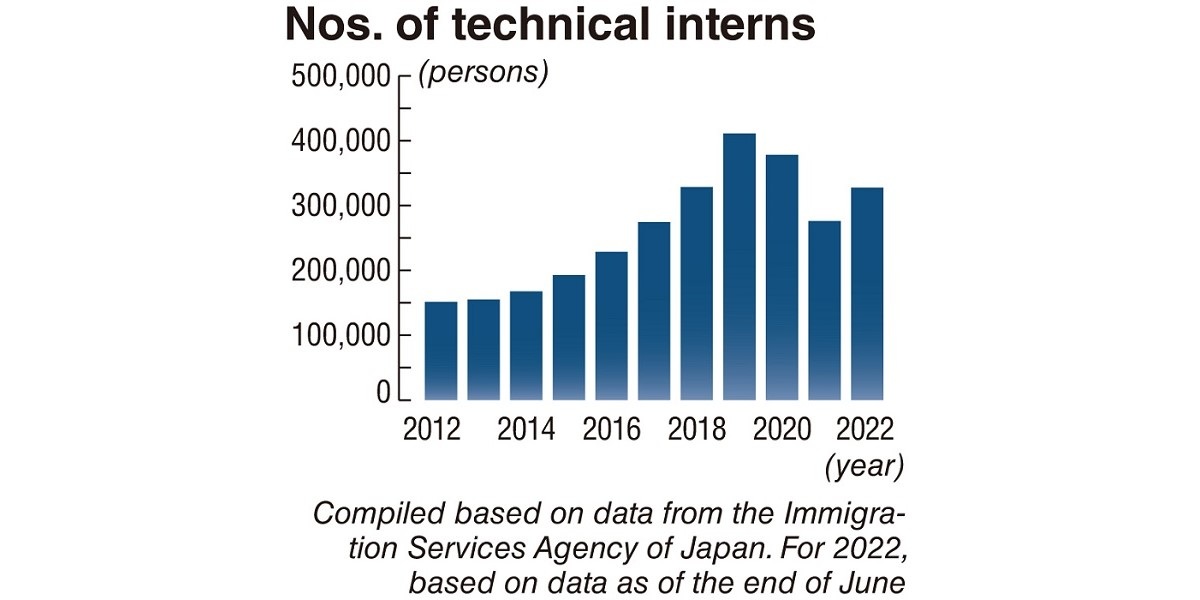 Indebted to pay fees
Some interns are in debt when they arrive in Japan, after paying huge fees to mediation agencies that recruit trainees in their home countries and to intermediaries.
According to survey results released in July last year by the Immigration Services Agency of Japan, about 54% of trainees borrowed money in their home countries before coming to Japan. The average debt was about ¥540,000.
In fiscal 2023, the Health, Labor, and Welfare Ministry will conduct its first on-site investigation of such mediation agencies overseas, looking into the high cost burden and human rights violations.
The expert panel held its first meeting on Dec. 14. It is chaired by Akihiko Tanaka, president of the Japan International Cooperation Agency, and its members include university professors, lawyers and heads of local governments.
Members in attendance said there were clearly discrepancies between the intended purpose of the training program and the actual situation, and that these gaps were structural problems leading to human rights violations.
The top issue at the panel meetings will be whether to continue the system. Another key point will be whether to maintain the restrictions on moving from one company to another.
Add TheJapanNews to your Google News feed.