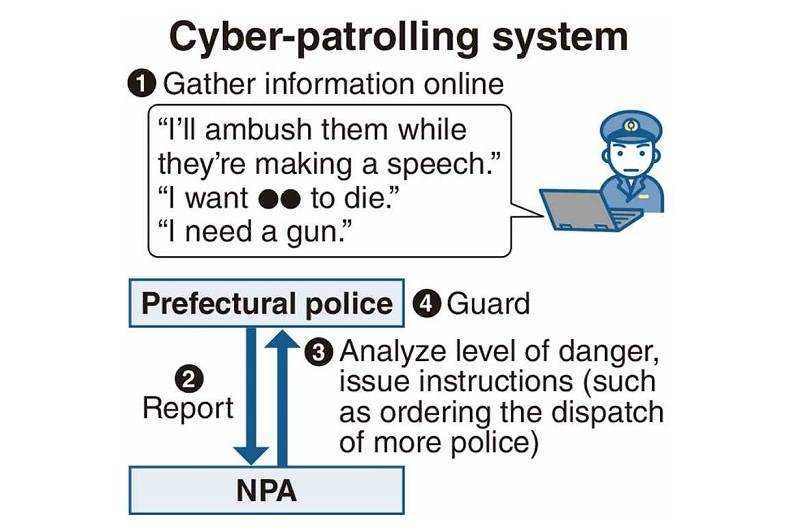 16:56 JST, January 8, 2023
Police nationwide are compiling and analyzing social media postings that might indicate future attacks on dignitaries, The Yomiuri Shimbun has learned, spurred by the fatal shooting of former Prime Minister Shinzo Abe six months ago.
Police are beefing up security for VIPs in preparation for upcoming nationwide local elections in April and the Group of Seven summit meeting in Hiroshima in May.
According to police authorities, they had patrolled the internet in the past to detect drug trafficking and child pornography, but had not done so to detect and prevent crimes against dignitaries, except to gather information on specific organizations such as extremists and rightist groups.
In recent years, however, there have been notable attacks by lone assailants who become radicalized without belonging to any group. Tetsuya Yamagami, 42, who was arrested on suspicion of murdering Abe, allegedly manufactured weapons on his own.
Online postings have been made that appeared to foreshadow an attack. In the 2019 arson attack on the studio of Kyoto Animation Co., or KyoAni, threatening comments such as "I'll charge into KyoAni with explosives" were posted on an internet message board.
Yamagami tweeted, "I don't care what happens to the Abe administration."
After the shooting of Abe, the National Police Agency instructed police nationwide to gather information on the internet about threats to the safety of dignitaries. The Metropolitan Police Department, for example, is using its existing cyber patrol system to investigate whether anyone is persistently posting complaints about VIPs or following them around.
Suspicious postings are reported to the NPA, which analyzes the level of danger to determine if more security personnel need to be dispatched. The agency faces the challenging task of how to assess the risk, given that some cases involve simple complaints and pranks, and has considered using artificial intelligence to gather information.
Out of concern for the privacy of internet users, the NPA has instructed police not to compile more information than necessary.
Add TheJapanNews to your Google News feed.