A capybara from Nasu has won this year's competition for soaking in a hot spring the longest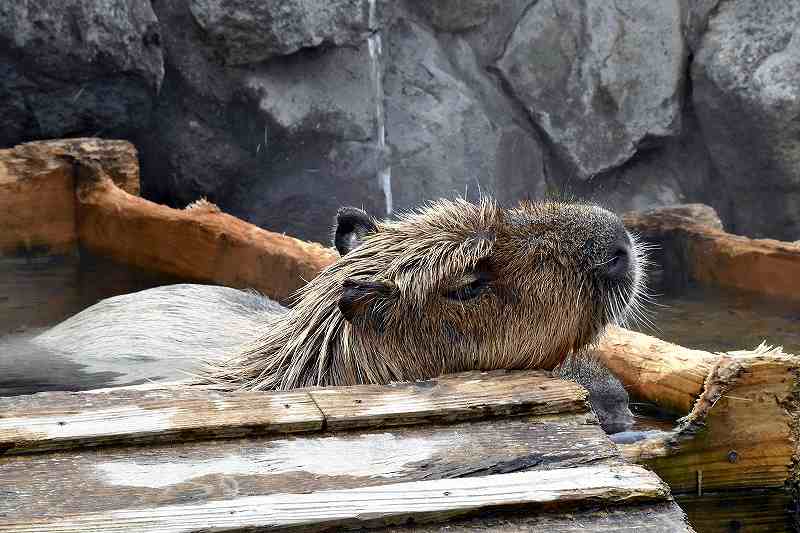 14:19 JST, January 8, 2023
UTSUNOMIYA — The champion of this year's annual capybara hot spring soaking contest was Koharu, who took it easy in the tub for a whopping 3 hours, 40 minutes and 29 seconds.
The female capybara from Nasu Animal Kingdom in Nasu, Tochigi Prefecture, managed to stay in the water for more than an hour longer than the runner-up.
Capybaras from five different zoos nationwide competed Saturday to see which one of them could soak in the hot spring the longest. Each facility recorded the time from when their capybaras got into the tub until when they got out.
Koharu, 5, the winner of the 11th competition this year, had failed to win the title for the fourth year in a row last year.
Coming in second place was male capybara Momiji, 10, from Ishikawa Zoo in Ishikawa Prefecture who clocked 2 hours, 23 minutes and 54 seconds.
Other competitors were from Saitama Children's Zoo Park in Saitama Prefecture, Izu Shaboten Zoo in Shizuoka Prefecture and Nagasaki Bio Park in Nagasaki Prefecture.
After Koharu was hustled by her keeper into a 37C Japanese cypress hinoki bath at 11 a.m., she kicked back and enjoyed herself whilst hot water poured down onto her head. However, there was a moment where she was almost rushed out of the tub by another capybara that had pounced on her.
About 200 people watched the Instagram feed from start to finish.
"Koharu did well in the first event of the new year," an official of Nasu Animal Kingdom said.
Add TheJapanNews to your Google News feed.