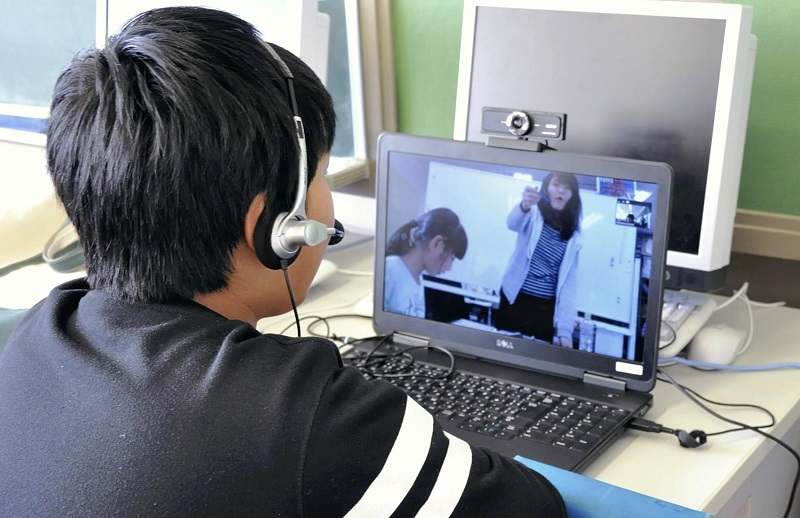 21:00 JST, January 7, 2023
OSAKA — With coronavirus border control measures having been eased, the number of foreign children coming to Japan is on the rise and citizen groups in various parts of the country have been busy providing language and study support for such children. These activities are carried out by volunteers, and building a support system has become an issue.
In order to address the shortage of manpower due to the decline of the population, the government has been actively accepting foreign workers. As a result, the number of foreigners staying in Japan on working visas has increased since before the coronavirus pandemic began. However, many such foreign workers did not bring their children to Japan due to the pandemic.
Amid the spread of coronavirus infections, the government restricted new arrivals of foreign nationals starting in April 2020, but it began easing the restrictions in a phased manner in March this year.
For foreign workers who wanted to bring their families to Japan, the government allowed them to enter on family visas if certain conditions were met. The government lifted these conditions in June last year. The families of foreign workers are allowed to stay in Japan for up to five years.
According to the Immigration Services Agency of Japan, the number of foreign residents in Japan declined for two consecutive years in 2020 and 2021, both as of the end of December, due to entry restrictions to prevent the spread of the coronavirus. However, the number began to increase, and by the end of June 2022 had reached a record high of 2.96 million people. About 10% of them are high school and younger children, about 1.3 times the figure of 10 years ago. Under such circumstances, more and more foreign children want to take Japanese lessons.
'Direct students' need help
Ashim Khattri, a 15-year-old Nepalese boy, came to Japan on a family visa in October last year with his uncle to live with his father who works for a restaurant in Osaka. Since Khattri graduated from a junior high school in Nepal, he cannot enter a junior high school in Japan because he would be older than the other students.
Given that such children have to enter Japanese high schools directly after graduating from secondary schools in their home countries, people supporting foreign children call them "direct students," who are said to be particularly in need of support.
Aiming to enter an Osaka prefectural high school that has a good system to teach and support foreign students, Khattri is currently learning Japanese and mathematics at a study support class in Osaka. The school's entrance exam will be held in February.
"The Japanese language is difficult because it has three types of characters — kanji, hiragana, and katakana — but I will work hard so that I can enter a high school," Khattri said.
Since June last year, five new students including Khattri have joined the class and the number of elementary and junior high school students attending the class has increased from 20 before the pandemic, to 33. All 10 of the Japanese people teaching the students are volunteers, and the operating costs are funded with donations and subsidies from the Osaka municipal government.
Yoshiko Tsubouchi, 74, who runs the class, said, "We have limited human resources and time to teach foreign children and the management is like waking a tightrope."
The Osaka International House Foundation, based in Osaka, operates classes jointly with the citizen group Kodomo Hiroba (children's square), based in the city.
Since May, 36 new children — 23 "direct students" and 13 elementary and junior high school students — joined the classes and the number of children in attendance jumped to 68, nearly twice that of before. As such, they have stopped accepting new elementary and junior high school students since July.
"We have no choice but to give priority to 'direct students' studying for entrance exams," an official in charge said.
Half of municipalities lacking
The government, which has been actively accepting foreign workers, provides subsidies for organizations operating Japanese classes and takes other measures. However, the support is far from sufficient.
According to a survey conducted by the Education, Culture, Sports, Science and Technology Ministry from August to November 2021, only about a half of all 1,788 municipalities nationwide have a system to teach foreign students, such as appointing teachers who teach Japanese, and support staff fluent in the childrens' respective mother tongues to elementary, junior high and high schools and other educational institutions.
According to a survey by the Cultural Affairs Agency, 48% of about 40,000 people providing Japanese lessons and other support were volunteers as of November 2021.
Yoshimi Kojima, associate professor of sociology of education at Tokyo University of Foreign Studies, said: "Since schools have failed to keep up with the pace of increase in the number of foreign students, they are too dependent on self-help efforts of local volunteers. If the government continues to accept more foreign workers in the future, it should take the initiative in developing human resources with professional skills and creating a system to appoint such human resources to schools and for other operations."
Add TheJapanNews to your Google News feed.