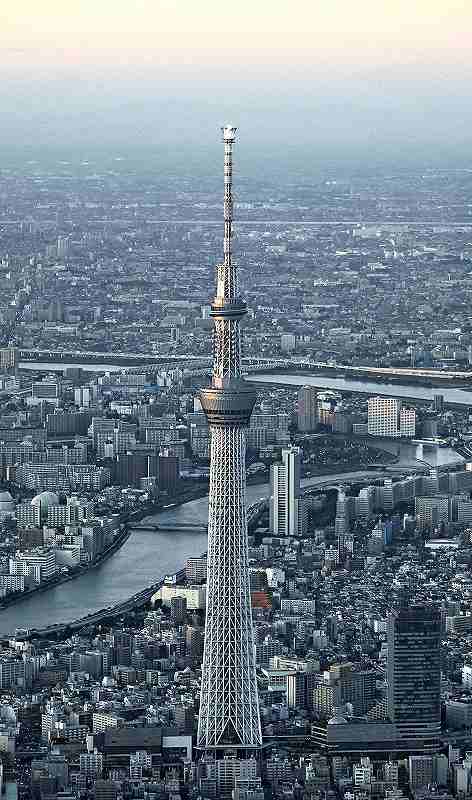 11:07 JST, December 14, 2022
'Tis the season at Tokyo Skytree to get ready for snow, which falls every year from the tower's steel frame, sometimes hitting the roofs of private homes and other buildings.
Skytree first opened 10 years ago, and over that time, its management company has improved its techniques and equipment to prevent harm from falling snow.
A demonstration was held for the media on Dec. 1 on the Skytree observation deck 350 meters above the ground. A worker wearing a lifeline demonstrated how to remove snow from the steel frame and other parts of the tower, using a brush attached to the end of a long pole.
The temperature at the top of Skytree is lower than on the ground, and it sometimes snows at the top of the tower in winter even when it's raining on the ground. It hasn't snowed yet this year, but when it does, snow will stick to the uneven parts of Skytree's steel frame and pillars, creating the risk of harm from falling snow.
The observation decks at 350 meters and 450 meters above ground have overhangs that allow snow to pile up. Electric heaters are installed on the exteriors, but snow that accumulates on such detailed parts as the steel frame has to be removed by hand.
According to the operator of Skytree, one to four cases of damage from falling snow have been reported every year since fiscal 2011, before the tower's opening. As of fiscal 2021, there had been reports of 25 cases of such damage overall.
The cases involved damage to the roof or exterior of a private house or other building; the tank of a parked motorcycle was also dented. Although there have been no witnesses to the actual moments when damage occurred, Skytree's operator has judged that these incidents were caused by falling snow.
It has not confirmed any damage as a result of objects other than snow falling from Skytree.
In addition to setting up electric heaters, the tower's operator has taken such measures as increasing the number of surveillance cameras to check on snow stuck on the tower. Nets are spread over the top of the tower to prevent snow from forming large chunks, but "it's difficult to prevent falling snow, as it completely depends on the weather," a company spokesperson said.
'Secret weapons'
To reduce damage from snow, the operator started full-scale manual operations in fiscal 2013 using special devices that have been improved almost every year based on feedback from the staff who use them.
The first year saw the use of a sweeper with a rectangular piece of rubber attached to the end of a long stick. However, staff had problems removing hard-packed snow with this tool, so its tip was reinforced with aluminum in fiscal 2014. In the same year, a sweeper with a brush attached to the tip was adopted to cope with uneven surfaces.
In fiscal 2015, a tool shaped like an aluminum spatula was introduced, making it possible to break icy snow more easily.
The operator continued to improve its snow-removing techniques, using an air pump from fiscal 2016 to push out stuck snow, and a small cleaner that sprays hot water with an anti-freezing agent from fiscal 2017.
Nine types of devices will be employed this winter to cope with any situation.
"We'll make improvements to expand the area where snow removal works are possible and ensure safety," a spokesperson said.
Skytree removes snow from December to April every year.
Add TheJapanNews to your Google News feed.