Steamy performance sends Japan Aufguss champion to world competition in Europe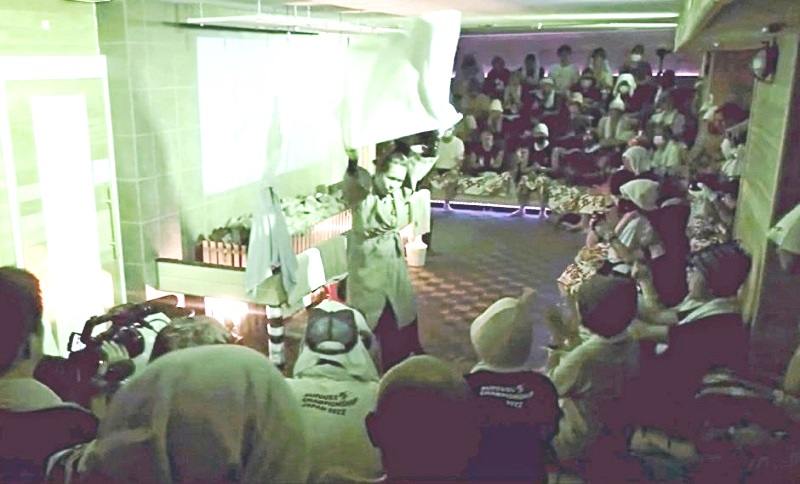 11:44 JST, August 12, 2022
TOTTORI — Netsuko Goto is the hottest star in Japanese Aufguss circles right now, and next month she will pit her steamy routine against the world's best for the first time.
Goto, whose real name is Asuka Ishiguro, is an expert at Aufguss — a wellness ritual in which a person uses a towel to circulate hot air and directs scented steam toward guests in a sauna. Goto won the Aufguss Championship Japan last month and earned her ticket to the world championships in the Netherlands in September.
Despite having 10 years of experience under her belt, this will be Goto's first competition abroad.
"I've never competed overseas, but I'm hoping to achieve a good result and learn some new world-class techniques," Goto said.
Goto, 35, started her Aufguss career in Kanagawa Prefecture. In May 2021, she moved to Kotoura, Tottori Prefecture, where she was appointed as a Local Vitalizatin Cooperator, which is part of a government-sponsored program that sends applicants to regional areas. She then became affiliated with the Nature Sauna facility at Ikkoganaru Campfield. The Tottori prefectural government named Goto as Tottori's "chief executive Aufgusser," a title encapsulating her efforts to raise awareness of and promote saunas.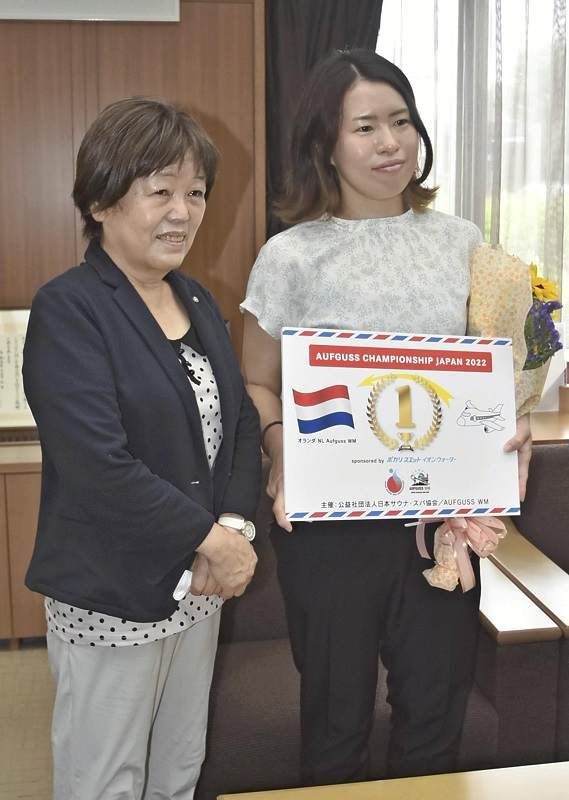 Aufguss is a German word, and the performer of this entertainment ritual is referred to as an Aufgusser or Aufgussmeister.
Aufguss is popular in Europe, and the world championships are held once a year. Aufguss Championship Japan, which doubled as a qualification event for the global tournament for the first time, took place in Yokohama in early July.
Goto decided to choreograph a performance that would showcase the charms of the Sanin region, so she arranged a program based on the legend of Yamata no Orochi, a giant serpent with eight heads and eight tails that is said to have lived in present-day Shimane Prefecture. Goto enlisted the help of an Iwamikagura traditional performing arts group from the prefecture and honed a routine infused with kagura dance movements.
About 30 Aufgussers took part in the individual competition of the Japanese championship, which included a qualification round and final that were both held in a real sauna. Goto's performance lasted about 15 minutes and she wowed the judges with flamboyant towel flicks and movements that were perfectly accompanied by music and images.
After being crowned champion, Goto returned to her workplace at the Kotoura town office, where her colleagues presented her with a bouquet. Goto also watched footage of the tournament with Kotoura Mayor Mariko Fukumoto.
Fukumoto said: "Along with your excellent technique, your performance really told a story. It was fabulous. Please do your best at the world championships."
The world championships will be held from Sept. 13 to 18. Until then, Goto will continue practicing and refining her towel movements at the gymnasium and at her home in Kotoura.
"I want to convey an element of Japanese culture through my performance," Goto said.
Add TheJapanNews to your Google News feed.