Kyoto group hopes to exhibit precious furoshiki wrapping cloths entrusted by collector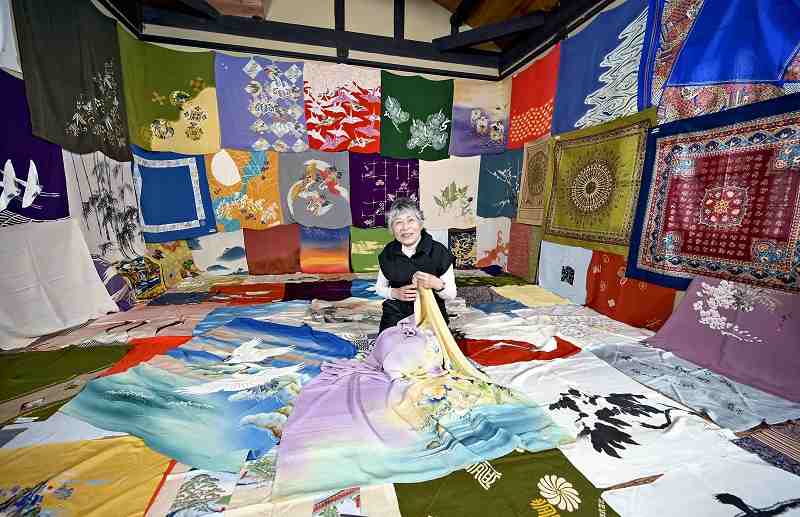 10:38 JST, August 1, 2022
About 500 furoshiki wrapping cloths collected by a man in Chiba Prefecture have been entrusted to a Kyoto-based group working to promote the appreciation and use of furoshiki.
The entrusted furoshiki are all precious items made for weddings, kanreki 60th birthday celebrations and other occasions from the Edo period (1603-1867) to the Showa era (1926-89). The group, Furoshiki Kenkyu Kai (Furoshiki Study Group), is now looking for an appropriate venue to exhibit the cloths so that many people can have a look at them.
The collector who entrusted the furoshiki to the group is Mitsuo Toyota, 85, of Funabashi, Chiba Prefecture. In 2019, he phoned the group's leader, Chizuko Morita, 75, saying he was in ill health and wanted the group to temporarily take care of his furoshiki on his behalf.
Many of the furoshiki were made for weddings, including a yuzen-dyed silk one with festive patterns of cranes and shochikubai (pine trees, bamboo and plum flowers, all symbolizing happiness) complete with gold-thread embroidery and gold leaf decoration. There are also furoshiki with senbazuru (thousand cranes) patterns, presumably to celebrate recovery from illness. Some are painted with pictures of famous places in Edo (now Tokyo) and Kyoto.
The group had to pause its activities for a while because of the novel coronavirus pandemic. In March this year, however, the group exhibited 100 of Toyota's furoshiki at Kyoto Prefecture's Tango Kyodo Shiryokan museum. Visitors loved the exhibition, and some were apparently heard saying, "They are top-rate works of art" and "I'd like to display them at home."
Morita is now looking for a venue where even more people can come.
"Furoshiki are a cultural asset that exists in our everyday lives. I'd like to pass them on to future generations as Japanese culture that is both old and new," she said.
"Each and every furoshiki is filled with the thoughts and life stories of the ones who made it and the ones who used it. I hope you will spread each furoshiki and have a look at it," Toyota said.
Add TheJapanNews to your Google News feed.