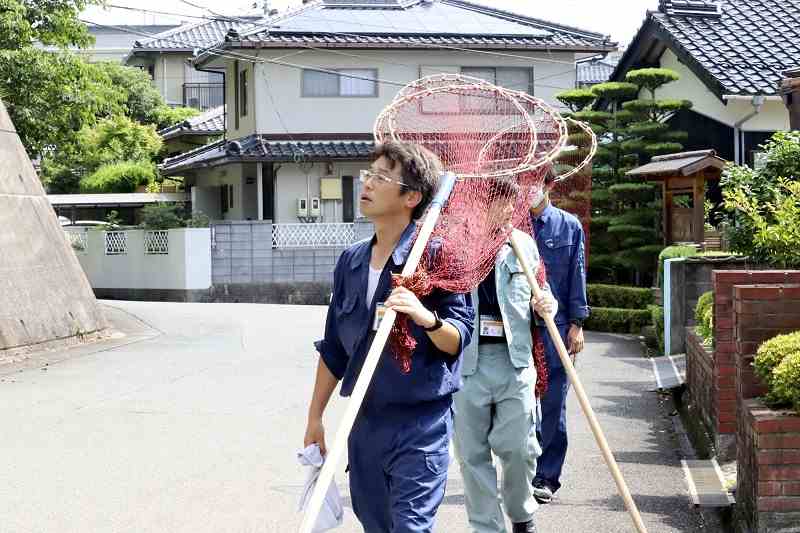 15:58 JST, July 26, 2022
YAMAGUCHI — A series of monkey attacks in a residential area of Yamaguchi City, particularly against children and elderly women, have left dozens injured and officials scrambling for a solution.
During the period from July 8 to midday on July 24, a total of 38 people had been scratched or bitten by a monkey in the area near JR Shin-Yamaguchi Station. The Yamaguchi city government has dispatched employees to patrol the area with nets, but they have had no success in capturing the elusive animal, which can suddenly appear out of nowhere. The city has now decided to use tranquilizer guns.
According to Yamaguchi prefectural police, the monkey sighted was a Japanese macaque 40 to 50 centimeters in height. All incidents were concentrated within a 1-kilometer radius, and two-thirds of the 38 victims were either children 12 and younger or women 60 and older.
Almost all of the initial attacks came after the monkey entered a house through an open window, but recently there have been more incidents occurring outside.
On the morning of July 17, a 75-year-old woman living on the second floor of an apartment building in the city was doing laundry on her balcony when a monkey suddenly grabbed her right leg. She shook the animal off, but it went around to her back and scratched her.
"I never imagined a monkey would come here," the woman said. "I hope it is caught quickly."
The city has sent more than a dozen employees in search of the simian and set traps in an effort to capture it. And in almost all cases when word from the public of a sighting comes in, the chance of capture is already lost by the time they arrive on the scene.
With signs that the monkey is becoming more violent, the city has turned to specialists in bird and animal control to posting themselves with tranquilizer guns in areas where the monkey often appears.
"We want to catch it as soon as possible," said the head of the city's agricultural policy department.
Similar monkey attacks occurred in Wakamatsu Ward in Kitakyushu from August to October last year. According to the city's bird and animal damage control department, there were as many as 25 people injured, mostly children and women, and the animal went uncaptured.
"It is highly likely that it is a male monkey that left his troop and is on its own," said Hiroshi Tanaka, 64, a curator at the Yamaguchi Museum and an expert on primate ecology. "It might have come to the city by mistake and, perceiving children and women as weaker, proceeded to attack them."
Tanaka said the first step in capturing such a monkey is to gather more information on sightings and identify where it is likeliest to appear.
Add TheJapanNews to your Google News feed.