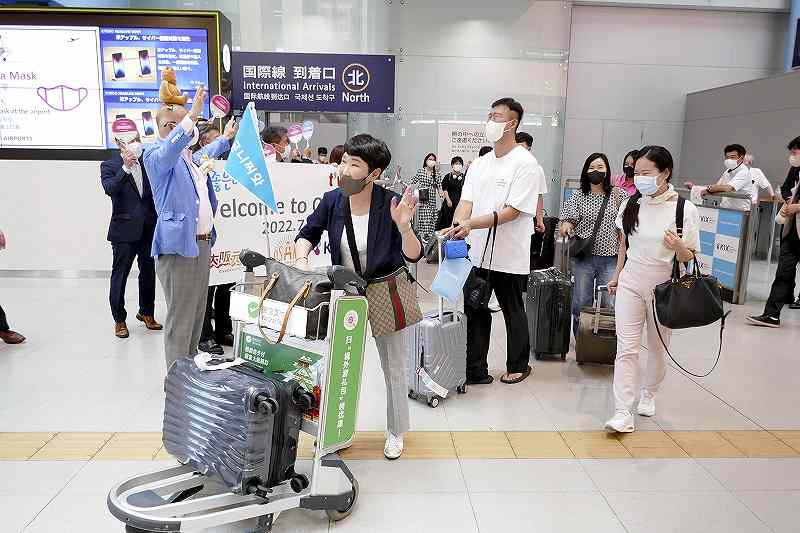 15:50 JST, July 25, 2022
Foreign tourists are increasingly being accepted back into Japan, starting with packaged tours in June. With no significant problems reported so far, hopes have been high that independent travel will resume in the days ahead.
But amid the "seventh wave" of coronavirus infections, it has become more and more uncertain whether the government's border controls will be eased. The path toward a full-fledged recovery in foreign tourism remains thorny.
No troubles reported
"I'm going to travel around local festivals, including the Gion Festival in Kyoto and those in the Tohoku region, for the next 45 days. I also look forward to enjoying some hot springs," a 59-year-old man from Hong Kong said happily at Kansai Airport on July 15.
The man is fond of Japan and used to visit four or five times a year — it was hard to be kept away for two years due to the pandemic. Regarding the seventh wave of infections, he said, "Japanese people conscientiously wear masks, so I'm not worried."
On June 10, the government resumed procedures for accepting foreign tourists for the first time in two years, though only for people coming on package tours and accompanied by a tour guide. There were concerns about whether foreign tourists would abide by the requirement to constantly wear a mask.
"So far, we haven't received any reports about foreign tourists who tested positive [during their trip] or caused problems in a local community," Japan Tourism Agency Commissioner Koichi Wada said at a press conference on July 20.
Tourism-related industries were hit heavily by the marked decline in foreign tourists entering Japan, and are making efforts to bring them in.
In July and August, Japan Airlines plans to resume flights or increase the number of flights on five of its routes, including the Kansai-Honolulu route. All Nippon Airways will do likewise on nine routes.
The South Korean government announced on July 19 that it would increase the weekly roundtrips between Haneda and Seoul from eight to a maximum of 28, starting on Monday onward.
Seibu Prince Hotels Worldwide Inc. has had foreign tourists staying at its hotels in Tokyo this month. Bookings for overnight stays from next month on by overseas tourists have also begun at its hotels in resort areas, such as Karuizawa and Hakone, both close to the Tokyo metropolitan area. Expectations have been growing for future increases.
Border controls
However, this is far from a full-fledged recovery.
The Japan National Tourism Organization said in a report released on July 20 that June saw 120,400 inbound tourists, including foreign students who are to study in Japan. This is only about 4% of the record high of 2.88 million registered in June 2019, as the entry of foreigners to Japan is currently limited to 20,000 a day.
According to JTA, about 80% of all foreign tourists coming to Japan in 2019 arranged airplane tickets and hotel reservations by themselves.
Kanako Uchimura, a researcher at Japan Research Institute, Ltd., pointed out, "As long as there are restrictions on the movements of tourists in packaged tours, the recovery in the number of foreign visitors will be limited."
There have been numerous calls from the tourism industry to ease border controls, including the requirement that foreign nationals submit a negative test result for COVID-19 before departure.
"Japan is one of the only countries in the world with such strict requirements. It should respond more in line with the global trends," said Hiroyuki Takahashi, chairperson of the Japan Association of Travel Agents and the chairperson of JTB Corp.
However, the government intends to delay easing its border controls, including raising the daily upper limit on the number of foreign tourists, until the infection situation calms down. More than 200,000 people tested positive on Sunday, the first time the daily number has exceeded that level.
"We have no intention of putting on the brakes, but we're no longer in a situation where we can step on the gas," said a senior official at the Cabinet Secretariat.
7th wave casts shadow
The seventh wave of infections is also having a growing effect on domestic travel. The government has decided to postpone its nationwide expansion of the tourism support program — which has so far been implemented by prefectural governments with subsidies from the central government and is now limited to travel by residents within regional blocs such as the Hokkaido region.
The government originally intended to expand the program in the first half of July. For the time being, it will continue the program in its current scope until the end of August.
The Osaka prefectural government discontinued on July 14 its tourism support program, carried out with financial support from the central government. Aichi Gov. Hideaki Ohmura on July 15 hinted at suspending that prefecture's tourism-support program, saying, "Depending on the infection situation and the strain on medical care services, we may suspend it."
An official in charge of public relations at JTB said, "Although there have so far been no apparent cancelations, growth in bookings for travel during the summer holidays has been slowing down since around last week."
Add TheJapanNews to your Google News feed.