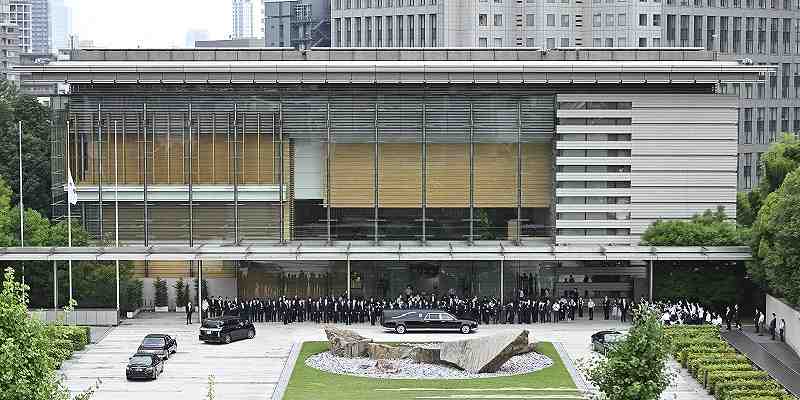 15:03 JST, July 16, 2022
With the state funeral for former Prime Minister Shinzo Abe scheduled to be held at the Nippon Budokan in Tokyo in September, the government is gearing up to host leaders and dignitaries from around the world.
Due to the circumstances surrounding the fatal attack on Abe, the government intends to take all possible precautions regarding the security and protection of guests. A team will soon be established at the Cabinet Office that will coordinate the details of the ceremony.
"In consultation with his bereaved family and relevant officials, we will make arrangements in the days ahead, including the guest list of foreign dignitaries," Chief Cabinet Secretary Hirokazu Matsuno said at a press conference on Friday.
The Foreign Ministry thinks many heads of state and senior officials will want to attend the funeral as many condolence messages have been received from foreign leaders. Diplomatic meetings, including summit talks, are also expected to be arranged to coincide with the state ceremony.
The government is currently expediting checks and reinforcements of the security and protection unit. The National Police Agency is conducting a review of the security procedures that allowed a suspicious person to approach and fatally shoot Abe. "Such a failure must never be allowed to happen again," a government official said.
A situation may arise in which adjustments will have to be made to the guest arrangements, depending on the scale of the ceremony. If Taiwan officials who had ties with Abe decide to come, it will also be necessary to establish a response, taking into account relations with China.
The cost of the state funeral will be covered by government funds. The scale and the precise budget will be worked out in the days ahead.
The state funeral for Shigeru Yoshida in 1967, the only time such a ceremony has been held for a former prime minister in the postwar era, cost about ¥18 million.
For the funeral of former Prime Minister Yasuhiro Nakasone in 2020, held by the Cabinet and the Liberal Democratic Party, the government paid about ¥80 million, half the total expenses.
Add TheJapanNews to your Google News feed.