Tokyo teams, JSA launch project to promote capital sports initiative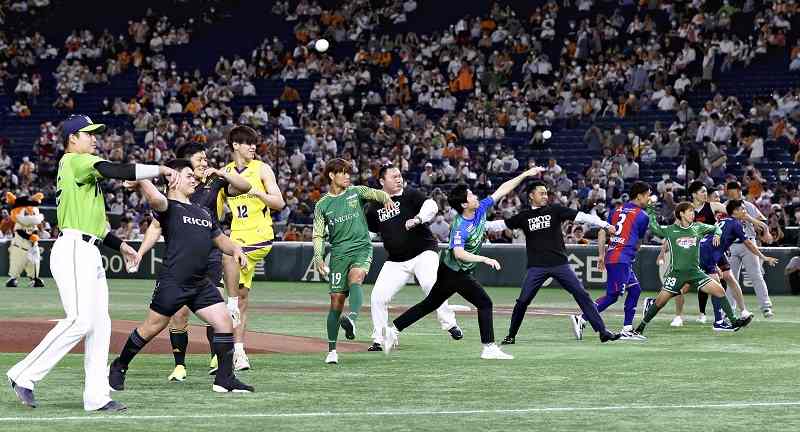 6:00 JST, July 9, 2022
The Yomiuri Giants is among 13 Tokyo pro sports teams across six sports that have joined forces with the Japan Sumo Association to form a group aimed at jointly developing and promoting sports in the capital.
Called "Tokyo Unite," the project was launched at a press conference on Thursday, and marked later in the day with a number of high-profile athletes and others participating in a ceremonial first pitch prior to the Giants' game against the crosstown rival Tokyo Yakult Swallows at Tokyo Dome.
Giants star infielder Kazuma Okamoto and former yokozuna Hakuho (now sumo elder Magaki) were among those lined up across the field for the first-pitch ceremony.
The project's vision is "to create a society that affords children every possibility" and "to make Tokyo the most energy-filled city in the world."
Among the initiatives are to: contribute to the development and improve the branding of sports in Tokyo, address various social issues Tokyo faces and work together to disseminate information and take action.
As its first effort to make a social contribution, a program is planned to provide athletic shoes to financially troubled households hit hard by the pandemic to give children the opportunity to start and continue playing sports.
The 14 project members will present 337 pairs of shoes to children, approximate to the number of games or events to be hosted by the teams and JSA this year in Tokyo. In addition, they will start preparations next year to open a store in Tokyo to sell jointly developed merchandise and fashion items.
A number of top athletes have expressed a commitment to the project. "I hope that the [13 teams and JSA] will cross the divide between their sports and unite their power to make Tokyo more exciting," said F.C. Tokyo and former Japan national team defender Masato Morishige, who participated in the first-pitch ceremony.
JSA Chairman Hakkaku unveiled a plan to open up space at Ryogoku Kokugikan in Sumida Ward to allow children to play catch and other activities during tournaments.
Giants owner Toshikazu Yamaguchi said: "Tokyo is a city where people can have fun watching sports all year round. I hope people will go out of the box and take an interest in other teams and organizations."
In addition to baseball and soccer, the other Tokyo sports teams play in leagues in basketball, rugby union, table tennis and swimming.
---
Click here to watch the video
---
---
Click here to watch the video
---
Add TheJapanNews to your Google News feed.