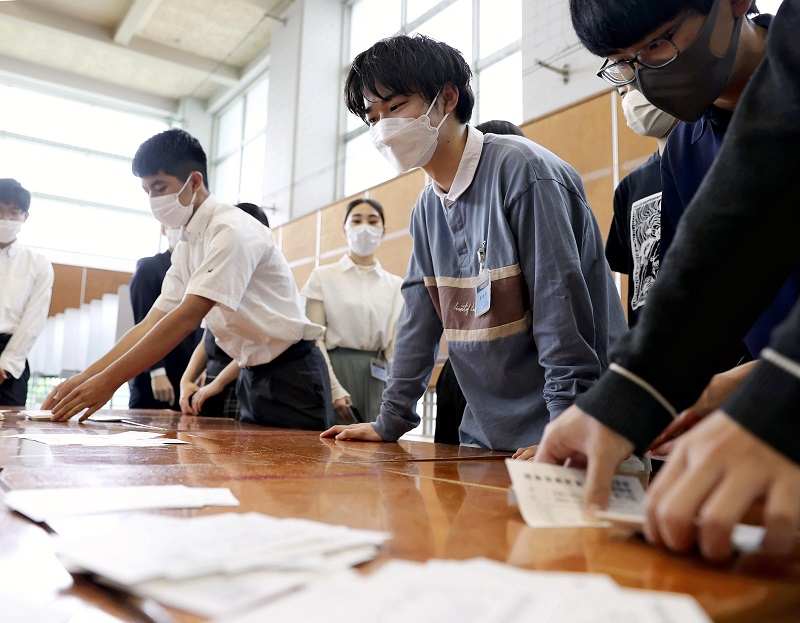 20:39 JST, June 27, 2022
Campaigning for the July 10 House of Councillors election has officially kicked off. Whenever an election is held, a familiar problem is the low turnout among younger voters.
In 2016, the voting age was lowered to 18. The upcoming upper house election will be the first national election to be held since the age of adulthood was also lowered to 18 in April.
To have young adults feel a closer connection to politics, various efforts are being made by voters of the same generation.
Earlier this month at the private Hachioji Senior High School in Hachioji, western Tokyo, about 500 third-year students attended a mock election held jointly by the city's election administration commission and a university students group called ivote.
"For us to live freely, we need peace," said Rintaro Arakawa, a 19-year-old sophomore at Keio University.
He was at the podium delivering a fiery speech, saying that uncertain international situations can be "solved through peaceful talks."
Arakawa was running as an "official candidate" of a fictitious party of peace.
After hearing speeches delivered by the two other candidates, who were also college students, the high school students voted. Each high schooler did so as if in a real election by writing the name of the preferred candidate on a slip of paper that was deposited into a ballot box.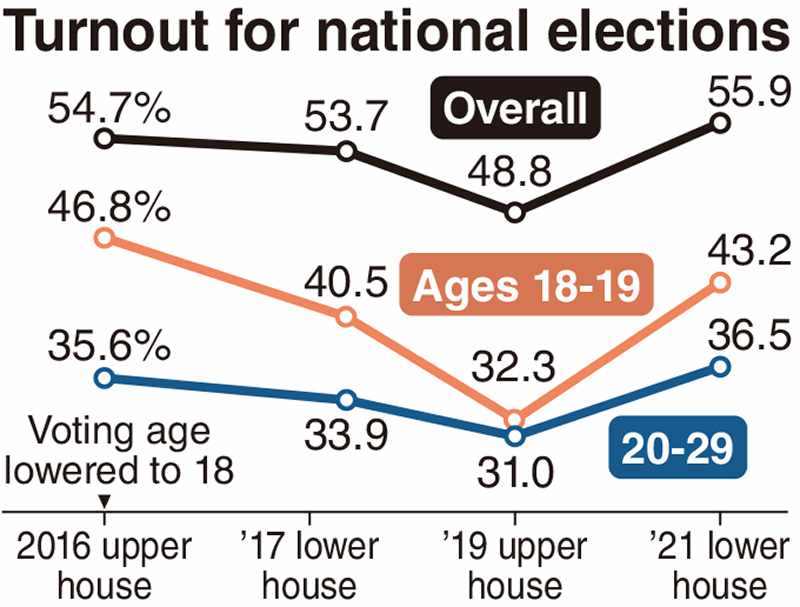 The ballots were counted and Arakawa did not win.
"I'm glad that they appeared to have enjoyed the voting, as I received many questions from them," he said, referring to the high school students. "I hope this will help them become interested in politics."
The first election Arakawa was eligible to vote in was the House of Representatives election held last October. He cast his vote after carefully comparing the views presented by various political parties and their candidates. By doing so, he felt such a sense of achievement: "I've become a member of society."
At the same time, however, he came to feel worried for the people of his generation who seemed to ignore the sidewalk stump speeches made by politicians.
Arakawa later learned about ivote, which has been actively working to inspire young people to vote. He joined the group in March this year.
For the mock election, he studied the views of political parties and gathered exchanges with other members of ivote to prepare for his campaign speech.
"By talking politics with others, we can broaden our knowledge and interaction with people," Arakawa said. "Elections will give us young people an opportunity to grow."
Politics of daily life
"As long as we have become adults, we have to be interested in what is going on in our society and go to a polling station to vote," said Taku Akimoto, a 19-year-old sophomore at Shimane University who represents a student organization called Poliranger.
The perception held by some young people that "politics is difficult" runs strong. In light of this, Poliranger planned a gathering for students to talk among one another on June 15.
"How about starting off by just talking about our recent everyday life?" was the way the group positioned the gathering.
Through the gathering, the group heard opinions such as, "I'm concerned that gasoline prices have soared as I drive to school." Poliranger plans to make use of such opinions to craft a questionnaire to be sent to local election candidates.
Momoko Nojo, a 24-year-old representative of the general incorporated association No Youth No Japan, said she went to a polling station for the first time when the upper house election was held in 2016.
At the time, the world of politics felt so distant to her but she somehow managed to cast her vote.
She later went to Denmark to study and was shocked to find that young people eloquently discussed politics among one another.
Just two weeks before the 2019 upper house election, she established No Youth No Japan with fellow Japanese students she met in Denmark. Ever since, they have sought to plainly explain social issues around the world though interviews with politicians and using charts and figures.
This year on June 8 they created an opinion box together with children to seek peoples' views on a children's hall in Shibuya Ward, Tokyo.
"I want people to have an awareness that we can change the various 'rules' around us by voicing our opinions," she said.
"Our generations, in our 20s and 30s, already bear the responsibility for the next generation," she said. "I don't want to disappoint future generations that Japan has not changed."
Much lower turnout
In national elections, the trend has been that voter turnout among young people falls far below the average of all registered voters. According to the Internal Affairs and Communications Ministry, the overall voting rate in the 2016 upper house election, when the voting age was lowered to 18, was 54.7%, with people ages 18 and 19 at 46.8% and in their 20s at 35.6%.
The Nippon Foundation this January and February conducted an awareness survey on people ages 17-19 in Japan, China, India, South Korea, the United Kingdom and the United States. According to the survey, the proportion of people who said they were interested in politics, elections, and social problems stood at 50% in Japan, ranking fourth among the six countries. Japan ranked last in terms of people who said they have their own opinions, at 42.1%, people who said they discuss such topic with family members and friends, at 34.2%.
"I hope young people can feel that the hurdles of going to a polling station have been lowered," said Shimane University Prof. Koichi Maiguma, who researches public administration. "I hope they will be inspired by the activities among young adults who on their own initiative are trying to get people involved in politics."
Add TheJapanNews to your Google News feed.