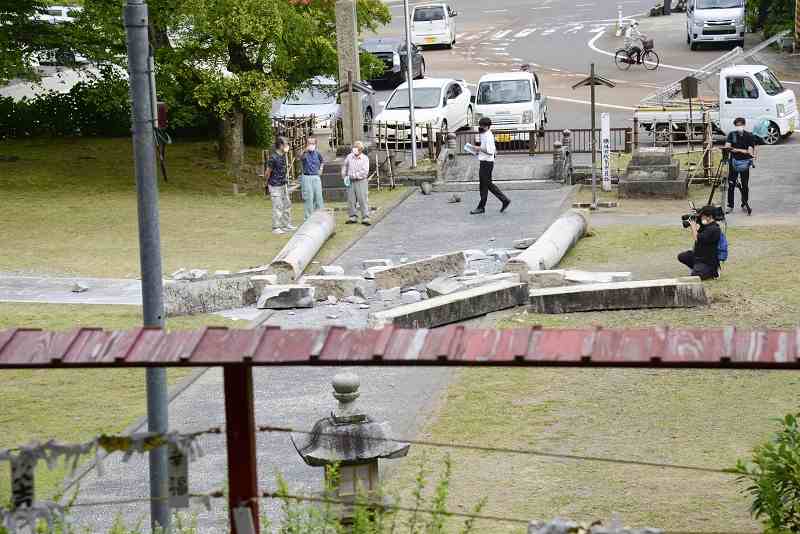 15:14 JST, June 19, 2022
TOKYO (Jiji Press) — A powerful earthquake jolted Ishikawa Prefecture on Sunday afternoon, the Japan Meteorological Agency said.
The temblor struck around 3:08 p.m., measuring lower 6, the third-highest level on the seismic intensity scale, in the Ishikawa city of Suzu, located in the Noto Peninsula, according to the agency.
The quake, with an estimated magnitude of 5.4, occurred at a depth of about 13 kilometers in the Noto area in the prefecture, part of the Hokuriku region, the agency said, adding that it is unlikely to cause a tsunami.
The earthquake registered lower 5 on the Japanese scale in the Ishikawa town of Noto and 4 in the city of Wajima in the prefecture. The two municipalities are also in the peninsula.
No abnormalities have been confirmed at the idled No. 1 and No. 2 reactors at Hokuriku Electric Power Co.'s Shika nuclear power plant in the town of Shika in Ishikawa, according to the company.
"We have not been informed of any major damage from the quake so far," Prime Minister Fumio Kishida said. "We will make every effort [to deal with the situation] with a high sense of urgency," he told reporters at the Prime Minister's Office in Tokyo.
Kishida instructed government staff to quickly confirm any damage from the earthquake.
The quake was strong and lasted for about 10 seconds, according to Yukiya Ozawa, a 34-year-old worker at the Suzu city government's general affairs division, who was at his home when the temblor struck. Due to the quake, the door of a cupboard opened, and a book fell from a bookshelf, he said.
Ozawa immediately drove to the city government office. On his way to the office, he saw some roof tiles fallen and broken on the street. At the office, he found documents fallen and scattered around. Damage such as broken glass windows has not been confirmed, he said.
At a liquor shop in the city, some 20 bottles of sake fell and broke. Masafumi Muramoto, the 84-year-old owner of the shop, said that he heard loud sounds of the earth rumbling and his house creaking.
A male employee at a lodging facility near the coast in Suzu also said that the earthquake was strong. But no particular damage has been confirmed at the facility, he said.
Add TheJapanNews to your Google News feed.