AI listening device aims to help deaf train passengers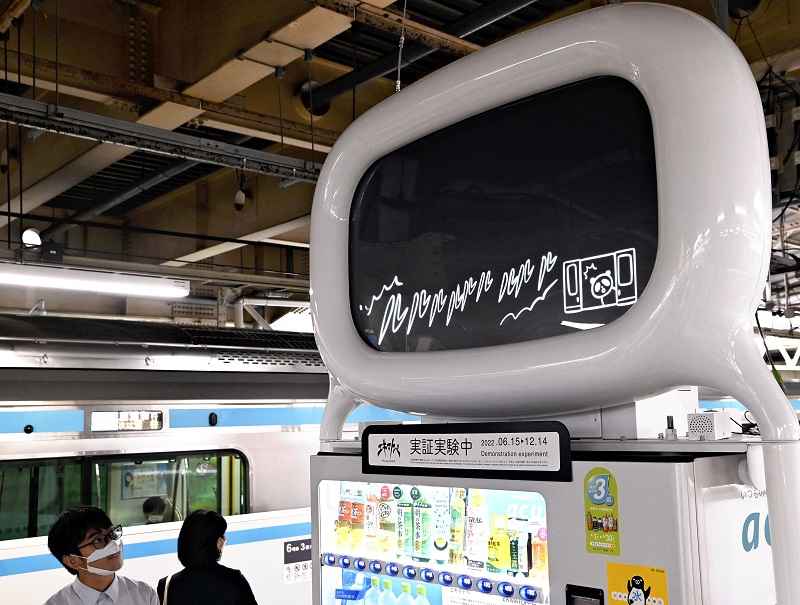 14:46 JST, June 19, 2022
A "sound visualization" device aimed at enhancing safety for passengers who have difficulty hearing was introduced recently at JR Ueno Station in Tokyo.
The device, named Ekimatope, "listens" for spoken announcements and the sounds of arriving and departing trains, then transcribes them into written form and displays them on a screen. The idea came from students at a special-needs school.
Ekimatope is a portmanteau of the Japanese word "eki" (station) and "onomatopoeia."
East Japan Railway Co. (JR East) and Fujitsu Ltd. will monitor and test the device through mid-December.
Ekimatope comprises artificial intelligence equipment installed in a large speech balloon-like screen placed atop a vending machine between Platforms 1 and 2 of the station.
When trains arrive, the display shows a collection of Japanese characters that mimic the sound of a running train, while a bell-like sound signifying a departure is similarly transcribed. The device also converts station announcements into words and selects one of 12 different fonts depending on the announcement type.
Following a lecture themed "Commuting to school in the future" at Kawasaki Municipal School for the Deaf in July last year, Fujitsu developed Ekimatope based on students' opinions.
"We want to improve the accuracy of the device and put it into practical use as soon as possible," a Fujitsu official said.
A third-year, 18-year-old student at the school, who saw Ekimatope in action at the station on Wednesday, said: "I was impressed with the fact that sounds are transcribed in such detail. I hope the device will be introduced at other stations, too."