Eyebrow grooming draws focus as masks continue to be part of daily life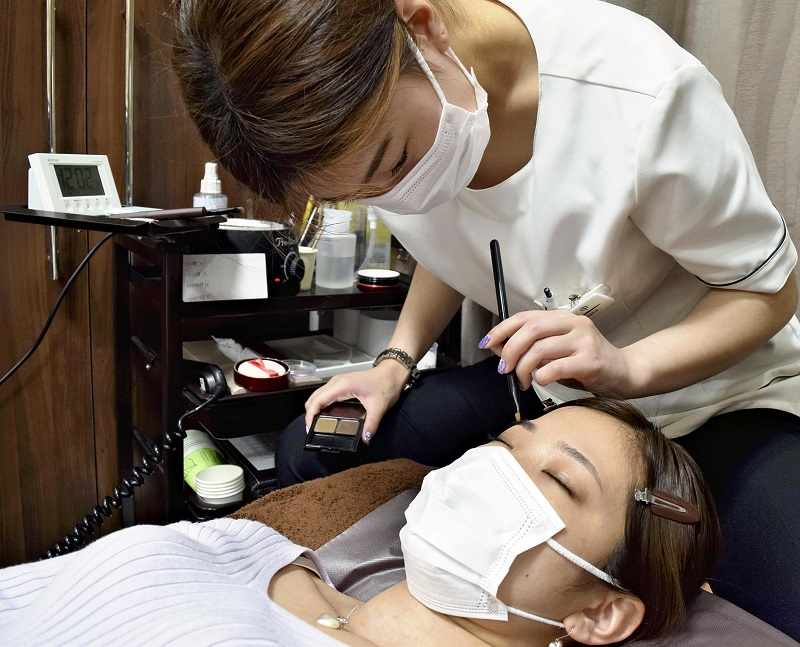 14:24 JST, June 14, 2022
Professional eyebrow grooming is becoming increasingly popular, particularly among the young as more and more people want to improve the appearance of their eyes as they continue to wear masks due to the pandemic.
Beauty salons and cosmetics manufacturers are developing stores specializing in eyebrow makeup or offering advice on grooming brows.
Beau Stage Eyebrow Salon Kinshicho in Sumida Ward, Tokyo, said it often serves women in their 20s and 30s. The store, run by major wigmaker Aderans Co., specializes in eyebrow styling, and customers can adjust their eyebrows according to their preferences — straight or arched brows, a soft look or a crisp appearance.
The first Beau Stage store opened in Shinjuku Ward, Tokyo, in November 2020, during the pandemic. More than 50 Beau Stage stores are now in operation in Hokkaido, Osaka, Fukuoka and other prefectures.
The treatment costs about ¥4,000 for a 60-minute session. All of the stores are said to be fully booked these days, and customers include many students seeking jobs.
The service seems to have grown in popularity as people have become accustomed to wearing masks, which draw the eyes to the upper half of the face.
Although the government recently said masks need not be worn in outdoor and indoor public spaces if a person stays at least 2 meters away from others and there is little conversation, many people still wear them. An Aderans official said they hope to increase the sales of the salons 50% from the year before in the fiscal year ending February 2023.
Cosmetics giant Shiseido Co. has professional makeup artists trimming eyebrows and proposing eyebrow designs at its salon in the Harajuku district of Tokyo. The service has been well received by working men, too, and a slightly blue color is said to be in vogue among them as it brightens up the eyebrows.
Kao Corp. has developed software that shows customers how to apply eyebrow makeup. At some Lunasol stores by Kanebo Cosmetics Inc., an affiliate of Kao, beauty consultants show customers how to draw their eyebrows, suggesting an ideal length or thickness, using tablet devices.
According to market research firm Intage Inc., sales of cosmetic products for the parts of the face covered by masks fell in 2021 from the year before. Lipstick sales dropped 13%. However, sales have been good for products for the eye area, such as eyebrow pencils and mascara that makes eyelashes look longer and thicker.
"People will continue wearing masks for the time being. Makeup around the eyebrow area will continue to attract attention," said an official of Kose Corp., which makes a concealer that brightens that part of the face.
Add TheJapanNews to your Google News feed.