Russian residing in Japan helps Ukrainian mother, children to support innocent people fleeing war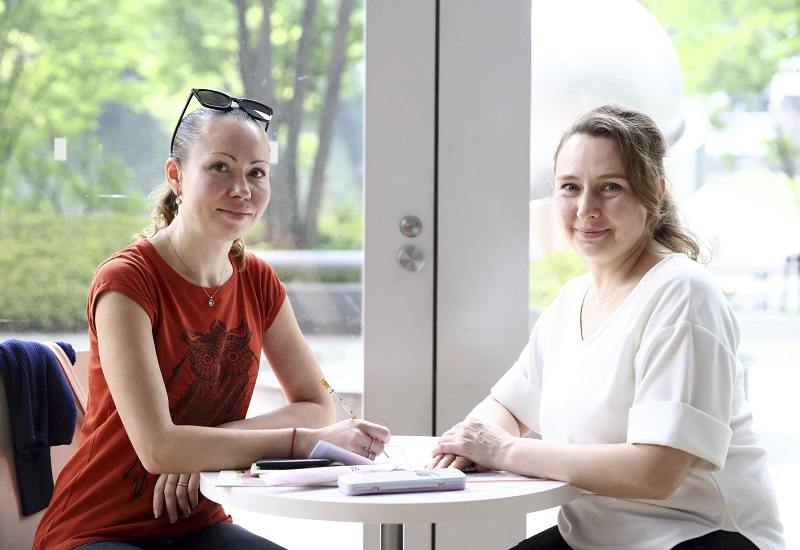 13:10 JST, June 6, 2022
A Russian woman living in Japan is helping Ukrainians who have fled to Japan amid Moscow's invasion of their country. The woman believes she needs to help people hurt by war and continues offering such support despite being criticized by family and friends back in Russia.
"Summer in Japan is so hot, and people often collapse," Tatiana Taguchi, a Russian who lives in Chiyoda Ward, Tokyo, said to Olha Zhuravel in Russian when they met on May 6. Taguchi then handed the woman a small package containing a folding fan decorated with a cherry blossom pattern.
"It's a birthday gift for you," Taguchi told Zhuravel. "Spasibo (Thank you)," she replied with smile.
Zhuravel fled from Kyiv and arrived in Japan with her three children in mid-March. Her husband remains in Ukraine.
Taguchi approached Zhuravel during a ceremony marking the start of the school term at Chiyoda municipal Izumi Elementary School. Taguchi's child attends the school, and Zhuravel had enrolled her daughter Olivia and son Yan there.
"I'm Russian, but I'm against war," Taguchi told Zhuravel. The Ukrainian was so happy to hear these words, and she hugged Taguchi.
Living abroad
Taguchi came to Japan in 1999 to attend a university. She eventually married a Japanese man and decided to remain in Japan as a permanent resident.
However, her love for Russia has never changed. She has promoted Russian culture through occasions such as appearing on TV to introduce Russian cuisine and teaching Russian-language lessons.
Then Russia invaded Ukraine. Seeing news reports showing destroyed Ukrainian towns and hearing of civilian casualties, Taguchi became anxious.
When Taguchi spoke by phone with her mother, who lives in Russia, and mentioned the invasion, her mother would scold her, telling her that Russian President Vladimir Putin is stopping Ukraine's slaughters and Taguchi would not understand the situation because she lived outside the country.
A Russian friend who has been living in Japan for a long time also blamed Taguchi. "Why don't you give up your Russian nationality if you're opposed to the invasion," her friend said.
Trust and support
However, Taguchi's determination to help innocent Ukrainians has not changed.
Then, Taguchi met Zhuravel and her children. Taguchi has been helping the Russian-speaking mother and her children in many ways. For example, she has interpreted for Yan at the elementary school during classes, she helped Zhuravel complete paperwork at the ward office, and she escorted Zhuravel to a nearby supermarket.
Zhuravel trusts Taguchi a great deal. "Living in exile and seeing no future is distressing," she said. "But I feel secure because Tatiana is around."
Taguchi said of Zhuravel: "I hope she can get a job and live her own way while taking refuge in Japan. I cannot support many people, but I want to help them as much as possible."
Lack of interpreters
According to the Immigration Services Agency of Japan, 1,055 people fled from Ukraine to Japan as of May 25.
The agency has been recruiting interpreters who can speak Ukrainian since the invasion started. However, only about 40 people have applied for the job. As the Ukrainians' stay in Japan is expected to be prolonged, securing interpreters and offering Japanese lessons has become an issue.
Many Russians live in Ukraine as it was a republic in the Soviet Union.
The number of Russians living in Japan who have offered to interpret in Russian is increasing. However, a source close to the agency said sometimes the agency has to turn down such offers when considering the mental stress that could arise when Russian people interpret for displaced Ukrainians.