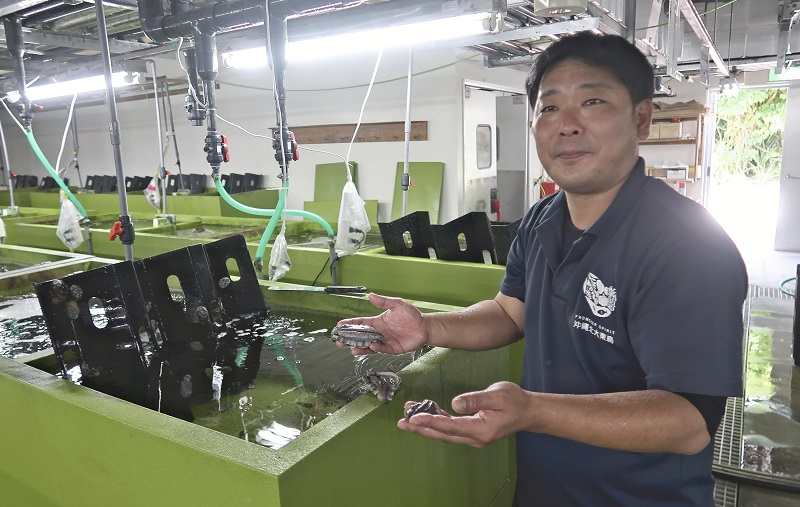 20:20 JST, June 5, 2022
KITA-DAITO, Okinawa — A remote island about 360 kilometers east of Okinawa's main island is trying to build a new local industry by farming flounder and abalone — inland.
Because of its remote location, it has been difficult for the island to develop a fishing port to help develop a fishing industry. However, efforts are now underway to promote land-based aquaculture as a new form of local commerce.
"We want to create a new industry and attract young people back," an affiliated official said.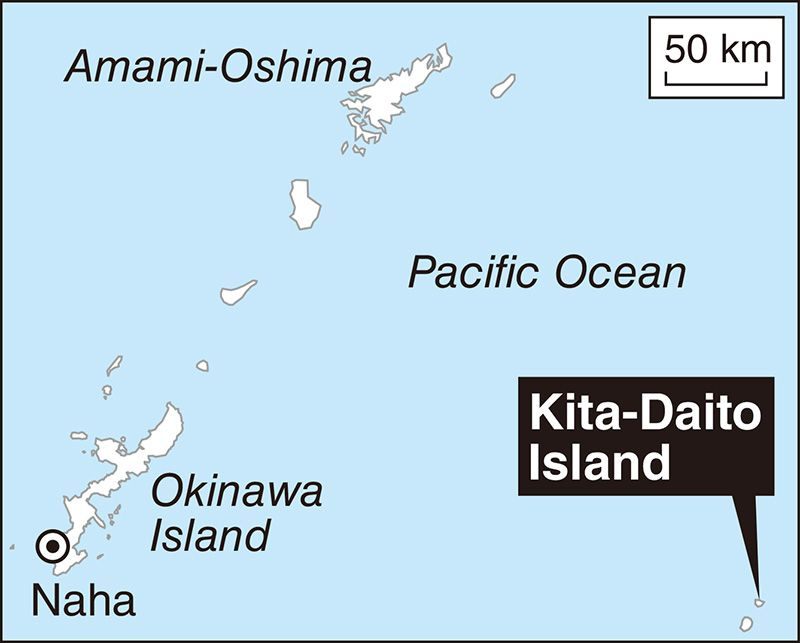 Kita-Daito Island is surrounded by 15-meter-high cliffs. Though there are fishing grounds in the area that boast tuna and other species, the island had no fishing port until relatively recently. Traditionally, the island's main industry is agriculture, primarily sugarcane.
The island's first fishing port was finally completed three years ago, following a difficult construction project to hollow out bedrock. Since then, the number of full-time local fishermen has gradually increased, but many young people still leave the island after graduating from junior high school and never return. Since 1972 — the year Okinawa Prefecture was returned to Japan — the island's population has fallen from 680 to 550.
The creation of new industries is an urgent issue for Kita-Daito Island. But the area is known as a pathway for strong typhoons, which can impact agriculture and fisheries. Attention thus turned to indoor aquaculture, which is less affected by weather conditions.
The village of Kita-Daito — the municipality that has jurisdiction over the island — formed a council in cooperation with local fishery associations and others and launched an aquaculture project in fiscal 2011. The council converted a swimming pool in a former school into an aquaculture facility, installing tanks and other equipment.
Low-temperature water can prevent fish and shellfish from feeding. However, the facility can use the warm seawater — around 20 C year-round — that surrounds the island by diverting water pumped from underground before it is desalinated for islanders' daily use.
Experts from the north
Aquaculture experts from the Tohoku and Hokuriku regions helped locals get the project up and running. At the village's request, Yasushi Nishio, an abalone expert from the Ishikawa Prefecture Fisheries Research Center has been regularly visiting the island since around 2014 to provide technical guidance and other assistance.
"Fish and shellfish grow quickly," said Nishio, 64. "There's an ideal environment for aquaculture."
Kitanihon Suisan, an abalone farming company in Ofunato, Iwate Prefecture, also helped. Arata Nakasone, the director of the island's aquaculture facility, spent about three weeks at the company in Iwate, learning aquaculture basics, such as feeding techniques and how to clean the tanks. The 43-year-old has served as director since 2018.
The village facility buys its fry and clams from Ishikawa and Iwate prefectures. But the island's remote location means outsourcing transportation is costly, so Nakasone does the job himself each June and July.
For example, when buying flounder fry in Ishikawa Prefecture, he travels to Osaka Airport via Naha Airport, and then rents a vehicle to transport 4,000 to 5,000 fry in containers. The round trip takes 14 hours. However, there is only one flight a day from Naha to Kita-Daito, and if the flight is cancelled due to bad weather, the fry could potentially perish.
"The only thing I can do is continually check the weather forecast." Nakasone said. "It's a gamble every time."
East Asia expansion
The Kita-Daito facility set an initial goal of raising 30,000 abalone and 30,000 flounder: it has already reached its abalone goal and is a third of the way to reaching its flounder objective. The facility has taken great pains to ensure the flounder are of marketable quality, and has already started shipping the fish to restaurants on the island and supermarkets on Okinawa Island.
"Looking ahead, we'd like to develop sales channels in East Asia, including Taiwan," Nakasone said.
Kita-Daito Mayor Mitsumasa Miyagi also has an eye on the future, saying: "The population won't increase unless we create new industries. We want to increase the variety of fish we farm and create jobs."
Add TheJapanNews to your Google News feed.