Department stores pushing party foods as summer gifts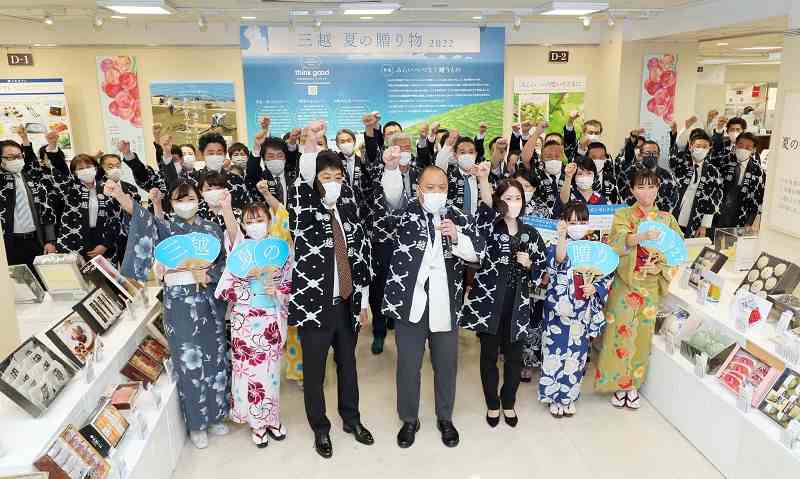 17:46 JST, June 2, 2022
TOKYO (Jiji Press) — With the "chugen" summer gift-giving season approaching, department stores are offering food items that they believe will look attractive at parties and informal gatherings.
Department stores appear to banking on consumers having more opportunities to get together with friends and family members this summer as coronavirus cases are decreasing at the moment.
They have also expanded lineups of delicacies for customers to enjoy at home amid the continued trend of avoiding eating out.
Isetan Mitsukoshi Holdings Ltd. is offering a selection of frozen foods, including boxes of home-grown eel on rice priced at ¥5,400 for two servings, and a set featuring Asian dishes such as fried rice and a Thai basil stir-fry with rice, also priced at ¥5,400 for five servings.
The products are "ideal for potluck parties," an Isetan Mitsukoshi official said.
Takashimaya Co. sells products that are good for parties with friends and camping trips, such as a set of paella ingredients priced at ¥6,185.
It is also offering a frozen fancy cake with a princess figure for ¥4,987. The cake "will help liven up a gathering," a Takashimaya official said.
Sogo & Seibu Co. also expects strong demand for pricey items of over ¥20,000. The company is offering T-bone steaks of high-end "kuroge wagyu" Japanese beef for ¥21,600 per set.
Matsuya Co. is focusing on gift assortments such as cooking oil and beer, whose prices are on the rise.
Traditionally, assortments of beer, Western confectionary and catalogs from which to choose gifts have sold well as summer gifts at department stores.
Sales surge in May
Japan's four major department store operators reported significantly stronger sales in May from a year before, when some stores were forced to close amid the spread of the novel coronavirus.
Same-store sales at Daimaru Matsuzakaya Department Stores Co., a unit of J. Front Retailing Co., grew 89.2%, while those at Isetan Mitsukoshi Holdings Ltd. rose 64.3%.
Takashimaya Co. and Sogo & Seibu Co., a unit of Seven & i Holdings Co., posted growth of 63.3% and 33.6%, respectively.
Sales of luxury items such as jewelry remained strong. Sales were robust for Japanese and Western sweets as gifts during the holiday period in early May.
Sogo & Seibu reported a rebound in sales of suits and other business-related products.
The four operators' sales recovered to around 80% to 90% of levels in May 2019, before the start of the coronavirus crisis, while some stores saw their sales top pre-pandemic levels.