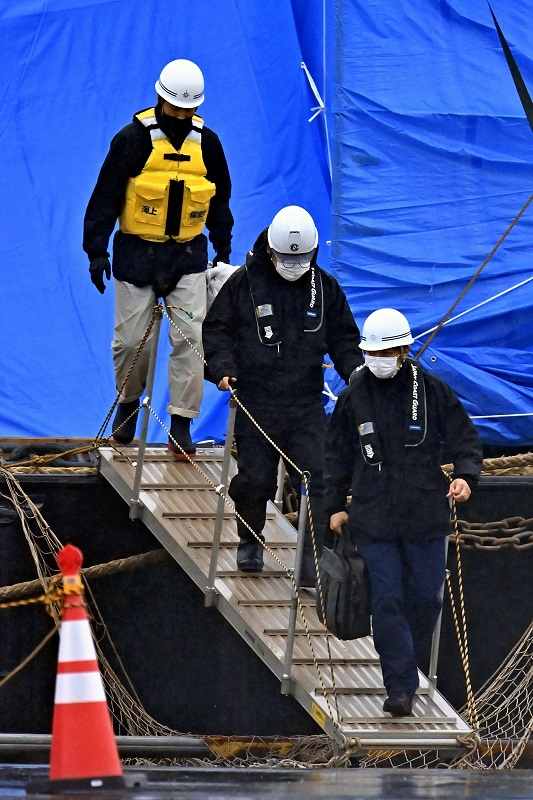 16:57 JST, May 29, 2022
The Japan Coast Guard inspected the sightseeing boat that sank off the coast of Hokkaido last month, with the president of the company operating the vessel in attendance. The inspection took place on a salvage barge, which carried the vessel to port, and lasted 4½ hours.
The JCG's 1st Regional Coast Guard Headquarters stepped up investigations on Saturday regarding the accident involving the Kazu I, which sank off the Shiretoko Peninsula with 26 people aboard, after the vessel was lifted onto the deck of the salvage barge in the early hours on Friday.
The regional headquarters, based in Hokkaido, will examine the damage to the vessel and the condition of the equipment in an attempt to determine what happened.
Prior to the inspection, members of the JCG's special rescue squad searched the inside of the Kazu I, but the 12 people who are still unaccounted for could not be found, according to the regional headquarters.
The regional headquarters started an intensive search for the remaining 12 missing people on Sunday with the police and the Self-Defense Forces. About 70 vessels and 20 aircraft will be used in the search, which is set to continue through Tuesday.
The family members of those who were on board will be able to see the Kazu I on Wednesday, after the vessel has been placed on land at a port in Abashiri, Hokkaido, the Land, Infrastructure, Transport and Tourism Ministry's local task force announced.
Saturday's inspection began around 1 p.m. to check the damage on the Kazu I, among other concerns. Seiichi Katsurada, the president of the company that operated the boat, was present.
The JCG has been investigating the accident on suspicion of professional negligence resulting in death. The main focus of the probe will be whether investigators can determine what caused the boat to sink, according to Atsushi Toyama, a former head of the 3rd Regional Coast Guard Headquarters who now serves as an executive at Maritime Rescue Japan, a public interest incorporated association.
It has been reported that just before it lost contact, the Kazu I called for help by saying the bow was flooding.
"By seeing how the hull was damaged, it could help investigators figure out how the boat flooded," Toyama said.
Looking at the Kazu I's engine and screws and what position the throttle was left in could help investigators determine how fast the boat was traveling before it sank, Toyama said. As various items, including a mobile phone and a camera, were found inside the vessel, the exact route the boat took might be determined by analyzing GPS data, he added.
"The main priority is to figure out why and how the boat sunk," Toyama said. "Unless we can identify the cause, it will be difficult to proceed with our investigation."
Add TheJapanNews to your Google News feed.