Barge carrying Kazu I arrives at Abashiri port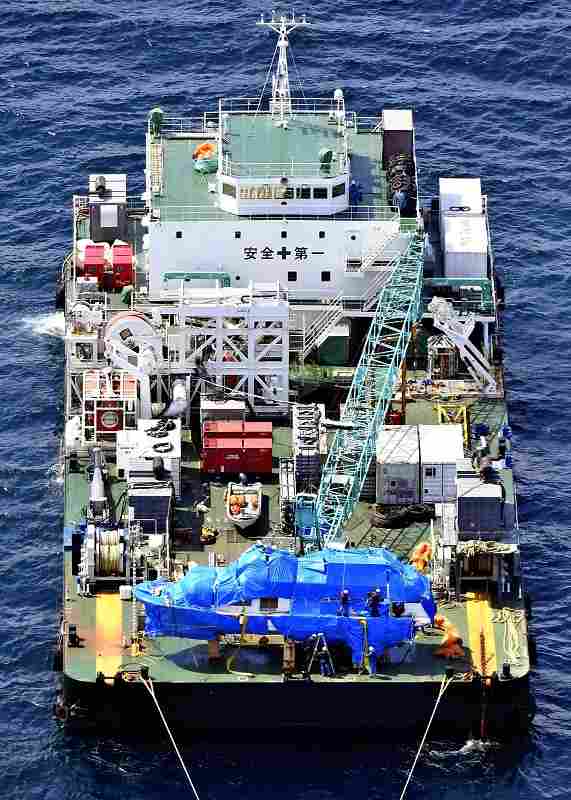 16:50 JST, May 27, 2022
A sightseeing boat that sank off the Shiretoko Peninsula last month with 26 people aboard arrived at Abashiri Port in Hokkaido on Friday afternoon on a salvage barge that had lifted the boat onto its deck in the early hours of the morning.
The boat will be drained of seawater and brought ashore, after which the 1st Regional Coast Guard Headquarters will examine the hull to determine the cause of the accident.
The Kazu I was lifted from the seabed, at a depth of 182 meters, at around 6:50 p.m. on Thursday, 11 kilometers from Utoro port in Shari, Hokkaido, according to the coast guard.
From around 10:30 p.m., the hull was raised above the surface after transported to shallow water while it was attached to the side of the barge. The hull was lifted onto the barge and covered with blue tarps by 3:20 a.m. on Friday.
The Kazu I sank on April 23 with 26 people aboard near the Kashuni Falls in waters west of the Shiretoko Peninsula. It was found on the seabed six days after the accident at a depth of about 115 meters.
The bodies of 14 victims have been found so far. Twelve people are still unaccounted for.
The salvage operation, which began on Monday, was delayed after belts used to lift the vessel broke on Tuesday, causing the hull to sink back down to the seabed.
When the Kazu I is brought ashore, the Coast Guard and other authorities will analyze the hull to determine the cause of the accident, but an expert claims it will be a difficult task.
Before the Kazu I sank, it was reported from the boat that its engine had stopped and its bow had flooded.
Preliminary checks involving underwater cameras and divers have been carried out but a detailed survey of the hull has yet to be conducted.
"It'll be difficult to determine the cause of the accident without the captain [whose body has not been found]," said Hiroyasu Ito, a former Japan Coast Guard vice commandant for operations and chairman of the Maritime Disaster Prevention Center. "If the hull is damaged, investigators will try to determine what caused the flooding."
Cell phones and cameras thought to have belonged to the victims have been recovered. Investigators will analyze the devices to see if they contain records of what happened at the time of the accident.
The JCG is investigating Seiichi Katsurada, president of the company that operated the Kazu I, and others on suspicion of professional negligence resulting in death.
A key issue will be whether it was appropriate for Katsurada, 58, to send the boat out on a day when a severe weather warning had been issued.
"After the cause of the accident is determined, a careful investigation will be conducted to decide whether a case can be made, and this will likely be a lengthy process," Ito said.