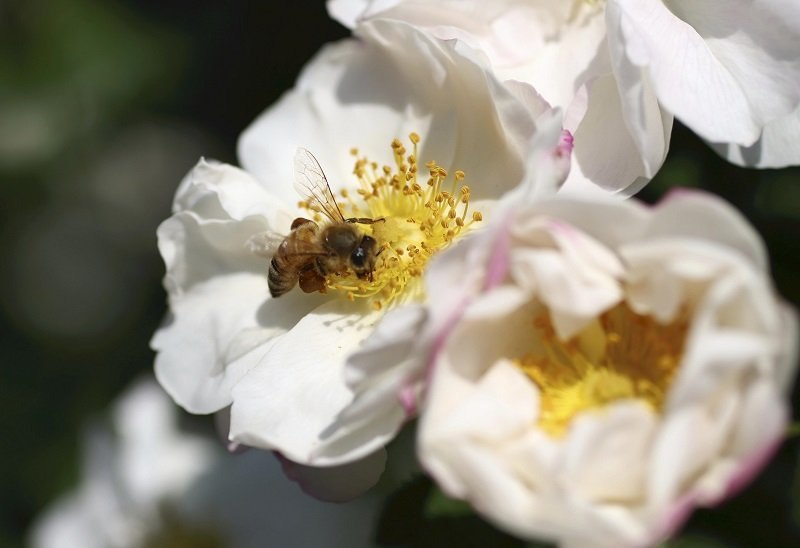 12:07 JST, May 24, 2022
May 20 is World Bee Day, as designated by the United Nations. At a building in Tokyo's Ginza district, honey is collected from honeybees that are kept on the roof. With urban beekeeping spreading, the number of beekeepers has increased by more than 2,000 over the nine years since current records began in 2013. Why are people keeping bees in major cities?
Benefits of cities
On the morning of May 20, members of nonprofit organization Ginza Mitsubachi Project (Ginza Honey Bee Project) removed honey supers full of honey from hives on the roof of the 11-story building in Ginza. The honeybees kept by the NPO collect honey from flowers in the Imperial Palace, Hibiya Park and other places, bring it back to the hives.
The NPO started activities in 2006 and now keeps about 500,000 honeybees. Currently, it produces about 2 tons of honey a year and sells it online and in other places. Such urban beekeeping is conducted in urban areas of major cities like Osaka, Nagoya, Sapporo and Fukuoka.
Urban beekeeping has become popular for such reasons as honey growing in popularity due to increasing health consciousness among consumers, and small-scale beekeeping that does not require large spaces. According to Junichi Takahashi, associate professor of apiology at Kyoto Sangyo University, urban areas have a smaller number of hornets, a major natural enemy of honeybees, making it easier for the bees to make honey.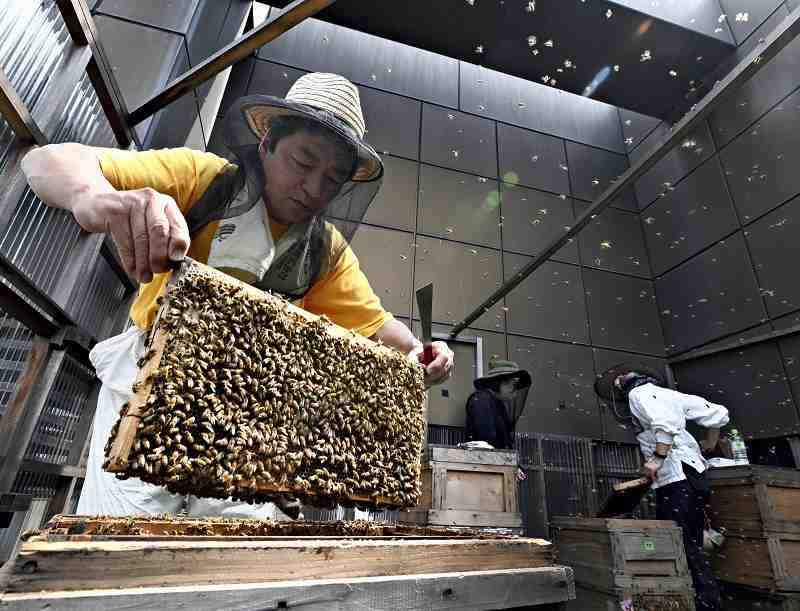 Pioneer's birthday
Honeybees transport pollen as they fly from flower to flower, helping plants bear fruits and vegetables. World Bee Day is an international day to think about the role played by bees and many other insects in the stable supply of food and raise awareness of sustainable development. After it was proposed by eastern European country Slovenia, which thrives on beekeeping, the United Nations declared May 20 as World Bee Day in 2017.
According to the Slovenian Embassy in Tokyo, May 20 is the birthday of Anton Jansa, who devoted himself to developing beekeeping technology in the 18th century in a region of present-day Slovenia. To commemorate the achievements of this pioneer, large-scale harvest festivals and other events are held on this date in Slovenia every year. Urban beekeeping is now popular in the country as well and honeybees are kept at a government agency building in the capital of Ljubljana.
Beekeeper numbers surge
According to the Agriculture, Forestry and Fisheries Ministry, both the number of beekeepers and the production of honey have decreased in Japan since around 1980 due to increased imports of cheap foreign honey, among other reasons.
Following the 2021 revision of the beekeeping promotion law, beekeepers are required to register their bees and the number of beekeepers jumped to 10,529 in 2021 from 8,312 in 2013. The increase came mainly from a rise in the number of small-scale beekeepers such as organizations working on urban beekeeping and individual beekeepers. "There is more and more greenery in urban areas due to redevelopment programs and there is room for further expansion of urban beekeeping," Takahashi said.
Add TheJapanNews to your Google News feed.