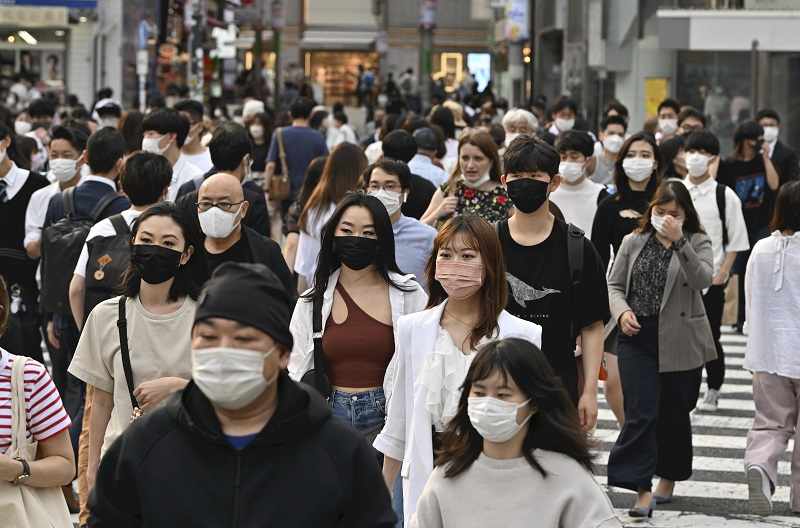 2:00 JST, May 22, 2022
Masks need not be worn in indoor public spaces if a person stays at least 2 meters away from others and there is little conversation, according to the new government position recently announced by Health, Labor and Welfare Minister Shigeyuki Goto.
The government has also decided that masks are unnecessary outdoors even when people are in close proximity, as long as they do not engage in conversation.
The government's criteria for wearing masks in public has hinged mainly on whether people are indoors or outdoors, and whether they can stay at least 2 meters away from others.
It recommends wearing a mask in interior spaces where people cannot keep their distance, such as on commuter trains, regardless of whether they converse. In contrast, it says wearing masks in public is not necessary when people are at least 2 meters away from others with little conversation exchanged.
And even when there is conversation indoors, masks can be removed as long as measures are taken to prevent infection, such as sufficient ventilation.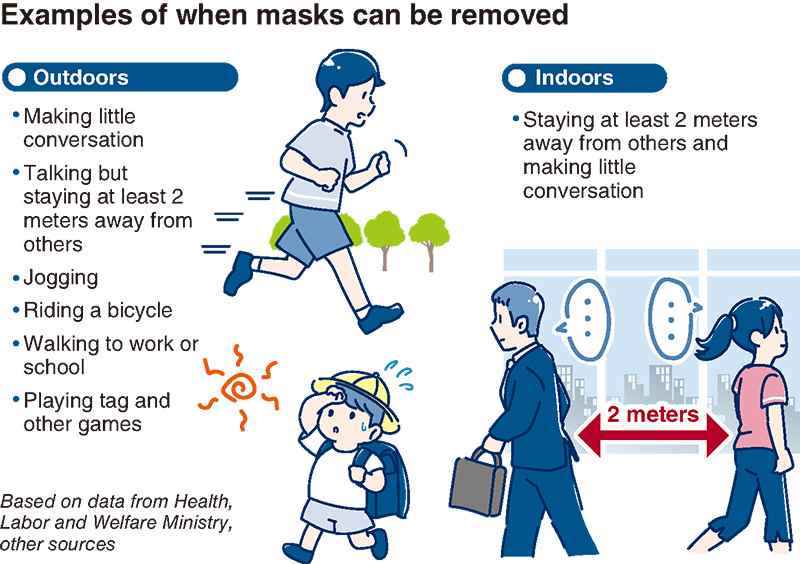 As to wearing masks outdoors, the government's position acknowledges a wide range of situations in which they are not needed. Masks are recommended when there is talking and a certain distance cannot be maintained, but otherwise the government feels they are not necessary.
To sum up, masks need not be worn in public when there is little conversation, regardless of the distance between people; or when there is conversation but distance is maintained.
"There is no need to wear a mask when we pass others in the street, with little conversation. For instance, while walking to work," Goto said.
The minister referred to exercising outdoors while staying away from others, such as while jogging, and children playing tag and other games in which they will not get too close to each other, as times when people can keep far enough away from others outside. In such cases, Goto said, it is not necessary to wear masks.
People may suffer from heatstroke in summer, so the recommendation was to take off one's mask rather than not, in such cases when people do not have to wear masks outdoors.
It was recommended from February this year that pre-school children aged 2 or older wear masks, in response to the rapid spread of the omicron variant. However, Goto announced that the government will restore its previous policy of "not uniformly calling for little children to wear masks."
"Some people have voiced concern over the possible impact on children, as their wearing masks would make their facial expressions less visible," the minister said.
'Clarifying' criteria
The government has made public its official opinion on people wearing masks in public because some local governments have pointed out the opaqueness of criteria as to whether they're needed. There is also public discontent with the prevailing atmosphere that masks must be worn even outdoors.
In announcing the government's position on Friday evening, Goto told reporters that it "did not represent a shift in policy" but instead a clarification.
Before it lifted the state of emergency concerning the COVID-19 pandemic in May 2020, the government called on the public to continue to wear masks as a "new lifestyle," even if they had no symptoms. As a result, Japan's streets were filled with people in masks.
The government has so far made clear in its basic response policy that "masks should always be worn when talking to others." Yet it had not spelled out any specific criteria for wearing masks in public.
For those who have worn face masks throughout different public areas, partly because of the ambiguous criteria, the government's latest position is a de facto relaxation.
The government had not proactively conveyed to the public its criteria for when masks are unnecessary, due to concerns that "if criteria were issued, it might lead to a sharp increase in the number of people who don't wear masks, thus spreading infection further," in the words of a senior health ministry official.
As public discontent grew with the prolonged use of masks, local governments started criticizing the central authorities. Tokyo Gov. Yuriko Koike said, "The central government should be the first to decide [on a clear-cut policy], based on scientific knowledge."
This led many in the government to feel that unless the government presented some criteria, the brunt of public discontent would be directed at the current administration.
"Stipulating minute criteria is not necessarily a good thing," said Kazuya Nakayachi, a professor at Doshisha University and a scholar of social psychology. "If more people take off their masks due to the government's position, many others will mimic them, as they notice others without them and conclude that it's alright to take their masks off. In this sense, the government's position is significant."
Add TheJapanNews to your Google News feed.