Specialist vessels join search for 12 missing in Japan tour boat disaster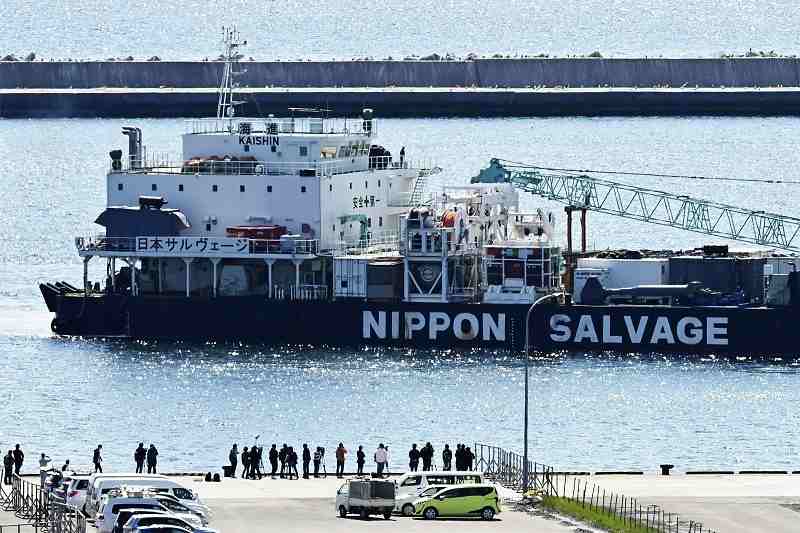 15:50 JST, May 17, 2022
ABASHIRI, Hokkaido — A multipurpose work barge carrying specialist equipment and divers tasked with reaching the sunken Kazu I sightseeing boat arrived at Abashiri Port, in Hokkaido, on Tuesday.
The new phase in the search for 12 people who remain missing after the Kazu I sank off the Shiretoko Peninsula on April 23, will begin Thursday, during which the sunken vessel will be examined and assessed for possible raising.
Fourteen of the 26 people who were aboard the Kazu I have been confirmed dead.
Workers carrying large metal cases boarded the Kaishin work barge and the Hayashio Maru — a salvage tug that arrived in tandem with the barge — to prepare for the underwater search. A large crane on board the Kaishin shifted containers onto the shore.
As yet, there has been no confirmation of damage to the hull of the Kazu I, which sank about 1 kilometer off the Shiretoko Peninsula and presently sits at a depth of about 115 meters.
The search will be carried out using saturation diving, which will entail the divers living in a special pressurized environment to become accustomed to the pressure they will experience when at the same depth as the stricken boat. They will then head to the search site about 80 kilometers to the northeast on Wednesday evening.
Add TheJapanNews to your Google News feed.