Disaster prep for pets: Evacuating together with furry family members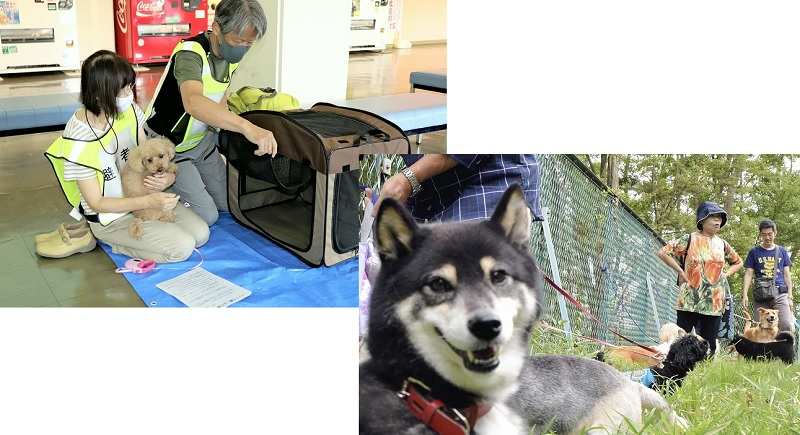 6:00 JST, May 15, 2022
Many people consider their pets to be members of the family. How should owners keep their pets safe and evacuate them in case of disaster? In past major disasters, many people were forced to spend the night in their cars because they were not allowed to bring pets into evacuation centers. Even if pets were allowed inside, there would likely be noise and odor issues. The following fictional scenario centers around a person who decides to evacuate with their pet.
1: Rushing to save pet — Earthquake strikes
Taro, 30, is an office worker who lives alone in a second-floor apartment. He has been caring for his 3-year-old male dog, Hachi, since the dog was a puppy.
He left Hachi at home one day to go to work as usual. But just as he walked out of the building, Taro's smartphone sounded an alarm. It was an earthquake early warning. He was immediately shaken by a large tremor, and he crouched down on the pavement until it passed.
After the shaking subsided, he saw on his smartphone that the preliminary report indicated an earthquake with an intensity of just under 6 on the Japanese seismic scale of 7. He looked around and saw no major damage to buildings or other structures. But his relief was quickly shattered when he received another smartphone notification, warning of a tsunami that was expected to reach coastal areas in about 30 minutes.
The government's disaster prevention radio broadcast called for immediate evacuation to higher ground or other safe locations.
Taro's first thoughts were of Hachi, a precious family member. Taro had previously secured his furniture so that it would not fall over, but he still worried about his dog. Taro rushed back inside, thinking, "I can't evacuate without Hachi."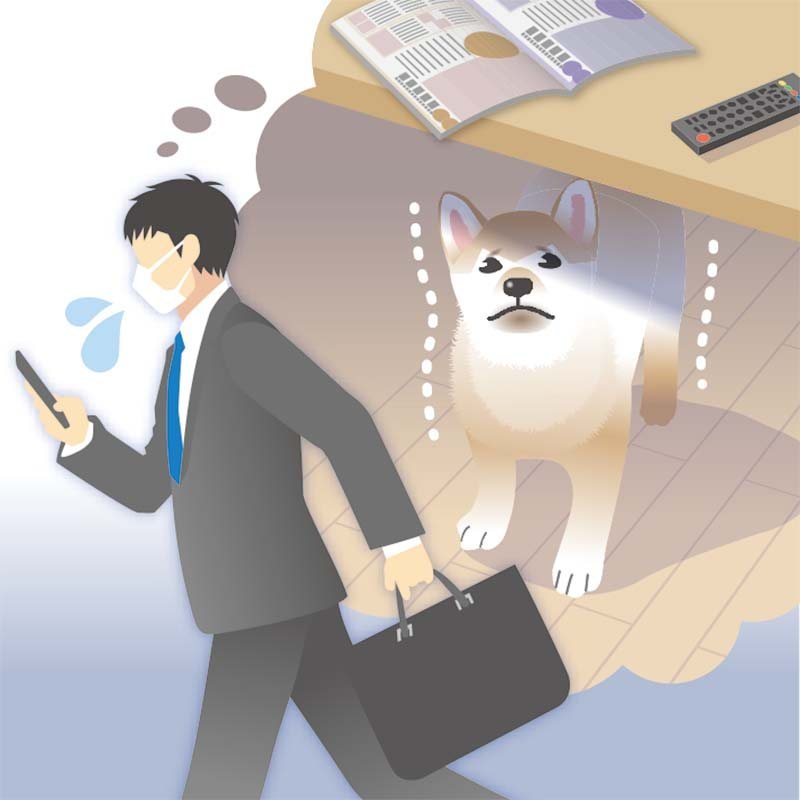 2: Evacuating with food and water — Restless pet
As Taro hurried upstairs, he heard the anxious barks of the usually quiet Hachi. When he opened the door, Hachi ran out, barking wildly.
"Be quiet," Taro admonished, but the agitated dog just barked louder and louder. The apartment was a mess. Fortunately Hachi was not injured.
"It's not safe here. We have to go to an evacuation shelter," Taro thought. He wondered if he would be allowed to bring his dog with him. But time was running out. He turned on the radio he had in his emergency bag and heard an announcer repeatedly urging people to evacuate from the coastal areas. He put Hachi on a leash and shouldered the emergency backpack he had prepared earlier for just such a time.
"Oh, shoot," Taro said. He had emergency food and a portable toilet for himself, but he hadn't thought to prepare emergency supplies for Hachi. Grabbing some pet food and water, he headed outside.
Outside, glass broken by the earthquake lay scattered about, and in some places block walls had collapsed. Taro decided to carry Hachi in his arms to prevent the dog from getting hurt. Hachi was restless and nearly squirmed out of his arms several times. Taro desperately held Hachi in his arms and hurried toward a shelter on higher ground.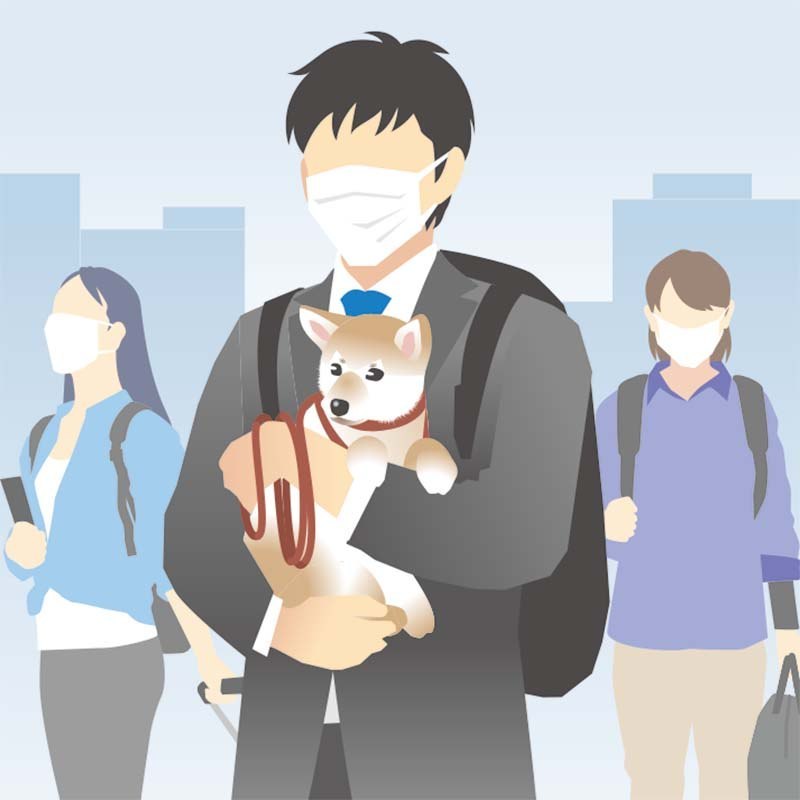 3: Anxious night of separation — Dog kept outside
Taro arrived at the gymnasium of an elementary school that serves as an evacuation shelter. Many people were already there, but there were no dogs, cats or other pets in sight. Taro wondered where he could keep Hachi. As he stood thinking, a shelter manager told him to keep Hachi outside.
Although Hachi liked to go for walks, he was not accustomed to spending a long time outdoors. Tied up outside, he pressed up against Taro's feet and barked loudly. "The shelter is not just for people who like pets. So of course I can't stay with Hachi," Taro thought.
Taro was served some pork miso soup from the emergency kitchen, which warmed his heart and body a little. Thinking Hachi must be hungry, he gave his furry friend some pet food and water. But Hachi seemed to lack an appetite and ate little. As Taro worried, he heard another evacuee grumbling, "How can he give water to a dog when we don't have enough water for evacuees?"
The tsunami warning continued, making it difficult to return home, so he decided to spend the night at the shelter. Wrapped in a blanket, alone, he looked at pictures of Hachi and felt anxious. Wondering if Hachi was OK, Taro spent a sleepless night thinking about his dog spending the night outside in an unfamiliar place, while also fearing that a tsunami might hit.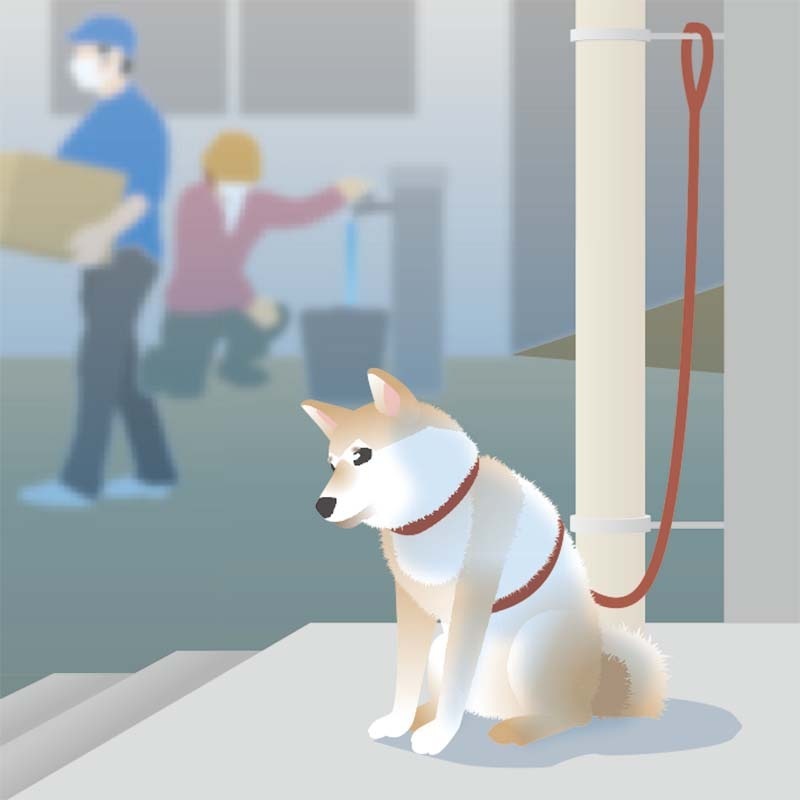 Consider various pet lodging options when calamity strikes
Looking after one's pets is important, even in a disaster. However, evacuation centers each have their own rules on whether or not pets can be accepted, and the environment for keeping pets varies.
Pet owners should consider alternatives to evacuation centers as the next best pet-care option. Consider leaving them at a veterinary clinic or pet hotel in a safe location. You can also seek shelter for them at the homes of relatives or friends who understand your situation. If conditions are relatively safe at home, consider keeping them there. This is because pets can suffer stress amid changes in their environment.
In the aftermath of the 2016 Kumamoto Earthquake, Kyushu Animal Academy, a vocational school in Kumamoto City, opened a facility where pets and their owners could spend time together. About 1,500 pet owners took advantage of it. "Pets were a common topic of conversation among evacuees, and some people were cheered up by taking care of their pets," said Ryunosuke Tokuda, 60, the head of the school. "It is necessary to have an evacuation center to help those who need their pets."
Prepare pet food, water for 7 days
It is difficult to obtain emergency supplies for pets after a disaster occurs. It is important to prepare in advance.
The Environment Ministry's disaster preparedness guidelines for people and pets recommend priorities for preparing emergency supplies.
The first priority is to prepare items that will affect the pets' basic health and survival, such as pet food and water (preferably for at least seven days), carry bags and cages, collars and leashes, pet sheets and so on. Also, if animals are sick or have food allergies, they will need special supplies. Take these factors into account when preparing an emergency stockpile.
It is also recommended to prepare a rotating stock of emergency food to be consumed and replenished regularly.
As the second priority, you should prepare information on your contact details, your pet's vaccination status and so on, as well as photos of yourself with your pet. You can store this information on your smartphone.