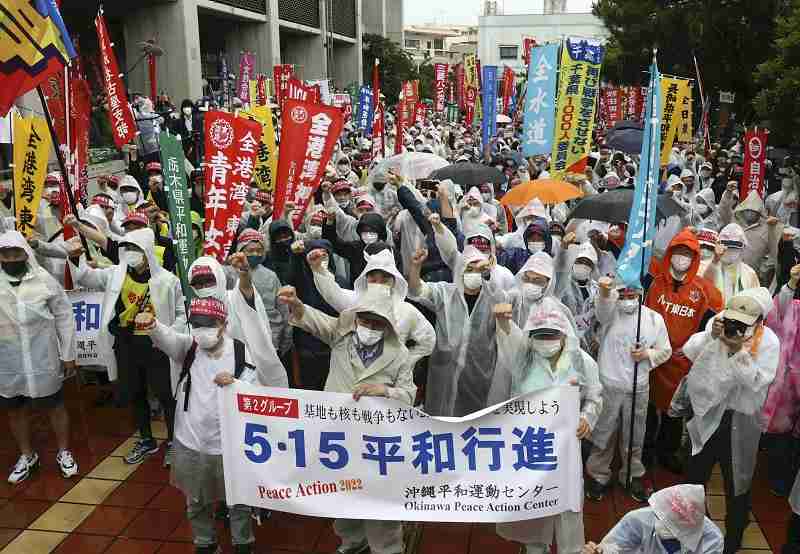 15:55 JST, May 14, 2022
KITANAKAGUSUKU, Okinawa (Jiji Press) — A peace march was held in Okinawa Prefecture on Saturday, a day before the 50th anniversary of its return to Japan from post-World War II U.S. occupation, with participants calling attention to the fact that Okinawa still hosts the bulk of U.S. bases in Japan.
Amid rainy weather, those taking part in the "5.15 peace march" walked through areas in the central part of Okinawa's main island, where U.S. military bases are concentrated. According to the organizers, about 1,000 people joined the event.
The participants started the march at a civic center in the city of Ginowan at 9 a.m.
The marchers passed near the U.S. Marine Corps' Futenma Air Station in Ginowan and the Marine Corps' Camp Foster, also known as Camp Zukeran, which straddles municipalities including the village of Kitanakagusuku. The Futenma base is planned to be relocated to the Henoko coastal district in the city of Nago. Camp Foster hosts the U.S. military command in Okinawa.
The participants then entered the city of Okinawa and passed by the site of the Koza riot, in which local residents revolted against U.S. occupation in the city of Koza, now the city of Okinawa, in 1970. The 8.7-kilometer march ended around noon at a location near the Kadena air base.
A 48-year-old female worker at a hospital in the city of Okinawa said that she joined the march as she "wanted others, regardless of whether they support (the heavy U.S. military presence in the prefecture), to know that there are people who have various thoughts about the Henoko and other issues."
A 30-year-old social studies teacher at a high school in Tokyo took part in the march for the first time. "I had been unable to think of problems facing Okinawa as my own issues," she said.
"(Through my participation in the march), I could imagine the lives of U.S. troops in Okinawa as I saw their houses at the premises of the bases over the fences," she also said, adding: "Without knowing that, I can't say I oppose (U.S.) bases. By knowing that various people have their own stances, I want to make use (of my experience) for peace learning."
The peace march started in 1978 under the sponsorship of organizations including a civic group. The marches in 2020 and 2021 were canceled due to the spread of the novel coronavirus.
Okinawa was returned to Japan from U.S. occupation on May 15, 1972.
Add TheJapanNews to your Google News feed.