Okinawa 50 years since return / Yonaguni Island, population 1,700, on front line in case of contingency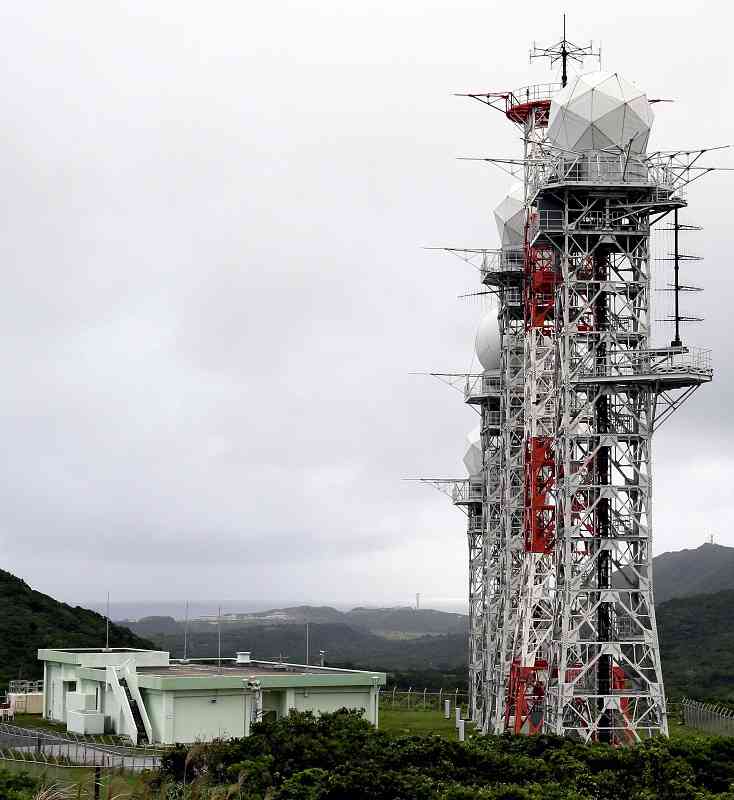 21:00 JST, May 14, 2022
"There will be another firing drill by Taiwan," Shigenori Takenishi said on April 28, with a sigh. Takenishi, 60, is the head of the fisheries cooperative on Okinawa Prefecture's Yonaguni Island, Japan's westernmost point of land. The islet is 509 kilometers southwest of Okinawa Island but just 111 kilometers east of Taiwan.
The fisheries cooperative had received an email from the Fisheries Agency, titled "Firing drill in eastern Taiwan," calling for fishing vessels in specified waters to take precautions in connection with Taiwan's military exercise.
With its aim of "unification" with Taiwan, China has continued to engage in military provocations in the area. "Taiwan has carried out more exercises under threat of China," Takenishi said.
Home to about 1,700 people, the island — which is also the town of Yonaguni, Okinawa Prefecture — has been experiencing heightened tensions due to China's military rise.
In fiscal 2018, the Fisheries Agency sent 15 such safety advisory emails, but this number increased to 34 in fiscal 2021. The eastern side of Taiwan is known for its fishing grounds for longtail red snappers in particular, but if military exercises increase in the waters, fishermen have to operate in narrower fishing grounds.
Yonaguni Island was once mocked for its "two-gun" defense capability, a reference to there being only two police substations on the island. The island was long considered a defense vacuum, but a Ground Self-Defense Force camp was established there in March 2016. Currently, about 160 coastal surveillance personnel monitor ships and aircraft 24 hours a day from the island, using radar and other equipment.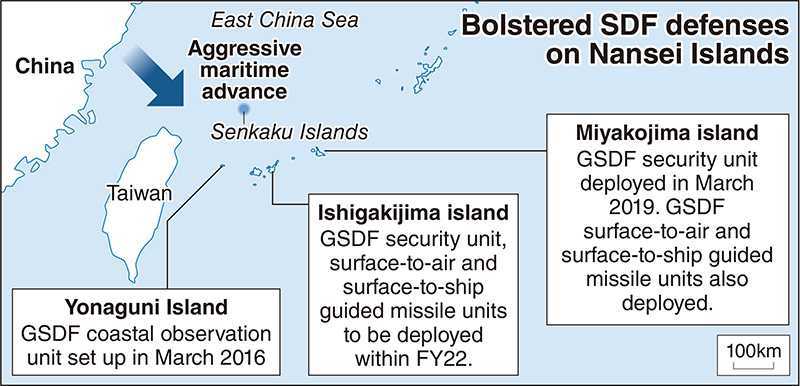 In April this year, the Air Self-Defense Force's detachment team was also newly set up on the island. The team uses a mobile warning and control radar system to detect foreign military aircraft that could violate Japan's airspace, prompting a scramble from the ASDF's Naha Air Base in Naha. Last fiscal year, the ASDF had 1,004 scrambles, its second highest number. More than 70% of the scrambles were carried out in response to Chinese aircraft.
"You never know how the opponent will act. So when we spot a Chinese jet, tension will heighten," said Shunsuke Fujita, a 31-year-old F-15 fighter pilot who has visually confirmed Chinese aircraft himself.
The Defense Ministry plans to deploy an electronic warfare unit to Yonaguni Island as early as fiscal 2023 to neutralize an enemy's radar and communications equipment. Yonaguni, no longer a "two-gun" outpost, is now the front line of Japan's border defense.
The SDF presence has also increased outside of Yonaguni. A garrison camp was established on Miyakojima island in 2019, and there will be another one on Ishigakijima island by the end of fiscal 2022. There has been a movement against the deployment of these bases among local people, whose memories of the Battle of Okinawa during the Pacific War — in which about a quarter of the prefecture's residents died — make them concerned that the bases would become targets of attacks. However, there is also a sense of crisis that has increasingly prompted local residents to seek to host SDF bases.
Russia's invasion of Ukraine has also cast a shadow.
When Yonaguni Mayor Kenichi Itokazu, 68, first heard of Russia's invasion, he was struck by fear that China could take it as an opportunity to meddle with Taiwan. Having seen the situation of Ukraine devastated by Russia's aggression, he also thought that civilians should be evacuated before a place turns into a battlefield.
The Yonaguni municipal government has already formulated an evacuation scenario based on the Civil Protection Law, with a contingency involving Taiwan in mind. However, the scope of the evacuation plan is limited to within the island. In the scenario, residents of the town will gather at schools and other facilities in each district and be transported to the airport or harbor by bus or other means. The central government is primarily responsible for evacuation beyond that point, but the municipality has not received clear assurances.
"It is a question of how to protect people's lives, but the central and prefectural governments have been slow to move," Itokazu said impatiently. "They lack a sense of urgency."