Poll: 80% think Okinawa Pref. developed steadily after reversion to Japan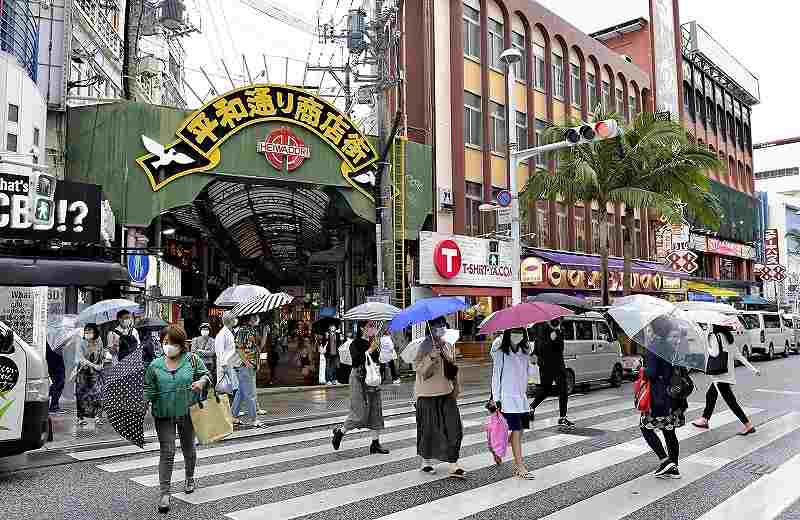 6:00 JST, May 14, 2022
About 80% of people in the nation said that Okinawa Prefecture has been developing steadily in the 50 years since its reversion to Japan, according to a pair of polls conducted by The Yomiuri Shimbun.
Ahead of the 50th anniversary of the May 15, 1972, reversion to Japan, a survey of eligible voters in Okinawa Prefecture was conducted in tandem with a survey of voters across the nation, including those in the prefecture. Both surveys were conducted via postal mail.
When asked whether Okinawa has developed steadily in those 50 years, 83% of the respondents in Okinawa Prefecture and 78% of people nationwide answered "agree" or "somewhat agree."
The results show that Okinawa Prefecture's growth into one of the nation's leading tourist destinations since its reversion to Japan was positively evaluated.
Okinawa, which experienced ground warfare at the end of the Pacific War, remained under U.S. rule for 27 years after the war.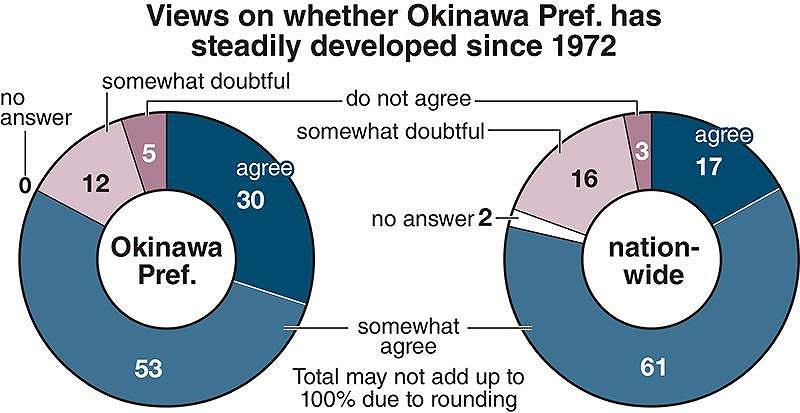 A total of 90% of respondents in the prefecture and 96% of those nationwide answered the reversion to Japan was "good" or "somewhat good."
Responding to a question on whether they think the Japan-U.S. Security Treaty and U.S. military bases in the prefecture are good for the security of Japan, 67% of respondents in the prefecture and 87% nationwide answered "agree" or "somewhat agree" for the security treaty. In a similar question about U.S. military bases, the percentage stood at 54% for those in the prefecture and 65% nationwide.
A total of 93% of respondents in both Okinawa Prefecture and nationwide including the prefecture answered that they agreed "much" or "somewhat" that China poses a threat to Japan's security.
China continues to increase its military buildup, likely in anticipation of a contingency in the Taiwan Strait, and has repeatedly intruded into territorial waters off the Senkaku Islands in Okinawa Prefecture.
Regarding the plan to relocate the U.S. Marine Corps' Futenma Air Station in Ginowan to Henoko, Nago, 37% in Okinawa Prefecture and 46% nationwide were "in favor" or "somewhat in favor" of the relocation plan, according to the surveys.
Although the area of dedicated U.S. military facilities in Okinawa Prefecture has been reduced by about 30% since its reversion to Japan, 70% of the nation's land that is being used for that purpose is still concentrated in the prefecture. Respondents who "agree" that its base burden is too heavy, and those who "somewhat agree" accounted for 83% in the prefecture and 81% nationwide.
The surveys were conducted from March 15 to April 25 on 2,000 voters randomly selected from 100 locations in Okinawa Prefecture and another 3,000 eligible voters randomly selected from 250 locations across the country, including the prefecture.
Valid answers were given by a total of 2,080 people in the nationwide survey, or 69%, and by 1,078 residents, or 54%, in the Okinawa Prefecture survey.
Add TheJapanNews to your Google News feed.