Woman who fled Russia's invasion eager to share Ukrainian home cooking on food truck in Shiga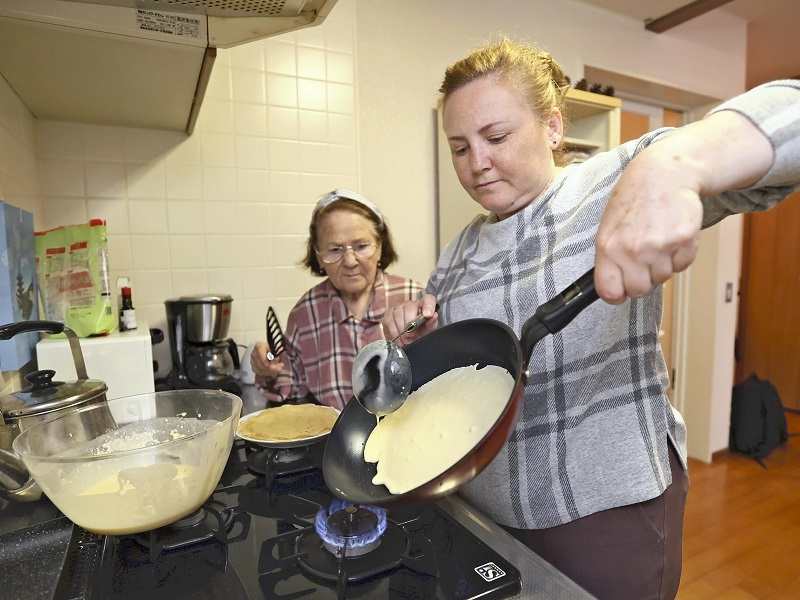 2:00 JST, May 10, 2022
OTSU — A Ukrainian woman who escaped Russia's invasion of her country plans to start offering Ukrainian home cooking on a food truck in Hikone, Shiga Prefecture.
Iryna Yavorska, 50, was prompted to start the business by her desire to take steps toward independent living in Japan by promoting the food culture of her home country. But her main motivation, she said, is to show her gratitude for Japan's support.
Yavorska started seeking money on a crowdfunding site on May 2 to raise funds to purchase equipment and other items. She aims to operate her food truck on "pre-opening" basis in late May.
Yavorska and her mother, Galyna Ivanova, 80, came to Japan from Kharkiv in eastern Ukraine. Her daughter, Kateryna, 31, and her Japanese son-in-law Takashi Kikuchi, 28, were already living in Hikone. Currently, Yavorska and her mother are staying in an accommodation facility offered for free by the prefectural government. They have received assistance from Kateryna and Kikuchi as well as donations from local residents.
Yavorska, grateful for such generous support, came up with the idea of launching a food truck business, hoping to use her cooking skill to do something in return for the community. She decided to sell blinchiki, a Ukrainian home-cooking dish made by wrapping ingredients in a crepe. Versatile blinchiki can be a sweet treat when filled with fruit and cream, or a meal when filled with chicken and mushrooms. Certain ingredients are hard to come by in Japan, so Yavorska has asked her husband, a 53-year-old chef who has remained in Kharkiv, for advice.
Blinchiki is also a special dish for Yavorska as she made it for Kikuchi when he visited her home in Kharkiv for the first time.
"She tried to get along with me through her home cooking. I felt a mom's kindness through blinchiki," Kikuchi said.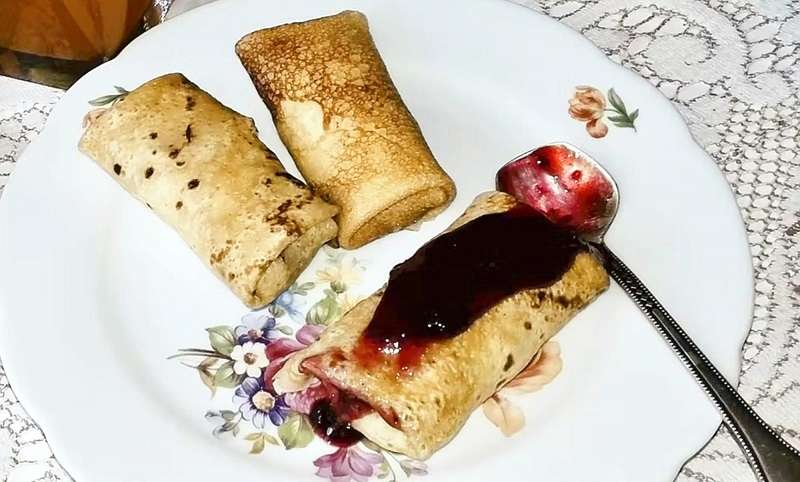 Yavorska has changed her status of residence to one that allows her to work in Japan, and Kateryna has obtained a certificate as a food sanitation supervisor, which is necessary to operate a food service. Yavorska speaks only Ukrainian and Russian, but plans to study conversational Japanese in preparation for serving customers.
"It energizes us to hear Japanese people say, 'delicious' and 'thank you,'" Yavorska said at a press conference in Hikone on May 2. "Please come to Hikone to have a taste."
As of the end of April, 820 people had fled from Ukraine to Japan. Due to the language barrier and other reasons, finding employment in Japan is challenging. However, Yavorska hopes to launch more food trucks in other parts of Japan with other Ukrainians who fled their country once her business gets off the ground.
Yavorska plans to first operate her food truck in an area near Hikone Castle, a national treasure, and other locations in Shiga Prefecture. The truck will be rented from an incorporated body made up of the Hikone Chamber of Commerce and Industry and other entities. She intends to buy her own truck as soon as funds are available. She is seeking money on the Campfire crowdfunding site with a goal of raising ¥3.6 million by June 10.
Add TheJapanNews to your Google News feed.