Japanese schools with Ukrainian children must consider psychological scars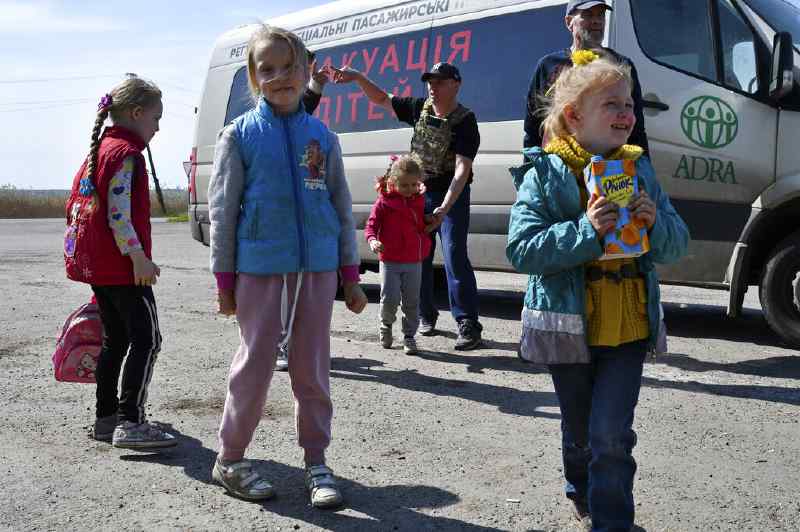 12:59 JST, May 6, 2022
Elementary and junior high schools nationwide are working out ways to provide adequate support to displaced Ukrainian children in Japan who have fled Russia's invasion of their country.
In addition to helping them adjust to life in Japan, schools will also need to consider psychological support for young people who have escaped the horrors of war.
Local governments and schools are trying to offer hands-on support, but are struggling to find interpreters due to the limited number of Ukrainian speakers in Japan.
At an education facility in Yokohama where foreign children can learn basic Japanese, Myroslava Muliavka from Ukraine was studying hiragana last month. "Niku, nurie, nasu" (meat, coloring, eggplant) recited Muliavka, who takes Japanese classes at the facility three days a week.
The 6-year-old arrived in Japan with her mother and younger sister in late March with the help of a relative who lives in Yokohama, and she has since joined a school in the city.
Among the 2.82 million foreign residents in Japan, about 1,900 were Ukrainian nationals, as of June last year.
The municipal government of Yokohama is planning to offer interpretation services and educational support in Ukrainian despite difficulties securing interpreters.
"We also want to provide psychological support," a municipal official said.
Ukrainian siblings have recently joined Izumi Elementary School in Chiyoda Ward, Tokyo. The girl is in the sixth grade and her brother is in the third grade.
As the siblings can understand Russian, a Russian interpreter has been assigned to help them twice a week.
Although the siblings appeared to be nervous at first, apparently they are now actively attending classes, following efforts by the school to deepen understanding, such as by reading Ukrainian folk tales to all of the pupils.
Meanwhile, displaced Ukrainian children and their homeroom teachers at elementary schools in the cities such as Chiba and Obu in Aichi Prefecture have been given translation devices to help them communicate.
According to the Immigration Services Agency, 820 displaced Ukrainians had arrived in Japan as of April 30. Of them, about 100 are school-age children 6 to 15 years old.
In April, the Education, Culture, Sports, Science and Technology Ministry told boards of education and other entities across the country to accept displaced children at schools if they want to study.
The ministry notice also urged local authorities to take into consideration the psychological state of the children and advised them to take advantage of the central government's subsidies to hire Japanese instructors and others who can provide support.
Ukrainian teachers have been hired to teach displaced children in some European countries where many Ukrainians have fled, but in Japan, they are likely to be taught at public schools.
The government wants to take advantage of the language instruction framework in Japan, which has been expanding following the continuous surge in the number of foreign students who need supplementary language instruction.
Many of the displaced Ukrainians in Japan have relatives in the country and want their children to attend schools in the municipality where their family members live. But among the displaced Ukrainians in Japan who have no friends or family in the country, many have said they want to return to Ukraine as soon as the war is over, and have expressed no intention to send their children to schools here.
The number of municipalities hosting displaced Ukrainians is likely to increase, as more displaced people are expected to travel to Japan from war-torn Ukraine.
"Ukrainians who have come to Japan because they know someone here have probably accepted that they may not be able to return home soon," said Yukie Osa, president of the nongovernmental organization Association for Aid and Relief, Japan.
"Psychological support is vital because of the significant stress on children who have experienced war, and have been forced to live apart from family members," said Osa, who is also a professor at Rikkyo University.
"I hope schools offer children support so they don't feel isolated. I also hope schools don't overlook problems that arise," she said. "Experiences that raise awareness of diversity will also be valuable for Japanese children."
Add TheJapanNews to your Google News feed.