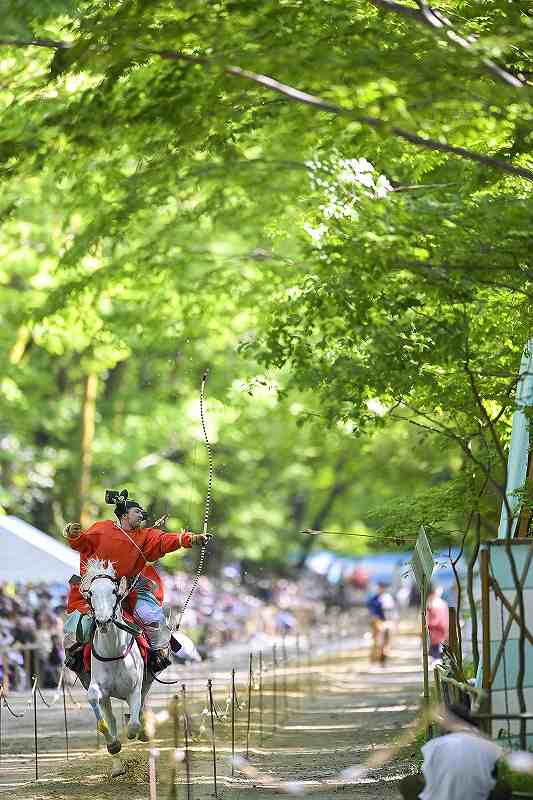 14:30 JST, May 4, 2022
Festivals and events over the Golden Week holidays are being staged largely without pandemic restrictions for the first time in three years.
On Tuesday, the Shimogamo Shrine UNESCO World Heritage site in Kyoto staged a yabusame horseback archery ceremony, which marks the start of the Aoi Matsuri festival, one of the three major festivals in the city. The crowd of about 5,000 spectators burst into applause as archers in samurai costumes rode horses at pace while shooting arrows at targets.
Performers filled the streets of Fukuoka Tuesday when the two-day Hakata Dontaku festival kicked off with a parade for the first time in three years. Organizers restricted the number of performers to about 8,000, less than half the number in normal years, and the turnout was about 40% of the usual figure at 400,000.
"Because it wasn't as crowded as it usually is, I was able to see the performers," said a 74-year-old man from Kurume, Fukuoka Prefecture.
At an annual event to honor the Odawara Hojo warrior clan in Odawara, Kanagawa Prefecture, a procession of performers in samurai costumes was held for the first time in three years. However, the opening ceremony was omitted and the distance of the parade was shortened amid the ongoing pandemic.
In Shiroishi, Miyagi Prefecture, a three-day kokeshi competition began Tuesday with 796 entries from around the country, featuring dolls with traditional and contemporary designs. Visitors at the nation's largest kokeshi doll festival were asked to disinfect their hands and undergo temperature checks at the entrance.
---
---
Add TheJapanNews to your Google News feed.