Shiretoko boat operator's office searched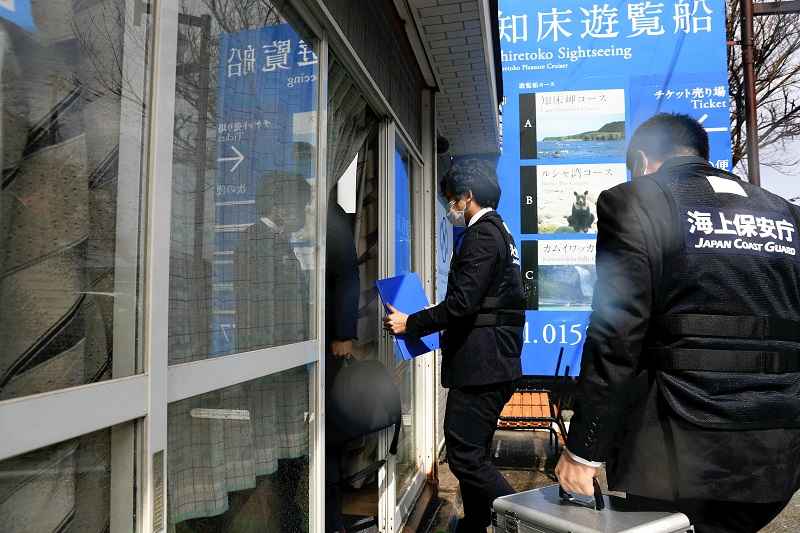 17:35 JST, May 2, 2022
In the wake of the deadly boat accident off Hokkaido, the Japan Coast Guard searched the office of the vessel's operator on Monday.
The sightseeing boat Kazu I sank last month with 26 people aboard while traveling along the western coast of the Shiretoko Peninsula. Fourteen bodies have been found, while 12 people remain missing.
The JCG's 1st Regional Coast Guard Headquarters searched Shiretoko Pleasure Boat's office in Shari, Hokkaido, on suspicion of professional negligence resulting in death on the part of the company's president and the boat's captain.
Kazu I went ahead and set sail despite gale and high wave advisories on April 23. The authorities are investigating the company's safety management system among other aspects.
On April 27, Seiichi Katsurada, the 58-year-old president of the company, said his firm's operational guidelines called for not setting sail if the wave height is 1 meter or higher and the wind speed is at least 8 meters per second (28.8 kph). However, he later corrected the wave height to half a meter or higher.
"The captain reported that sailing was possible, so I decided it was fine," Katsurada said during the press conference.
He also said he had been aware of the advisories, but allowed the 54-year-old captain, Noriyuki Toyoda, to sail the boat on condition that he would turn back if the sea became rough.
Katsurada admitted his responsibility, saying: "The company's safety management was not thorough. In hindsight, it was a mistake to set sail."
So far, investigations by the Land, Infrastructure, Transport and Tourism Ministry and the JCG's regional headquarters in Otaru, Hokkaido, have found that the radio antenna at the company's office was broken on the day of the accident, so the office could not communicate with the boat by radio. The company had regulatory approval to use mobile phones to communicate with the boat, but investigators have also found that parts of the sailing course were outside the cellular service area.
The search operation for the missing people continued Monday. Kazu I sank to a depth of about 115 meters near Kashuni Falls on the west side of the Shiretoko Peninsula. Due to bad weather on Monday morning, a search using an unmanned vehicle equipped with an underwater camera was put off.
So far, the search using an underwater camera has shown that the boat had sunk with its bow pointing almost toward the south and tilting at a 30-degree angle to the right. An image captured from behind the boat by a Maritime Self-Defense Force underwater camera also showed that the rear door leading from the deck to the passenger area was open.