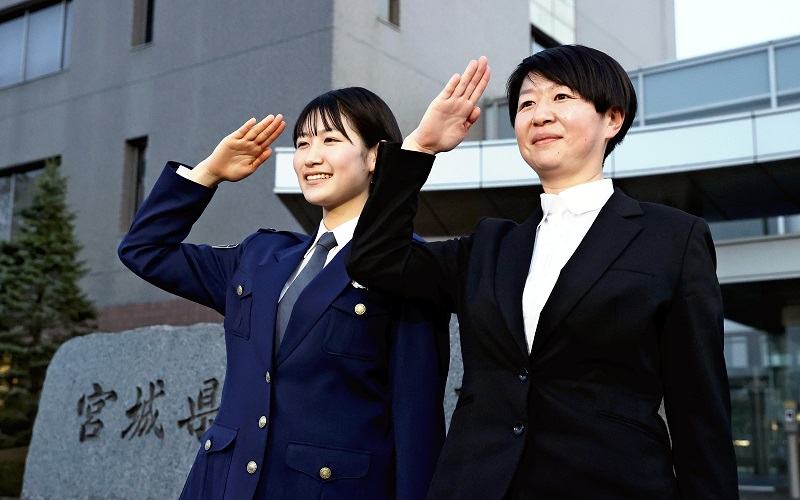 7:00 JST, May 1, 2022
SENDAI — A mother and daughter from Sendai have made policing history by becoming the first parent and child to join a prefectural police force at the same time.
Kana Ashino, 43, and her daughter Karin, 18, both enrolled at the Miyagi prefectural police academy this month. Kana has already finished her shorter training and currently works in an administrative post at a police station. ***Karin*** has recently finished high school and will undergo further training to become a police officer.
"We both want to quickly become fully fledged police personnel and do our best for the citizens," Kana said, expressing a view shared by her daughter.
According to the prefectural police, the Ashinos are the first parent and child recruited at the same time by any police force in Japan.
Ever since she was a high school student, Kana had admired the police officers stationed at koban police boxes who kept their local area safe. She considered taking the police recruitment test when she graduated from university, but government careers surged in popularity during the "employment ice age" after Japan's bubble economy burst. There were far more applicants than positions available for police jobs, so Kana gave up chasing that dream. She instead become a medical office worker at a hospital in Sendai, got married and became a mother to a son and Karin.
A turning point in Kana's life came about two years ago, when the prefectural police started recruiting administrative workers from among the generation who struggled to get a foot on the career ladder after graduating during the employment ice age. With her children nearing adulthood, Kana took the plunge and decided to take the recruitment test. "I felt this might be fate," Kana recalled thinking.
Kana failed the fiscal 2020 exam, but remained undeterred and started preparing to take the next year's exam.
Karin, who was then in her final year at high school, was impressed by her mother's determination. She offered to study together with her mother. Karin had played with toy police cars as a child and had heard Kana speaking of her dream of being a police officer. Karin also had ambitions of being a police officer, so she hit the books with her mother. In September 2021, Karin completed the first-stage examination and gave her mother her study-aid materials, which were filled with notes and had important parts highlighted. Karin diligently taught her mother as much as she could, and even helped her practice doing interviews.
Mother and daughter both passed their exams and enrolled at the police academy in Natori, Miyagi Prefecture, on April 7. Kana and Karin lived in a dormitory while continuing their training. Although they were in different classes and attended different lectures, they often saw each other in the cafeteria and other places, and would greet each other with warm words of encouragement.
Kana started working at the Sendai Kita Police Station's community safety section on Thursday.
"I'm so glad that a dream I once gave up has finally come true. Having this coincide with my daughter also passing makes it twice as nice," Kana said. She also had a message of support for her daughter: "I hope she will become a police officer who will be there for people who need help."
Karin's training will continue until the end of January 2023. "Learning together with my mother has inspired me. I'll try to become a police officer trusted by all the people in this region," Karin said.
Add TheJapanNews to your Google News feed.