8:45 JST, April 26, 2022
OSAKA — An Osaka-based spinning company is giving old kimono a new lease on life by turning them into denim and knit fabrics.
Kurabo Industries Ltd. launched a business to recycle the traditional garments in cooperation with a Tokyo-based secondhand kimono seller. The new endeavor makes effective use of kimono that have stains, frays or other damage, which are otherwise unsellable.
Secondhand retailer BuySell Technologies Co. purchases kimono across the county, but finds worn out garments difficult to sell. Now, it simply passes on such items to Kurabo. After unraveling a kimono's silk fabric into a fibrous texture, Kurabo spins it together with cotton and cellulose fibers, then reweaves this combination thread into denim and knit fabrics, among others.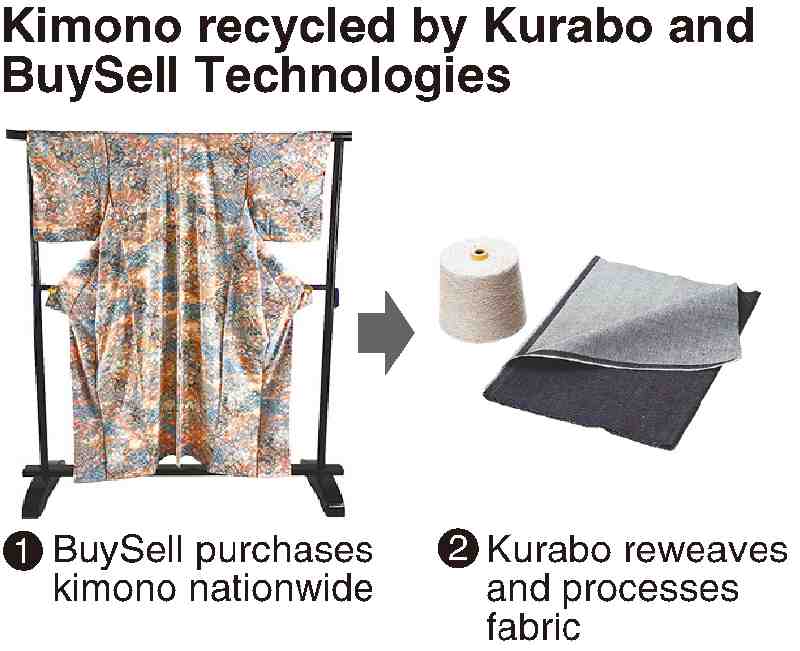 A single silk fiber can be as long as 1 kilometer, and though it was previously difficult to unravel silk into a fibrous state, the company developed a unique technology to make it possible. Kurabo said the texture of the recycled fabric, mixed with gold and silver threads, is softer than ordinary silk products. The company has named it "saisilk," and plans to sell it to apparel companies for about half the price of ordinary silk products.
According to BuySell Technologies, in Japan's greying society, an increasing number of kimono are being given away as people organize their personal belongings as they grow older, or inherit such belongings after someone has passed away.
Of the about 1 million kimono bought by BuySell Technologies annually, more than 80% are sold as used products, while the remainder are sold as fabric, due to fraying and other problems. The company had been exploring new ways to utilize these items as more and more people sort out unwanted items at home amid the coronavirus pandemic, leading the company to purchase an increasing number of kimono.
"We'd like people to find new value in kimono that have been cherished from generation to generation," a Kurabo official said.
Add TheJapanNews to your Google News feed.