Asari clam scam prompts tougher rules on food-origin labels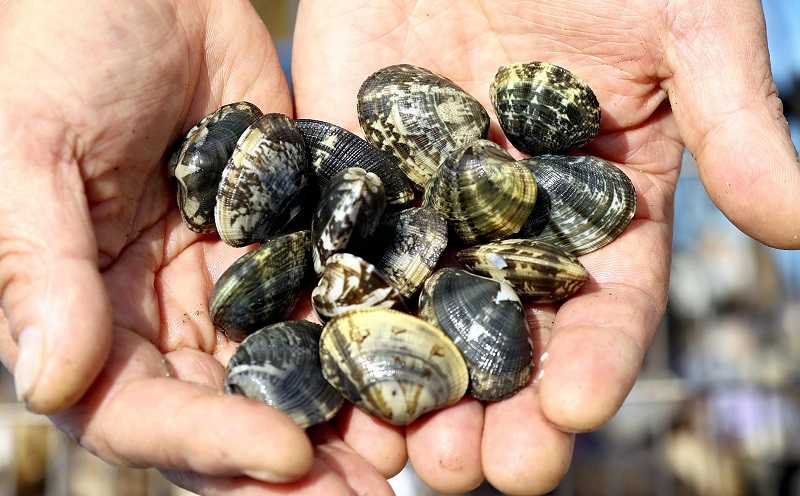 7:03 JST, April 25, 2022
The government has toughened food origin classification rules following the exposure of mislabeling by asari traders who sold clams imported from China and South Korea with Kumamoto Prefecture product labels.
Under existing rules, the origin of marine products such as asari clams is listed as the place they spent the longest period of their lifespan if they were cultivated in two or more locations. A trader involved in the scam admitted that money was the main motivation.
"We imported asari clams that were about six months to a year old, and we produced documents stating that they had been cultivated for a shorter period overseas. Then, we cultivated the imported clams in fishing grounds in the prefecture for a few months and sold them as Kumamoto asari, which can fetch a high price on the market," he said.
"The mislabeling of foreign clams had been going on for decades in the asari industry."
It is believed that many traders abuse the rule and stockpile imported clams on domestic tidal flats, and falsely claim that the clams were produced in Japan.
The mislabeling of foreign asari clams has been uncovered on other occasions. A fraudulent trader in Yamaguchi Prefecture was exposed in 2014 and traders in Yamaguchi and Kumamoto prefectures were also found to be violating the rules in 2018.
A decline in domestic asari catches is thought to be behind the fraudulent practice. According to the Agriculture, Forestry and Fisheries Ministry, the annual haul of asari clams totaled 160,000 tons in 1983 but fell to 4,305 tons in 2020.
Kumamoto's asari catch once accounted for 40% of the national total. It peaked at about 65,000 tons in 1977 but had plummeted to below 30 tons in 2020.
The government has instructed traders to stamp out fraudulent practices but with little success because keeping documents on clams' origins and other data is not obligatory for traders. "If they say they don't have the documents, it is difficult for us to investigate the matter," a prefectural government official said.
Mislabeling rife
A survey by the fisheries ministry on about 1,000 leading supermarkets and other retailers across the country found that an estimated 2,485 tons of asari clams were sold with Kumamoto labels from October to December, far greater than the annual catch of asari clams in the prefecture.
The Kumamoto prefectural government took the unusual step of suspending shipments of asari from Feb. 8 in an effort to stop the mislabeling of Kumamoto clams.
The fisheries ministry and the Consumer Affairs Agency also considered countermeasures, revising in March an official document on food labeling standards that forms the basis of the Food Labeling Law.
Under the revised standard, imported clams can only be labeled as domestically produced if they have been cultivated in Japan for at least 18 months by certified operators, and relevant customs clearance documents must be kept.
It also stipulates that short-term stockpiling on tidal flats, which had been endemic among fraudulent traders, doesl not constitute cultivation.
In a fisheries ministry survey conducted from Feb. 16 to 22 following the suspension of asari shipments from Kumamoto Prefecture, Chinese clams accounted for about 70% of asari sold nationwide. In the previous survey, Kumamoto clams accounted for about 80% of the total volume, while Chinese clams accounted for 0%.
Asari shipments in Kumamoto Prefecture resumed on April 12 for the first time in about two months. The prefecture has also begun operating its own traceability system.
Under the system, clams are cleaned and sorted at a certified plant equipped with surveillance cameras, and packed in standardized 1 kilogram bags before shipment. The asari are sold at stores certified by the prefecture in bags with QR codes that can be scanned to find out the date the clams were landed. DNA testing will also be conducted at the factory and retail stores.
A new ordinance will also be established, making it mandatory for distributors to keep transaction documents for three years, among other measures.
Shimonoseki route
However, these countermeasures seem to overlook an important point.
Kumamoto Prefecture's measures are limited to clams shipped from the prefecture, while the central government has tightened rules against clam stockpiling.
But according to the Kumamoto prefectural government, 80% of the asari mislabeled as Kumamoto clams spent no time in the prefecture. They were processed at custom points in Shimonoseki, Yamaguchi Prefecture — an import base for marine products coming from South Korea and China — and shipment documentation was altered by fraudulent traders.
Experts have expressed concerns that fraudulent traders could evade the government's measures via the Shimonoseki route.
The fisheries ministry will continue to investigate mislabeling and plans to conduct another nationwide survey to verify the effectiveness of the new rules.